TeamViewer Auto-Renewal Policy
TeamViewer's policies include (1) providing notice at the time that the customer buys the software, that there are automatic renewals, (2) allowing for notice of the intent to not renew at any time during the term of the contract, up until 28 days prior to the renewal date, and (3) contacting the customer to let them know their renewal date is upcoming.
First, when the customer purchases the software online, the customer is instructed that "Licenses renew automatically with each billing cycle." This notice is in bolded text and is provided next to where the customer provides his or her consent to the purchase.

Alternatively, if a customer calls TeamViewer to purchase, then after the call the customer will receive an activation email. In the activation email, a similar notice is provided next to where the customer consents to the purchase.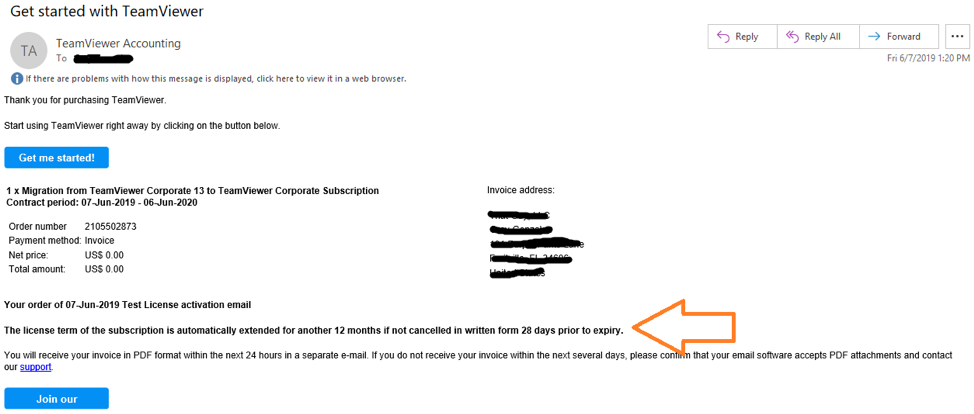 13. Term and termination in case of Subscription
13.1. Term and ordinary termination.
Unless otherwise specified in the Order, the Contract has an initial term of twelve (12) months ("Initial Term") and shall subsequently be renewed automatically for additional periods of twelve (12) months (each a "Renewal Term"), unless either party notifies the other party no less than twenty eight (28) days prior to the end of the Initial Term or any Renewal Term that it has elected not to renew the Contract.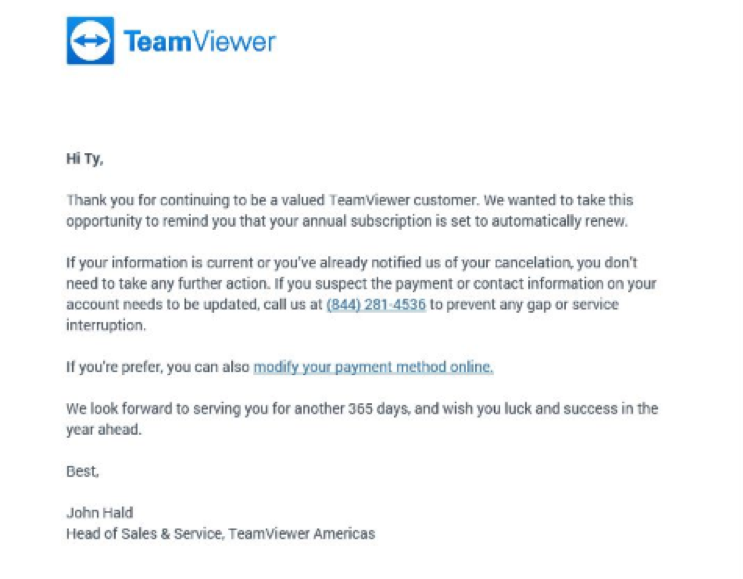 The policy described herein is lawful.