Thank you for your Trial Request.
A TeamViewer representative will get in touch with you within one business day to get your trial started.
Experience TeamViewer
TeamViewer licenses are subscription-based. And that means every version update is included in your active, maintained annual subscription license plan — at no additional cost. Plus, get automatic security, performance, and feature updates, and easily extend your license with premium AddOns, such as Mobile Device Support, TeamViewer Remote Management, TeamViewer Pilot — remote support powered by augmented reality for field services — and more…
TeamViewer enables you to provide a new level of service to your customers and employees.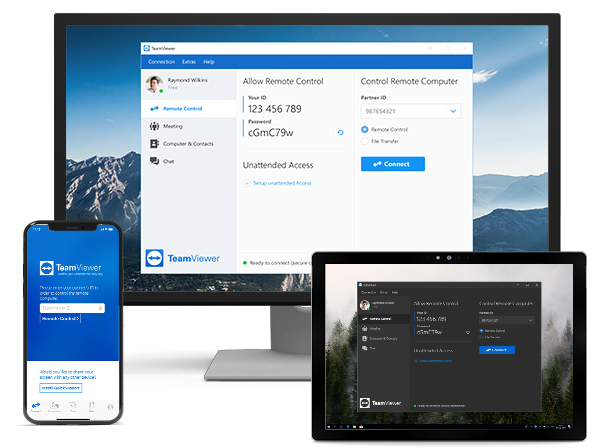 New to TeamViewer?
Check out these quick start steps to get the most out of the world's only all-in-one remote connectivity platform.
Provide or Receive Remote Support Instantly
To provide support: Install TeamViewer full version on your computer, then enter the client's TeamViewer ID and password to connect to their device.
To receive support: Download and install the TeamViewer QuickSupport app on your computer, then share your TeamViewer ID and temporary password with the support person.
Get started in less than 3 minutes
Remotely Work on Computers & Servers from Anywhere
Install TeamViewer software on the computer you need to access and set up unattended access from the Connection menu.
Set a computer name and access password for the remote computer.
Install TeamViewer on the accessing computer and add the remote computer to your Computers & Contacts list.
Select the remote computer from your list, click 'Remote control using password,' and enter your password to connect.
Install & configure in less than 5 minutes