Remote Backup and Restore
TeamViewer Backup – Managed endpoint data protection and recovery you and your customers can rely on.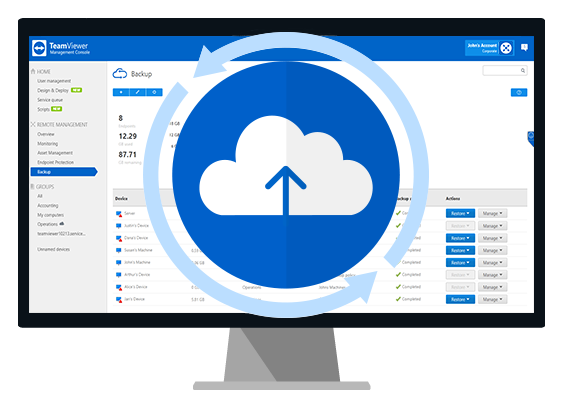 Be on the safe side. TeamViewer Backup provides you with simple, hassle-free, and reliable endpoint data protection. Deployed and activated remotely within seconds, your or your customers' data will be stored in the cloud under the highest security standards. Have peace of mind in knowing your data is stored safely and – in case of disaster – can be restored remotely from anywhere and at any time.
Backup Unlimited Endpoints
While servers are getting backed up on a regular basis, endpoints, such as laptops, are often neglected. Data stored locally on those devices is at risk. Even if you have IT policies in place that require users to store sensitive data on a central server, relying on the user compliance is not the safest bet. Replacing intellectual property that has not been backed up can be very costly, sometimes even impossible. It will likely interrupt user productivity and halter business continuity as well. Manage the unpredictable with TeamViewer Backup, and backup as many endpoints as you want. Your TeamViewer Backup storage is available for all endpoints in your IT infrastructure.
Remote Restore – Even at File Level
Restore a whole backup or just specific files remotely! With TeamViewer Backup, you can restore any backup right from the central TeamViewer Backup dashboard. Restore the backup to the original device, or even download it to your local machine. Your data is always available, no matter your location. Also, TeamViewer Backup gives you the option to browse backups and run a recovery at file level with only the files you have selected.
Easy Deployment through Remote Activation
Depending on the size of your infrastructure, rolling out new software solutions can often be a tedious task requiring running from desk to desk and sometimes even travelling to different locations. With TeamViewer Backup, you will have a new backup solution up and running in no time! TeamViewer Backup works flawlessly with your existing TeamViewer infrastructure – have a backup running in less than one minute with just a few clicks, all from the comfort of your desk!
Cloud
Available anywhere at any time – with disk-to-cloud (D2C) backup, your data is stored safely offsite. Do not worry about upgrading your own servers, and benefit from all the advantages of scalable cloud backup. TeamViewer Backup builds on the reliable Amazon Web Services (AWS) infrastructure, that provides you with highest security standards. Leveraging the AWS technology, your backups are always at high availability (HA) and ready for restore.
Individual Backup Policies
Cater to the needs of your customers – with TeamViewer Backup, you have the flexibility of setting up and applying individual backup policies to single devices or device groups. With each policy, you can adjust the file filter, the backup schedule, and the maximum allowed bandwidth. Whether you are managing single devices, whole departments, or different customers, offer a backup plan that suits them best.

File Selection and File Exclusion
It is rarely necessary to back up all the files located on a device. That's why TeamViewer Backup gives you the option to specify what kind of files you want to include or exclude in your backup in order to further optimize your backup performance. Narrowing your backup down will reduce the time needed to complete a backup. It will also free up storage space.

Backup Cycle and Schedule
Business continuity is key – TeamViewer Backup helps you to deliver on your Service Level Agreement (SLA). Set up your backup to be performed automatically in cycles and offer a Recovery Point Objective (RPO) of as low as 30 minutes. Schedule your backup to run on specific days of the week at a certain time as well.

Bandwidth Throttling
Optimal performance without any hiccups – is the bandwidth needed for other purposes? Simply limit the throughput of traffic sent to the backup servers by choosing maximum bandwidth and the timeframe during which the throttling applies. The backup process will complete without affecting users at all.
Automatic Deduplication
Fast and efficient backup with automatic deduplication at file-level – TeamViewer Backup automatically recognizes which files have been altered since the last backup cycle and will only transfer the altered data in order to avoid duplicates and to save you time.
Intuitive Interface
Everything through a single pane of glass – view and manage your devices centrally from the TeamViewer Remote Management dashboard in the TeamViewer Management Console. Access the browser-based TeamViewer  Remote Management dashboard from anywhere to check on the status of your backups, to set and adjust policies, to set up new backups, to restore old ones, and much more – all from one single point.
Alerts for Failed Backups
An internet outage or a system that has just been powered down by its user – there are events that can interfere with a backup process. TeamViewer Backup will alert you or a staff member immediately via mail, and in the TeamViewer environment, should a backup ever fail. Log in to your TeamViewer Management Console to check the backup status of all of your managed devices to make sure everything is ok.
Scalability
Has your business grown and increased your storage needs? Absolutely! TeamViewer Backup is easily scalable. Purchase additional storage at any time and allocate it among your devices.
Remote Support with TeamViewer
Is something keeping you from running a successful backup? No worries. Simply connect remotely via TeamViewer to the device in question, and resolve the issue to keep your backups running according to plan.
Secure Backup
We take the security of your stored data very seriously, and maintaining the highest security standards is a top priority for us. All communication between the client and the backup servers takes place via secured and encrypted channels.
Client-side, military-level 256-AES encryption prior to data transfer
SSL encrypted end-to-end data transfer
Data storage on 256-AES encrypted Amazon AWS S3 servers
Data center locations:

AMERICAS: Virginia (US), Montreal (CAN)
EMEA: Frankfurt, Paris, London, Dublin, Stockholm
APAC: Sydney, Tokyo, Mumbai, Seoul, Singapore

ISO/IEC 27001:2005 Certification for information security management systems and more
Redundant data storage
You can find more information regarding our security standards here.
TeamViewer Backup Fact Sheet
Detailed information on our security policies is available in pdf:
Activate TeamViewer Backup Today!