The TOP 5 Reasons
You should switch to TeamViewer 14 now.
Save valuable time with new productivity features such as task automation, easier device discovery and more.
Expanded mobile support: Integration with iOS app files, one-click sign-in, and reduced data consumption are just some of the new features.
Simplify your daily work with sticky notes on remote machines, more intuitive file transfer, and the ability to add information to your devices.
Expand your remote support with TeamViewer Pilot, the augmented reality solution from TeamViewer. Upgrade to TeamViewer 14 now to receive TeamViewer Pilot for free!
Say goodbye to incompatibility.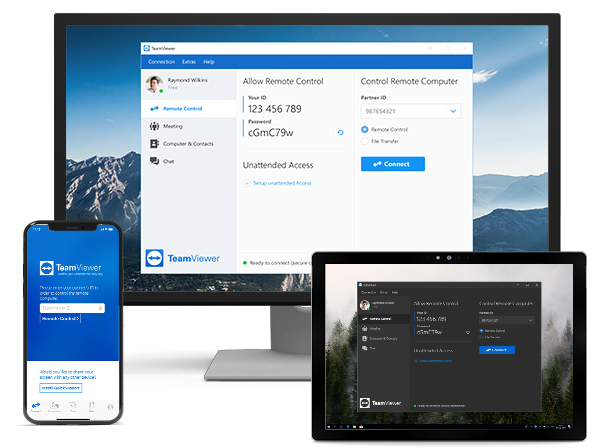 Experience the Growth Since TeamViewer 12: Performance. Redefined.
Your Version
TeamViewer 12
New Version
TeamViewer 14
Save time by quickly finding devices
A variety of features make it easy to find devices in the client and in the app:
Add custom information to devices directly in the Computers & Contacts list, like operating system, department, or company. You create the fields centrally in the Management Console, so all your employees use the same fields.
Quickly and easily group your devices according to the properties that are most relevant to you.
See your recent connections and connect without having to search again.
Search for devices and contacts on your Android device in the Computers & Contacts list.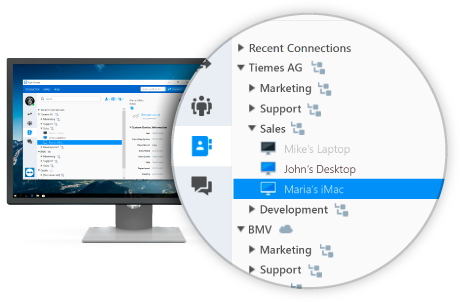 Greater security through improved trusted device management
Available Now: Trust IP addresses. This means that all devices on your network are automatically trusted and you no longer need to add each device separately.
Keep track of which devices and IP addresses you trust and remove devices if necessary, as an admin for all users of the company.
As an alternative to the trusted devices function, you can also use two-factor authentication for enhanced security and protection.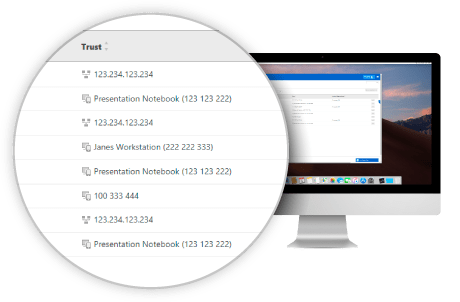 Advanced support for mobile devices
Expand your IT service offering and support Android, iOS, and Windows 10 mobile devices. Only from TeamViewer: Mobile remote control from more than 70 Android manufacturers!
Access your Computers & Contacts directly with your Android or iOS device. You can also work stress-free on the go or in places with poor internet connectivity.
TeamViewer's intelligent data transfer technology also reduces data usage on your iOS device by up to 80%.
And many more new features for your mobile device.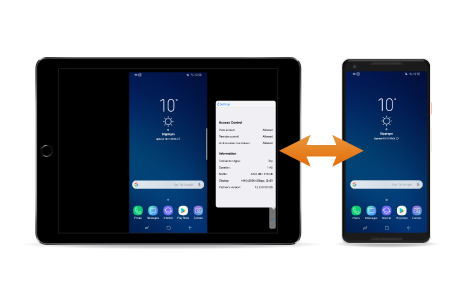 Faster problem resolution
Perform repetitive processes with one click by running them as scripts.
In the future, repetitive processes that you need in many TeamViewer sessions can be run in seconds. Simply save the processes as batch, PowerShell, or shell scripts and upload them to the Management Console. The scripts are encrypted and stored in the cloud. During TeamViewer sessions, you can easily access and run them with one click.
Use the time gained to focus on the essentials and solve even more support requests in no time.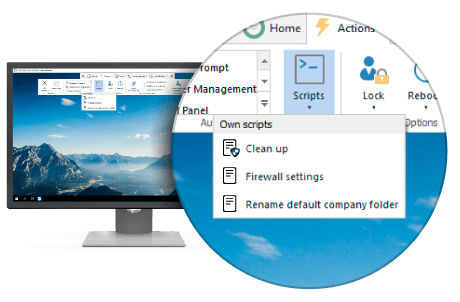 React in real time: Lower latency
Latency is the speed at which the remote screen is displayed in your TeamViewer client and the time that passes from your click to the desired response. A year ago, this took at least 31 milliseconds. Now the reaction happens in only 15 milliseconds.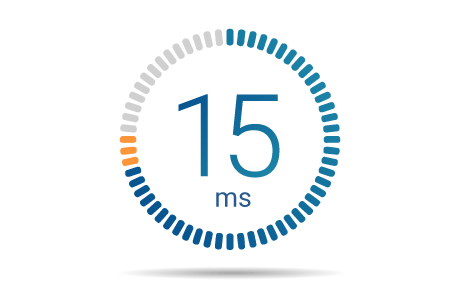 Optimized for macOS Mojave
TeamViewer is now optimized for macOS 10.14 Mojave. Using the latest macOS technologies like Metal </ strong>, TeamViewer is the most innovative and powerful remote control session on the market.
Optimized for maximum performance and image quality, TeamViewer uses intelligent resource allocation to further enhance the user experience. In addition, use TeamViewer's new Dark Mode , which helps you focus on the essentials and save energy.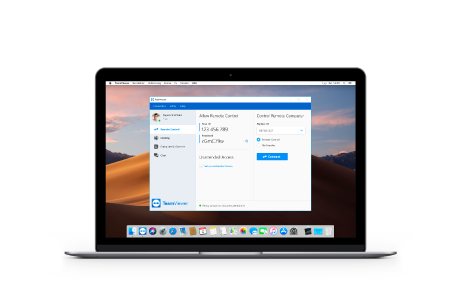 For your 5-star customer support: Extensions and improvements for servicecamp
servicecamp is TeamViewer's integrated service desk. With this new extension, you can handle support requests faster, easier, and with more personal attention:
Make your service more accessible to customers by giving them the opportunity to create a servicecamp ticket within the QuickSupport module, even if the supporter is offline.
Allow your users to include more people in the conversation. For this, your employees can simply add email addresses in CC when creating tickets.
Use your own domain for an even more professional appearance. You can now send your emails from your mail server when you reply to tickets in servicecamp.
Give your customers the opportunity to create tickets from the customer portal without registering for servicecamp.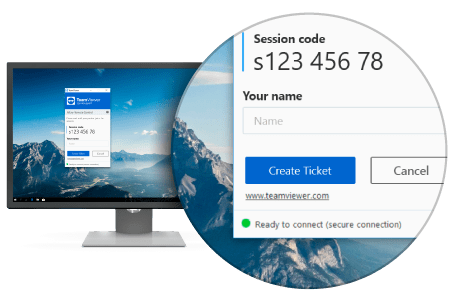 Dark Mode for Windows, Mac, und Linux
Dark Mode lets you work the way you want to. The dark user interface for Linux and Windows is more eye-friendly and helps you concentrate, especially in dark environments. Switch between light and dark interface as needed on Windows, Linux, and soon on macOS Mojave.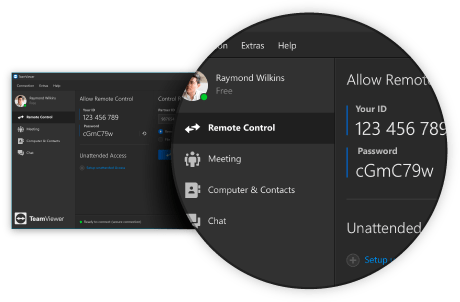 Intelligent connectivity and routing, efficient use of bandwidth, fast data transfer, remote session frame rates of up to 60 FPS, hardware acceleration and automatic quality adjustments ensure an optimized user experience.
Connect through the intelligent adaptive data compression Even with low bandwidth and enjoy an optimal TeamViewer experience no matter where you connect.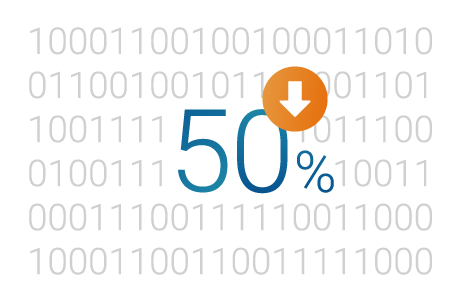 Eliminate compatibility issues
Offer
TeamViewer Pilot
or the duration of your subscription, you will receive a supporter for TeamViewer Pilot for free.
What is TeamViewer Pilot?
TeamViewer's augmented reality solution, TeamViewer Pilot, lets you see what your connection partner sees through the smartphone camera.
See problems with machines, equipment, and devices that are beyond the screen at-a-glance.
Direct your partner via VoIP and place 3D markers on real objects.
Provide efficient solutions without wasting time with long phone or email explanations.

Use the remote maintenance software trusted by millions of users worldwide.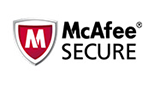 Early-Access Offer
Redefine the way you work with TeamViewer 14.
Discover all the features and enhancements of TeamViewer 14 with this offer.
Exclusive discount for our existing customers
BONUS: Free technician for TeamViewer Pilot