TeamViewer Engage • Digital Customer Service
Elevating Digital Customer Engagement
Empower your service team with tools that help, not hinder. Deliver exceptional online service experiences with omnichannel digital customer service in one platform.
Support the customer journey with one platform
"Co-Browsing is a key instrument in our new hybrid world. By guiding our customers, be it through the app or the web, we create an 'aha' moment with the customer which increases customer satisfaction and improves our service in the long run. Thus, we unite both worlds. Every customer service department should have Co-Browsing in its portfolio."
-Head of Operations, German Insurance Company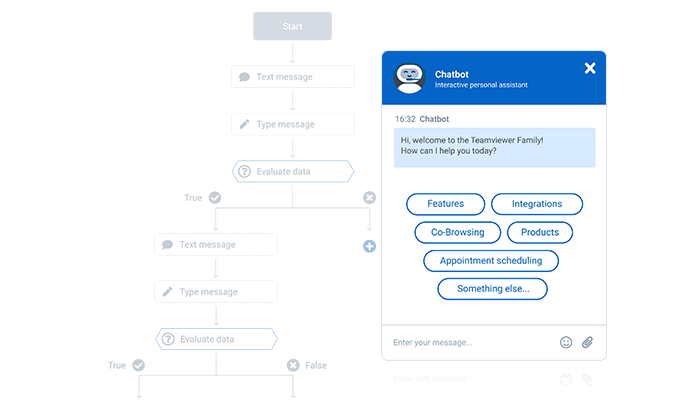 Chatbots
Provide proactive and automated customer service
Be available to help your customers around the clock. Create your own Chatbots with our intuitive, visual, and codeless builder, and automate basic FAQs with a Chatbot directly on your website. If customer questions get too complex, let a Chatbot transition customers to an agent on Live Chat.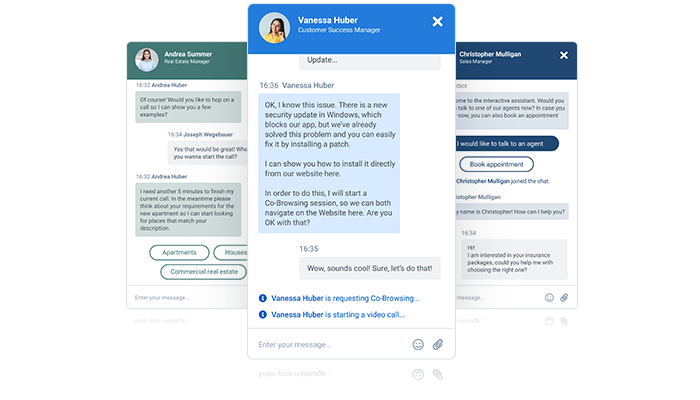 Live Chat
Provide quicker support and transition seamlessly from bot to human
Seamlessly transition from an automated Chatbot to a human-to-human experience using Live Chat. Enable your team to answer questions faster with pre-defined templates and organize teams at scale.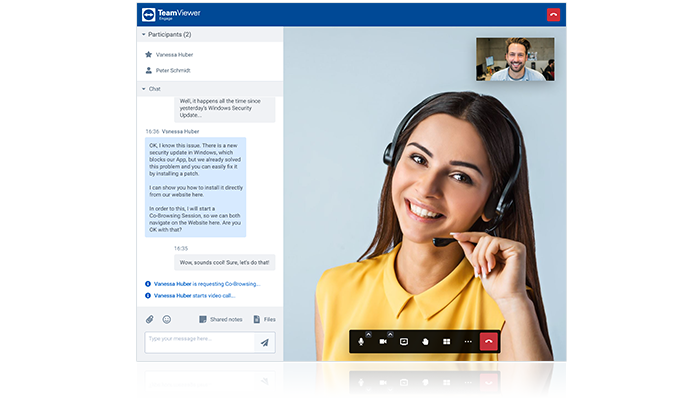 Video Chat
Switch from text to video in one click
Give your team the option to switch from text to video on your website – in just one click – and create an even more personalized experience.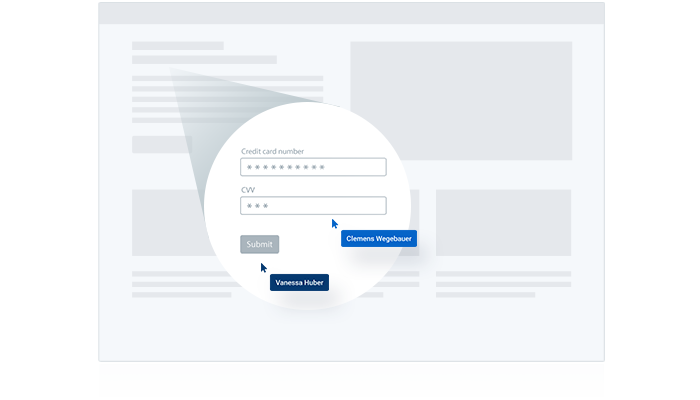 Co-Browsing
Benefit from visual context, all without downloads
Let your team benefit from the power of visual context. Use Co-Browsing to see exactly what customers see on your website in just one click. For maximum customer privacy, sensitive customer data is automatically masked from agents.
Trusted by leading companies 
Renowned companies already trust TeamViewer Engage to keep them digitally connected to their customers.