Online Training: A Remote Solution for Effective Coaching
Deliver comprehensive online training for colleagues around the globe, however and whenever they like.
Online Training Explained
Online training is a method of digital learning, also known as distance learning or e-learning, that helps businesses and organisations stay ahead in their industry. With the increased connectivity and technological advancements of recent years, online learning has become increasingly widespread and companies of all sizes are heavily reliant on it to an ever-greater extent. Whether delivering a seminar to new hires, demonstrating a technical process to a colleague, or simply used for knowledge retention purposes, there are countless use cases for online training.
There are various ways a company can integrate comprehensive online training into their business model by providing both business owners and employees great opportunities. With numerous e-learning platforms out there and each offering different features, tools, and functionality in distinct ways, it is important to consider all options and choose the one that best suits both you and your business. The most important factor to take into consideration is the size of your company and the amount of learning material you will be dealing with on a regular basis.
Online Training to Suit your Needs
There are numerous types of technology platforms available for online training within a company. The first popular option is a learning management system (LMS).
Designed for supporting internal training procedures, learning management systems make it easy for businesses to develop and host online courses for the entire company to use.
These online training systems can usually store and display educational materials in all shapes and sizes including videos, text, images, and audio.
A standard LMS will offer features such as chat, a discussion forum, related apps, an online calendar, and widgets. Organisations can either operate an LMS locally or in the cloud, depending on their specific needs.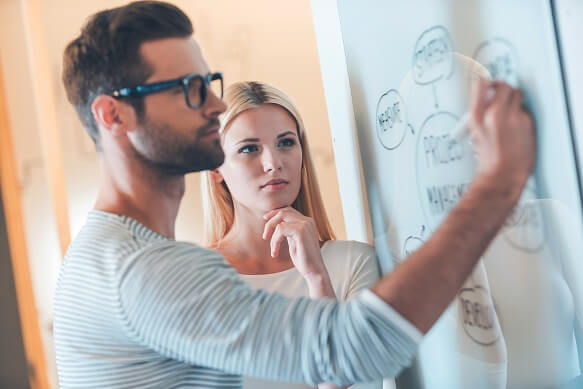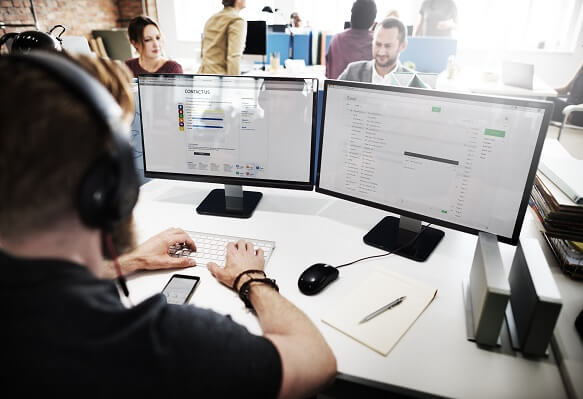 For smaller businesses, a basic e-learning solution may be more effective.
For online training that works well on a one-to-one basis, a simple video call can often do the trick and make the most of basic functions such as screen sharing and conference calls.
Alternatively, if you want a more comprehensive solution but want to avoid going down the route of learning management systems, remote access software such as TeamViewer can provide a seamless online learning solution.
Such solutions offer a host of features suitable for e-learning such as:
Session recording
Cross-platform compatibility
Remote access
Online Training Uses
Regardless of company size – from a small creative agency to a larger corporation – there are plenty of use cases for an online training system. The first most obvious use is of course for employee training. Take onboarding new employees for example. Companies can save time, effort, and resources by opting for the e-learning approach, while employees can gain valuable insight into company culture, behaviour, and performance before meeting their future colleagues. This can be a particularly useful tool for the human resources department within a company.
It is not only new hires who can benefit from comprehensive online training. Current employees can profit from training as well. A company's sales department, for instance, is a team that usually travels a lot and may require flexible remote training at different times. Not only that, but a sales team can access client-specific online learning material to use to introduce new clients to the product or service in question. Additionally, companies can track progress easily, adapt the learning material at any time, and ensure a standardised training policy for the whole company.
Benefits of Online Training