What is a Chatbot?
By definition, a chatbot is an application that enables dialogue between humans and computers. Communication takes place either via text or voice input. The ability to provide automated customer communication makes the chatbot an efficient tool.
How Does a Chatbot Work?
Programming a chatbot is not a simple matter. That's why most companies rely on ready-made solutions that can be adapted afterwards. But how does a chatbot actually work?
A chatbot is either based on a predefined set of rules or on artificial intelligence (AI). Therefore, the way bots work can differ significantly:
Rule-based bots use a predefined set of questions.
AI-based bots, on the other hand, learn from previous communications.
In both cases, the bot tries to grasp the user's intention and the content of the questions. Ideally, complex dialogs can be conducted without the need for human intervention.
Rule-Based Chatbots
Rule-based bots rely on a predefined catalog of answers. This means that the chatbot can only answer questions that were already taken into account during its programming. It is recommended for simple and standardized processes. A classic example is temporary marketing campaigns.
Pros:
Ideal for simple tasks and temporary campaigns
Cross-platform usage possible
Suitable for short dialogues
High availability
Cons:
High acquisition costs for initial programming
Not immediately usable due to longer development time
Hardly any opportunities for automation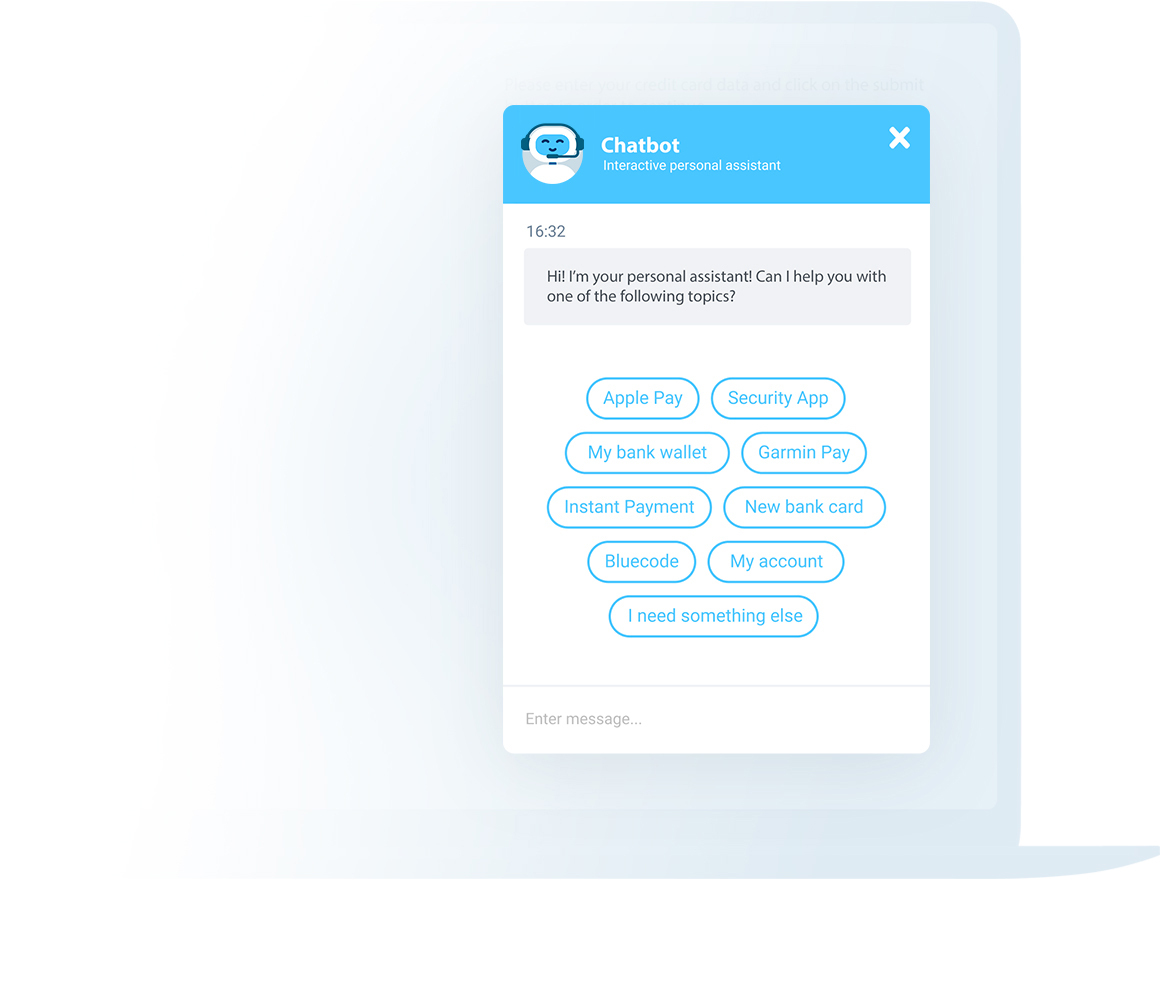 Application-Specific Chatbots
Application-specific bots combine intelligent and rule-based dialogs and enhance them with a user interface (UI). This improves the user experience, but is much more complex from a technical perspective. A common example of such a chatbot is the calendar graph, which can be used to book appointments.
Pros:
Perfect for any type of appointment booking
Ideal for hotels, insurance companies, restaurants, and online banking
High level of convenience thanks to ease of use and appealing visuals
Cons:
High time investment to enable intuitive operation
Cost-intensive development and maintenance
Platform-dependent
TEAMVIEWER ENGAGE • LIVE CHAT & CHATBOT
Chat with Customers – Anytime, Anywhere
Automate with chatbots and switch to live chat when questions become too complex.
AI Chatbots
AI chatbots are the most recent variants of chatbots. They are based on artificial intelligence and natural language processing. This allows customers to type in any text they want. Even long and complex sentences are understood by the chatbot, making intelligent conversation possible and comparable to normal conversations.
What makes the AI chatbot so special is its ability to distinguish between intention and semantic unit (entity). This target-oriented development contributes to a better interaction and an excellent user experience.
Pros:
No issues with complex dialogs
Optimal user experience
Platform-independent usage
Automatic process improvement and independent learning
Cost-efficient in the long term (despite high acquisition costs)
Cons:
High initial acquisition costs
Longer development time
Time to learn needed
Chatbots: Advantages, Examples and Areas of Application
Using a chatbot offers numerous advantages, depending on the particular use case. Especially customer service, marketing, and sales departments benefit from automated customer communication.
Chatbots in Enterprises: An Overview of the Benefits
Companies can profit from a variety of benefits a chatbot has to offer.
Efficiency: Thanks to the automation of chatbots, efficiency increases while resources are saved.
Costs: As processes become more efficient, costs are reduced at the same time.
User-Experience: The fact that society is becoming increasingly fast-paced is also reflected in website visitors. By using chatbots, they no longer have to click through multiple pages. Instead, they can simply ask the software for the content they want. This makes navigation easier and increases satisfaction.
Customer satisfaction: The better the user experience, the more satisfied customers are. The quick answering of questions is a major contributor to this.
Accessibility: Unlike human customer service employees, the chatbot is available 24/7. In addition, it can focus on multiple inquiries at the same time, which significantly simplifies the management of customer messages.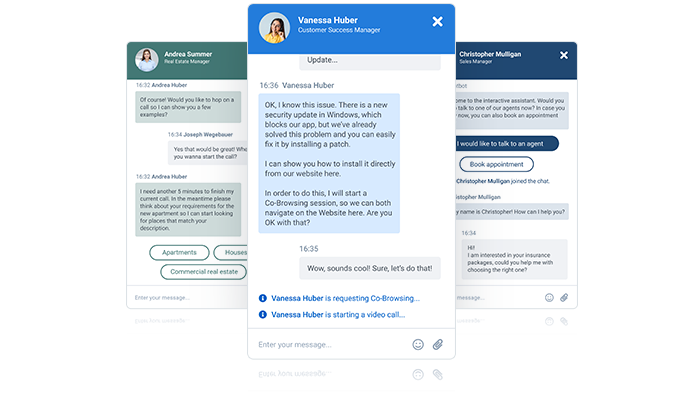 Where are Chatbots Used?
Chats automated by bots are primarily used in customer support. It doesn't matter whether it's a mobile app or a web page. The following examples show how important chatbots have become in everyday business.
Customer service: Chatbots help to answer customer inquiries in an automated way. At the same time, they can be used for internal staff communication.
Marketing: In marketing, intelligent technology helps to implement campaigns quickly and effectively. These can range from brand building to sweepstakes. In addition, the chatbot markets products in e-commerce and accompanies the customer on the entire customer journey.
Sales: Bots can also help in acquiring new customers and increasing sales. There are numerous use cases, especially during the purchasing process and in aftersales.
TeamViewer Engage: Live Chat and Chatbot
The software solution Teamviewer Engage offers the option to switch between live chat and chatbot. While the chatbot handles simple inquiries on its own, complex customer inquiries are forwarded directly to the live chat.
This approach not only simplifies communication and improves support experience, but also reduces costs. For companies to benefit from this technology, TeamViewer Engage offers the following features:
Pop-up messages: They help to promote messages proactively and get in contact with customers. Specific actions ensure that the message window opens.
Availability: Service employees might only be reachable during certain times, but the chatbot is available 24/7.
Routing & Queue: Individual routing rules forward the incoming messages to available agents taking into account the country, time zone, language, and subject matter.
Live Chat: The bot automatically connects customers with live agents, when the topics are too complex.
Feedback: Customers are given the option for final feedback. The information received helps to further improve the service and increase customer satisfaction.