Now, not Later. Here, not There. Problem? Solved! This is TeamViewer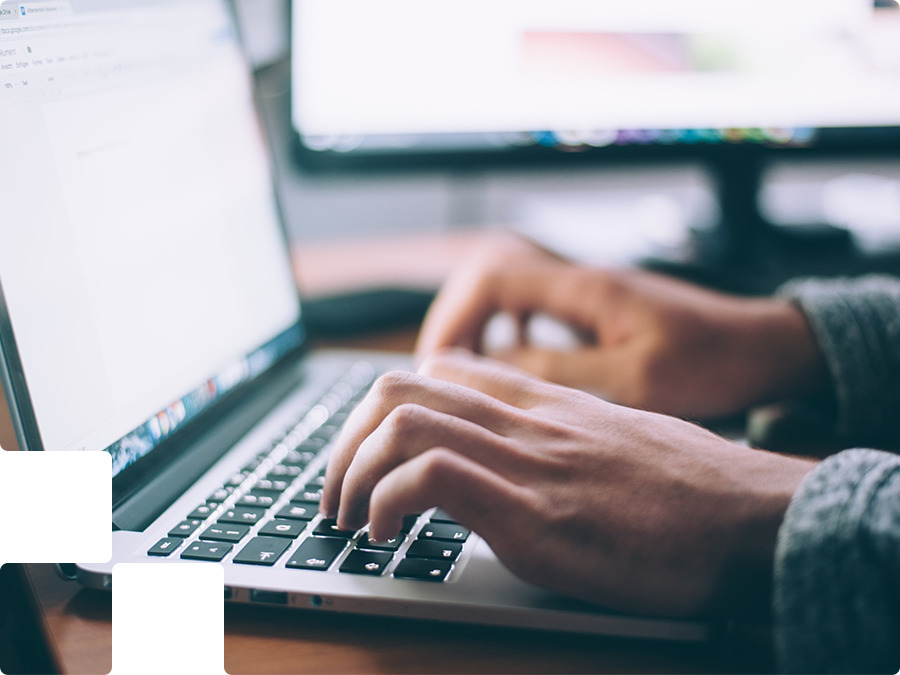 What is TeamViewer?
TeamViewer is a comprehensive remote access, remote control and remote support solution that works with almost every desktop and mobile platform, including Windows, macOS, Android, and iOS. TeamViewer lets you remote in to computers or mobile devices located anywhere in the world and use them as though you were there.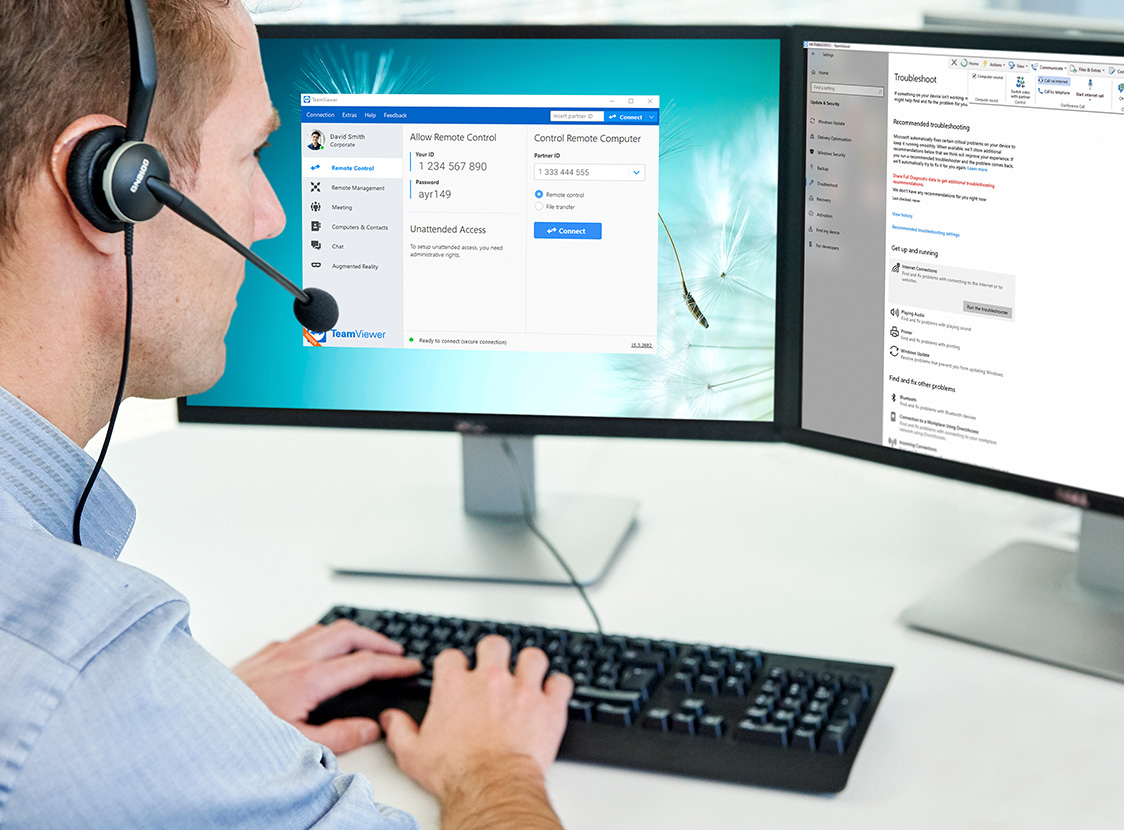 Remote Support
Deliver Instant Remote Support to Customers and Employees
Tech mishaps happen. Computer glitches, system crashes, and device failures can bring business to a standstill. Instead of making on-site service calls that take time and increase costs, IT pros choose TeamViewer to provide instant remote support for their clients.
Top Features:
Ad-hoc support for clients and employees
Custom branding for support applications
Integrated service case management and integrations for major service desk systems
Leave sticky notes on remote computers
Integrations for Mobile Device Management and other apps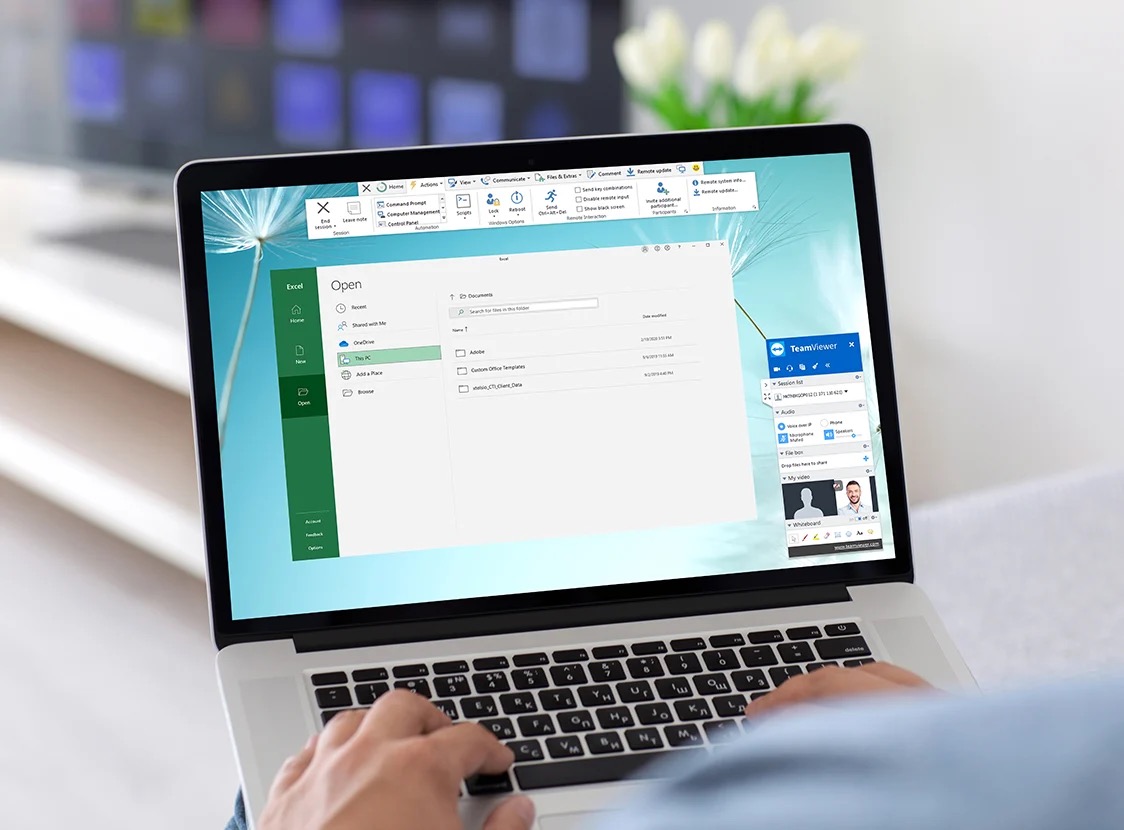 Remote Access
Access Remote PCs, Mobiles, and Servers — or Work From Home
Working from home. Away on business trips. With TeamViewer remote access tools, you can stay productive no matter where you are. Your desktop files and applications are just a few clicks away. Even mobile devices and servers can be securely accessed — all without VPN.
Top Features:
Permanent access for unattended devices
Videoconferencing and collaboration with TeamViewer Meeting
Black screen for private remote access
Secure, flexible file sharing
Remote Printing for Windows and macOS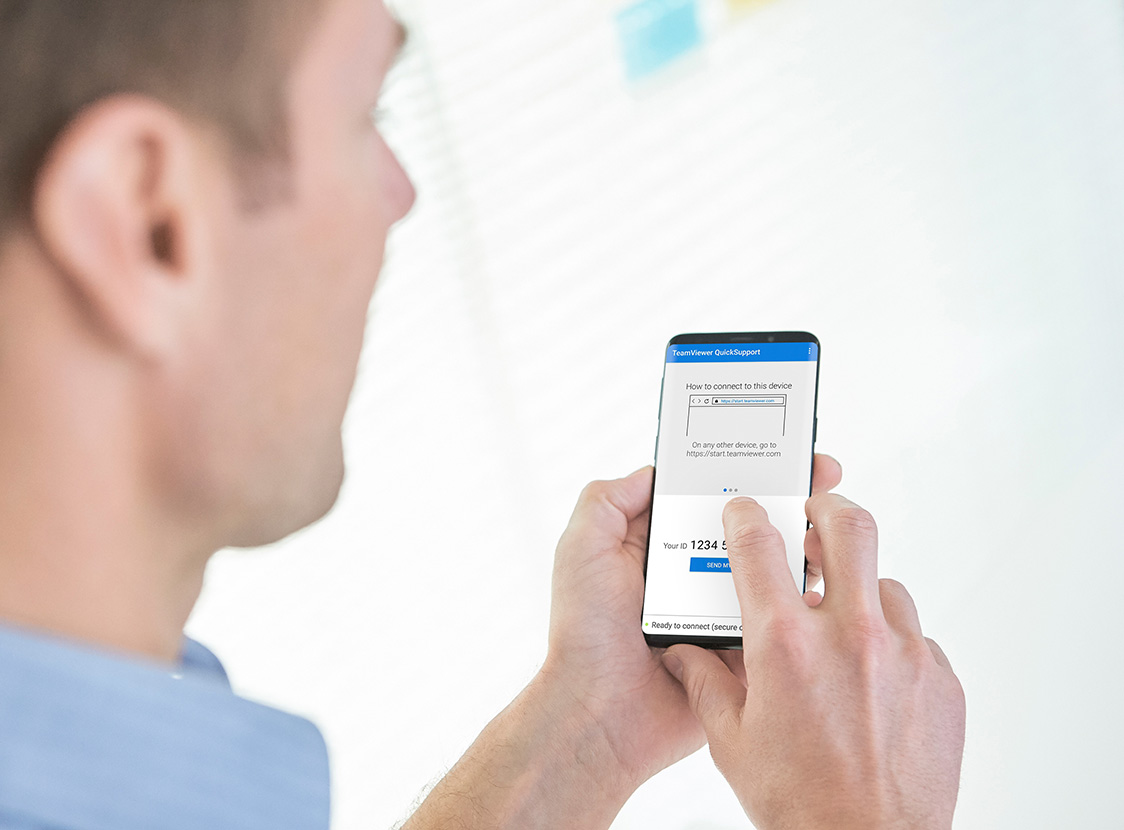 Mobile Device Support
Support Mobile and Commercial-Grade Devices — Anywhere, Anytime
Need to access, manage, and support mobile devices, even when no one's there? No problem just set up permanent unattended remote access to mobile devices, computers, and servers, or even IoT devices, point of sale (POS) machines, kiosks, or digital signage.
Top Features:
Share Your Screen on iPhones and iPads
Transfer files  securely, and manage transfers in the Files app on iOS
Mobile-to-mobile connections
View system diagnostics in the TeamViewer desktop app
Chat via text, take screenshots, or control processes on the supported device
How to Connect with TeamViewer
1
Download and install TeamViewer on the device you want to start a connection from, like a desktop or mobile device.
2
Install TeamViewer on the target device you want to access. This could be another desktop or mobile device, or even a point of sale system, kiosk, or IoT device.
3
Enter your connection partner's ID and password on the outgoing device, connect in real time, and control the target device as if you were there in person.
Customer Success Spotlight