TeamViewer Monitoring & Asset Management for Linux
Remote Monitoring & Asset Management of Your Linux Devices with TeamViewer Remote Management
Maximum uptime, maximum productivity
Stay ahead of problems with TeamViewer Monitoring for Linux
Monitor various aspects of your Linux devices, receive instant alarms as soon as one of your checks fails, and act before the little things turn into bigger problems. Avoid costly downtime by scheduling maintenance work in advance, instead of simply reacting to problems and service calls.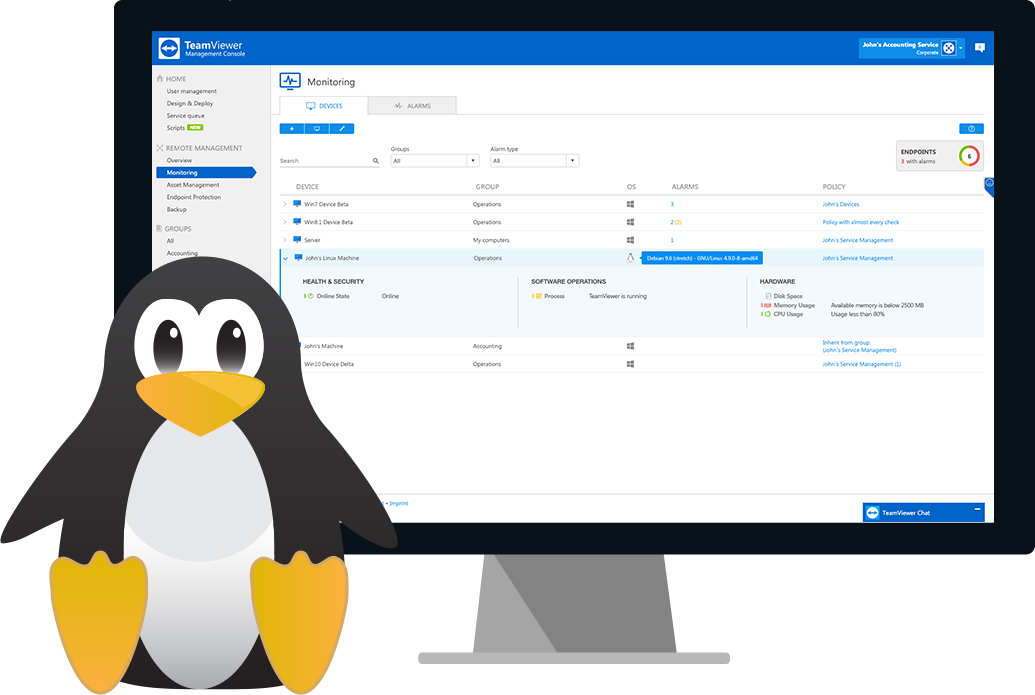 Monitor critical system aspects of your Linux devices
TeamViewer Monitoring for Linux lets you monitor important aspects of your Linux devices.
Asset Management and Asset Tracking
Visibility into Your IT Systems
TeamViewer Monitoring comes with an elegant Asset Management solution that allows you to keep track of your deployed assets, and gain insight into your IT infrastructure.
Track deployed hardware and software
Create comprehensive inventory lists in no time! List hard- and software across all of your Linux devices in your network within seconds from one convenient dashboard.
Know more about the devices you support
Get valuable information about your supported devices upfront. Know what Linux distribution they are running, the internal and external IP addresses, hardware in use, and much more!
Debian 9 or higher
TeamViewer Host or full version (TeamViewer 14.1.9025 or higher)
TeamViewer Monitoring Fact Sheet
Please find detailed technical information about TeamViewer Monitoring in the PDF attached:
Activate TeamViewer Monitoring & Asset Management Today!