ITbrain News
Learn about product updates and new features.
New in ITbrain Anti-Malware: Acknowledge all threats at once
The newest ITbrain Anti-Malware update is aimed at saving you time. When it rains, it pours – acknowledging every single threat is a tedious task. This is a thing of the past now! If a computer shows massive infections, you can now acknowledge all threats at once.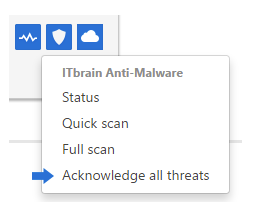 How do I receive the update?
The update is rolled out and pushed to your devices automatically! There are no additional actions required.
PS. We listen to you! We are constantly collecting feedback to bring you new and improved features. What features would you like to see? Let us know in our community!.