ITbrain News
Learn about product updates and new features.
New: Microsoft Outlook Add-In for ITbrain Anti-Malware
The easiest way malware, such as viruses, etc. have spread in the past is via email attachments. End even today this is still the case.
Companies commonly train their staff in identifying potentially malicious email attachments to make sure those won't be opened. However, all it takes is one person missing the red flags, and opening the misleading attachment for the whole IT infrastructure to be at risk.
The new ITbrain Anti-Malware Microsoft Outlook add-in eliminates the risk of executing malicious attachments.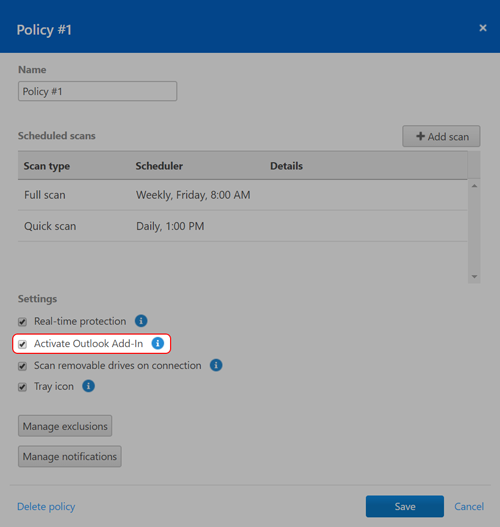 How does it work?
While Microsoft Outlook is running, ITbrain Anti-Malware will scan all attachments of incoming emails. As soon as an infected attachment is detected, it will be put into quarantine. Instead of the malicious attachment, the user will find a simple text-attachment informing him about the cleared threat. This feature is available for users of Microsoft Outlook 2010 or higher.
How can I activate this Microsoft Outlook add-in?
Login to your ITbrain dashboard, and go to the ITbrain Anti-Malware tab.
Select "Manage Policies" and then select the policy you would like to activate the Microsoft Outlook add-in for.
Activate the Microsoft Outlook add-in by checking the box next to it.
Click the "Save" button at the bottom of the policy window to save your changes.
Please make sure to check other ITbrain Anti-Malware policies, too.
PS. We listen to you! We are constantly collecting feedback to bring you new and improved features. What features would you like to see? Let us know in our community!.