Your Security and Privacy Are Important to Us
Your Data is Safe
In today's digital realm, security and privacy are very important issues and worthy of careful protection. We are thus dedicated to providing you with the highest security standards. Be it on this website, within TeamViewer, or the TeamViewer Management Console, your data is safe.
TeamViewer includes encryption based on RSA private-/public key exchange and AES (256 bit) session encryption. This technology is based on the same standards as https/SSL and is considered completely safe by today's standards. The key exchange also guarantees full, client-to-client data protection. This means that even our routing servers will not be able to read the data stream.
In addition to the PartnerID TeamViewer generates a session password that changes with every software start to provide additional security against unauthorized access to a remote system. Security relevant functions like file transfer require additional, manual confirmation of the remote partner. Also it is not possible to invisibly control a computer. For data protection reasons the person sitting on the remote computer has to be able to detect when someone is accessing the machine.
Two Factor Authentication
TeamViewer assists companies with their HIPAA and PCI compliance requirements. Two factor authentication adds an additional security layer to protect TeamViewer accounts from unauthorized access. In combination with access control through white listing TeamViewer allows you to get HIPAA and PCI ready. With two factor authentication, additionally to username and password, a code generated on a mobile device is needed to sign in to a TeamViewer account. The code is generated via the time-based one-time password (TOTP) algorithm. The TOTP code is protected by SRP and thus perfectly safe against man in the middle attacks.

TeamViewer has been certified by the German "Bundesverband der IT-Sachverständigen und Gutachter e.V."( BISG e.V. , German Association of IT appraisers and assessors) with the five star quality seal.

Security-related inspection FIDUCIA IT AG
TeamViewer underwent a security-related inspection by the German FIDUCIA IT AG (an operator of data processing centers for around 800 German banks) and has been approved for use at bank workstations.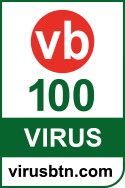 TeamViewer Endpoint Protection (previously "ITbrain Anti-Malware") has been awarded the VB100 certification for reliability by the magazine "Virus Bulletin". This award certifies a detection rate of 100% of malicious software listed as 'In the Wild' by the "WildList Organization". In addition, anti-malware software awarded this certification must not generate any false positives.

ISO 9001:2008 Quality Certification
TeamViewer Germany GmbH is one of the very few companies on the remote control market with a certified quality management system according to ISO 9001.

All program files are secured using VeriSign code signing technology. This allows you to verify the origin of the executables you received.