Centralized Remote Monitoring and Management by TeamViewer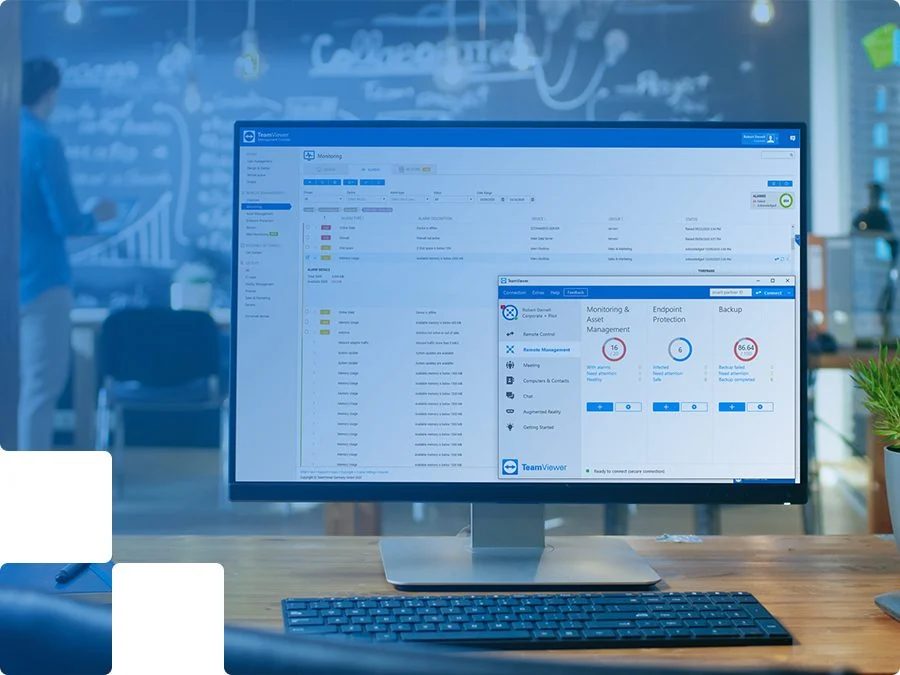 What is TeamViewer Remote Management?
Enhance your TeamViewer experience, know more about your devices, and proactively keep your IT infrastructure healthy, stable and secure. Boost your IT efficiency and centrally manage, monitor, track, patch, and protect your computers, devices, and software – all from a single platform.
Integrated Remote Monitoring & Management (RMM) through a Single Pane of Glass
Enhance your TeamViewer experience and take your IT management to the next level. TeamViewer Remote Management provides you with an integrated RMM solutions that will allow you to gain a high degree of visibility into your IT infrastructure. Monitor business critical aspects of your IT, centralize important device information without relying on end-user input, detect and patch software vulnerabilities, and protect your devices against external threats and human error – Completely integrated in to your TeamViewer environment.
Offer the Best Services for Your Clients and Users
Fully integrated
TeamViewer Remote Management is completely integrated in your TeamViewer environment – roll out a comprehensive RMM solution with just a few clicks.
Customizable
Create customized TeamViewer Remote Management policies and ensure your clients are equipped with an RMM solution that is completely tailored to their needs.
Scalable
Benefit from a managed solution that is able to adapt as quickly and flexibly as you do. Whether you win new clients or your organization grows, TeamViewer Remote Management can accommodate this without any impact on performance.
TeamViewer Remote Management in Action
Carey Paul Honda
Michael is the sole admin of Carey Paul Honda – one of greater Atlanta's largest car dealerships. When he took on this role, he was facing a decentralized IT environment without a clear overview of the IT infrastructure he is supposed to support. Watch the video and download the case study to learn how TeamViewer and TeamViewer Remote Management helped him to get everything under control.
Learn how just one person transformed the IT of an entire business with TeamViewer Remote Management.
Oberursel Fire Brigade
In an emergency, seconds count – in fire-fighting as well as in rescue. The Oberursel fire brigade relies on TeamViewer Remote Management to ensure that the IT system functions perfectly in the event of an emergency. TeamViewer Monitoring & Asset Management monitors the status of all devices connected to the VPN; if problems are detected, the IT manager is automatically informed by email. Software updates and updates for the operating system can be installed automatically from a central location.
With TeamViewer Remote Management, the Oberursel Fire Brigade keeps their complete IT ready for use 24/7.
For Managed Service Providers
Grow your business with TeamViewer Remote Management. Expand your service offering and serve customers more efficiently.
Amaze your customers with superior service
Know of problems before your customers do
The right set of tools deployed with just a few clicks
For IT Departments
Improve the performance of your IT. Maintain your devices proactively, and provide security and stability for your IT infrastructure.
Reduce your downtime & increase IT performance
Proactively schedule maintenance
Ensure business continuity through top-notch IT
For Enterprises
Centralize your IT operations into one intuitive platform that provides you with a comprehensive overview of your IT.
Reduce your operational overheads
Improve your efficiency through centralizing systems
Turn your IT into a competitive advantage
Do You Have Questions or Need Further Details?
Simply fill out this form and we will get back to you within a few days.