Transaction Monitoring
Protect your most important web flows by simulating user interactions and spotting bottlenecks.
Transaction Monitoring is part of our TeamViewer Web Monitoring product.
Transaction Monitoring is part of our TeamViewer Web Monitoring product.
Is your website working?
Run pre-recorded scripts and ensure processes like registrations and your web shop checkouts are working
Even if your website is up and running, and everything seems to be fine, there's always a risk that transactional process such as shopping carts or registrations might not be functioning properly.
With TeamViewer Web Monitoring, you can monitor those transactions and ensure your e-commerce engine is running without any leaks. The transaction monitor continually simulates end users' interactions with your website, and monitors availability and response times along the funnel process – from more than 30 locations around the world.
Ensure business critical processes like your web shop and registrations are working
Get detailed information for every step of your process funnel
Check your transactions automatically from 30+ locations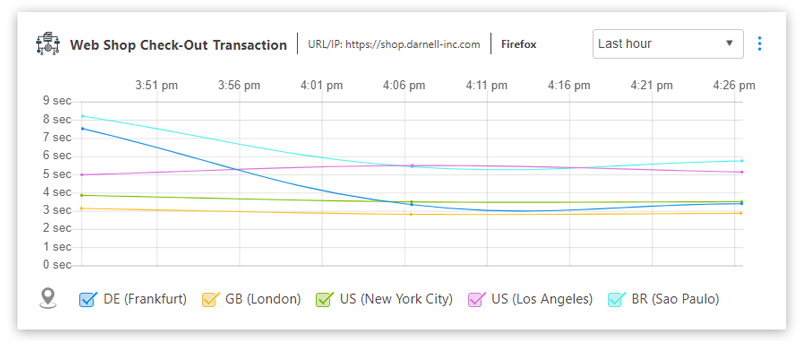 Transaction Monitoring by TeamViewer
30+ Locations
Monitor transactions from more than 30 locations worldwide to ensure all business critical processes are running flawlessly.
Funnel Visualization
How long does each step take? Visualize response times along the funnel process to identify problems and reduce drop and abandonment rates.
Diagnostics
Drill down into the data and identify problems to improve your websites' performance and ultimate ROI.
Instant Alerts
Receive immediate notification if one of your transaction checks fail, and jump in to prevent a potentially small issue from becoming a bigger problem.
Multi-Threshold
Based on the transaction on a website, multiple steps and therefore websites may be involved. Set individual thresholds for each step of the transaction funnel and receive instant alerts.
And there is more!
TeamViewer Web Monitoring can do more
Uptime Monitoring
Is your website up? Everywhere? Monitor the uptime of your websites in frequencies of as low as 1 minute, and from more than 30 worldwide locations, so you can ensure that customers in various parts of the world can reach you. Get alerts when the response time of your website exceeds your set threshold.
Page Load Monitoring
How long does it take to load the entire content of the website? Receive notifications when your page takes too long to fully load. Get insight into the load times of your page, and immediately see which elements on your website increase the load time, so you can optimize your end user experience.
BENEFITS
Improve the Performance and End-User Experience of Your Website
Interesting Documents
Download additional material on Transaction Monitoring by TeamViewer.
Download the TeamViewer Web Monitoring info sheet to get an overview of the most important TeamViewer Web Monitoring information on one page.
Download the TeamViewer Web Monitoring Technical Fact Sheet and get an overview of all important technical details.
Server Locations and IP Addresses
Get an overview of our monitoring server locations and view all IPv4 and IPv6 addresses.
Learn more about Web Monitoring in our latest white paper, "Web Monitoring Made Easy"
Activate Web Monitoring today!
Start your free 14 day Transaction Monitoring trial.