Move Goods Faster and Streamline Processes Across Retail Operations with AR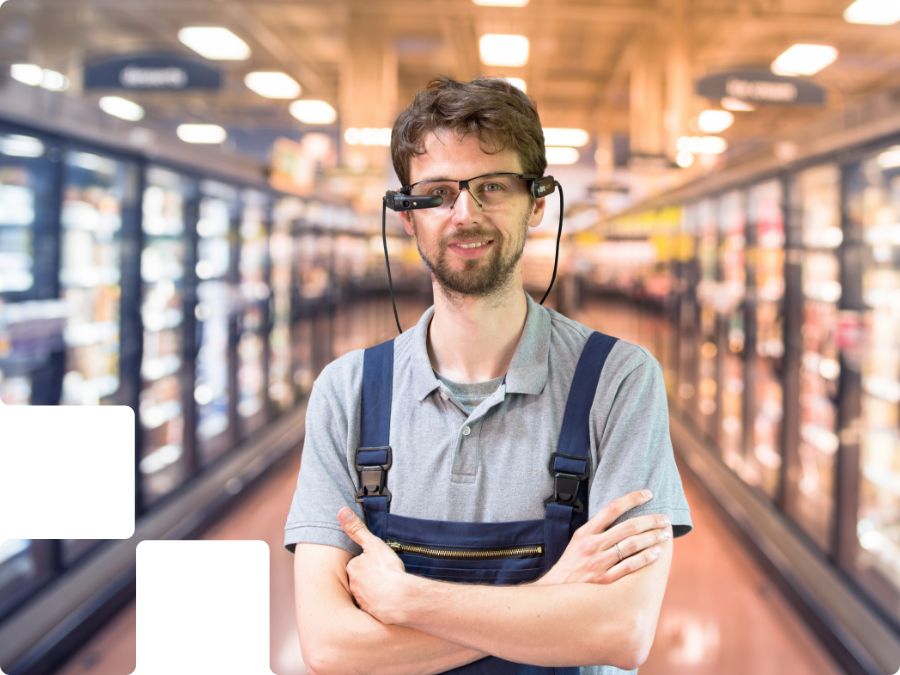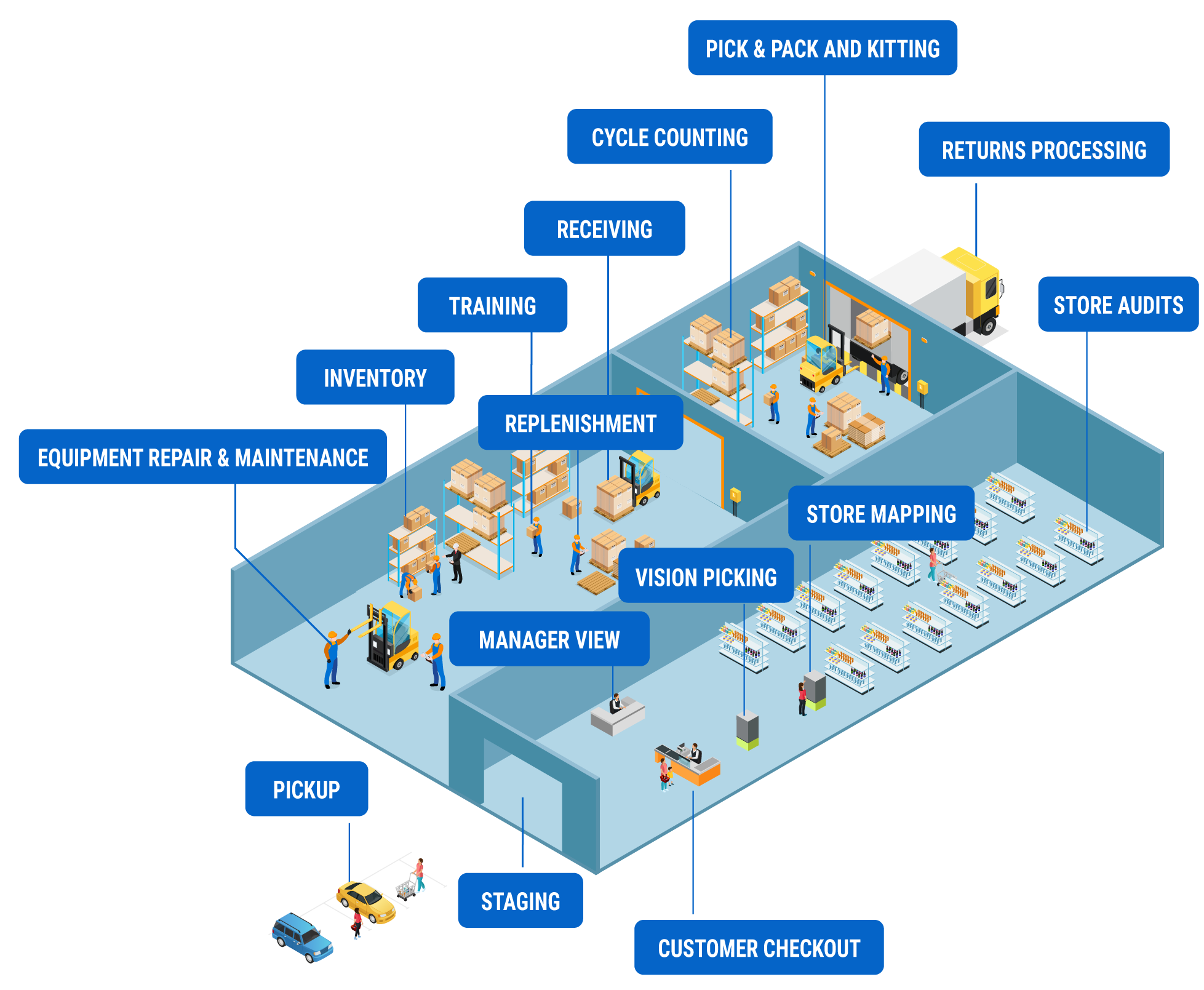 The Retail Industry is Fundamentally Changing
Demand for same-day delivery, curbside pickup, and dark stores has never been higher but with Frontline's vision picking solution for smart glasses, your team members can carry out fulfillment tasks faster and more accurately. Easy to use and affordable to adopt, Frontline can:
Equip your frontline workforce with a hands-free, visual augmented reality solution
Replace handhelds or paper lists and accelerate time to delivery
Dynamically update information and orders to meet your store's and your customers' needs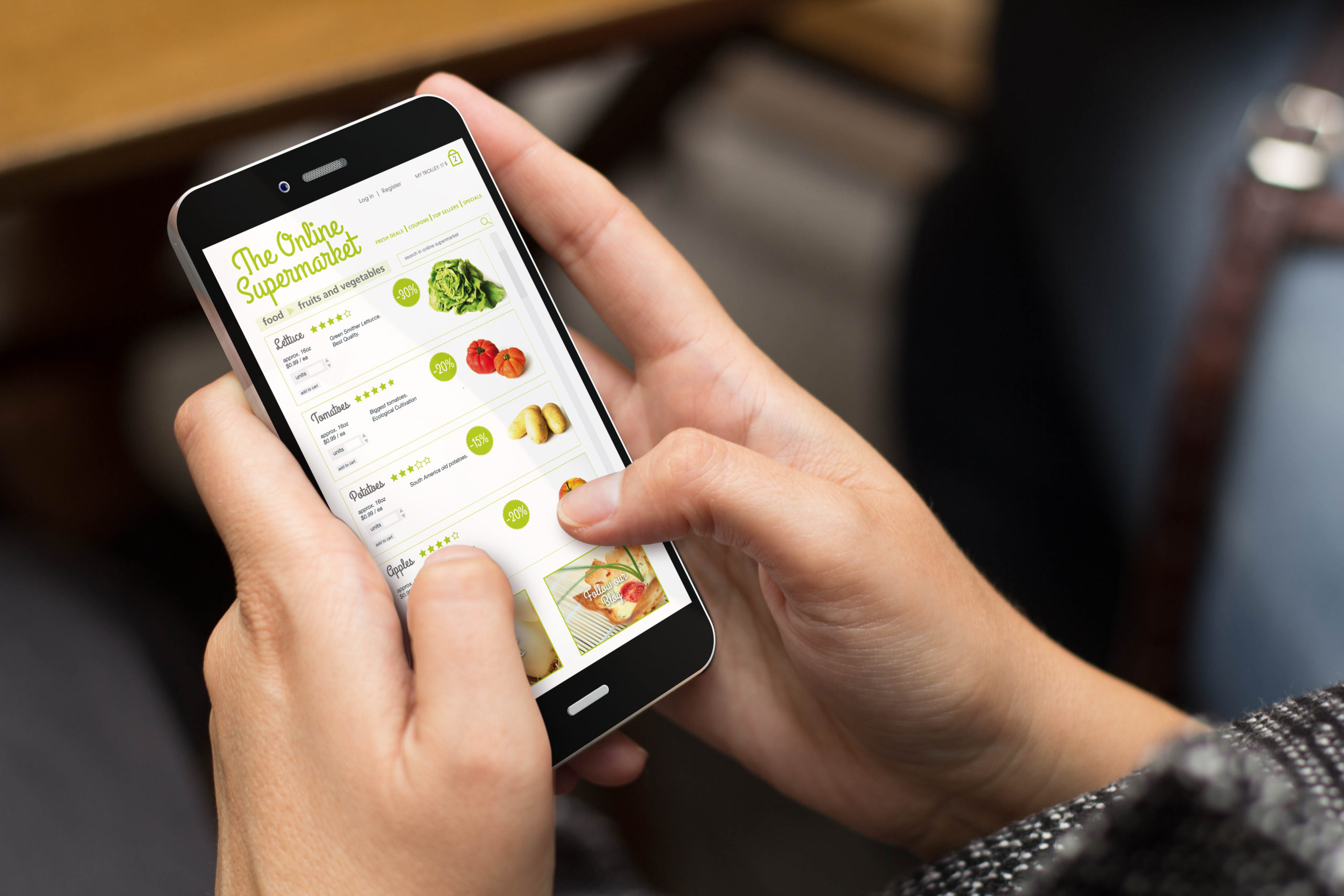 Facing Challenges in Omnichannel Operations
With rising consumer demand for handling everything online – including grocery shopping – the requirements for the grocery industry have changed drastically. Covering the sale of everyday goods and servicing consumers has evolved the retail sector into a true omnichannel business.
This has led to rising operational costs and a shortage of skilled workers. Meanwhile, the entry of new players into the market is challenging the classic retail culture. For a lot of retail executives, the solution is clear: accelerating their investment in digital.
But how and where should the retail sector be leveraging the power of technology? Our answer: Empowering frontline workers by digitalizing and optimizing manual processes.
TeamViewer Frontline
Our integrated Frontline enterprise AR platform offers solutions along the entire value chain. The focus on improving manual processes – still prevalent in retail – offers crucial opportunities for increasing efficiency and gaining a competitive edge.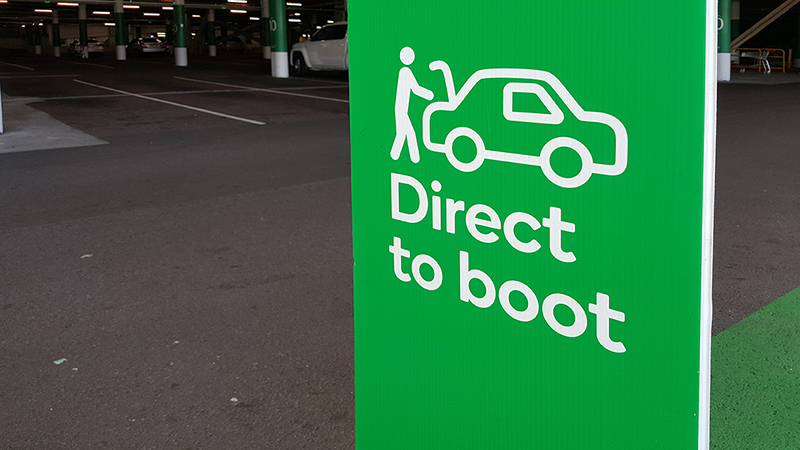 Fulfill Orders Faster and Improve Quality – For Happier Customers
Fulfill orders quicker and more accurately
Increase customer satisfaction
Equip your workforce with an easy-to-use solution
Accelerate staffing ramp-up and soften seasonal impact
Benefit from full integration into your systems
In-Store Picking has Never been Easier!
Scan the tote
View location, item, and amount
Pick, confirm, and pack article
Order is ready for pick-up!
Associates receive the information they need to fulfill the orders directly in their line of sight and can use both hands to locate and pick the correct items resulting in improved pick rates.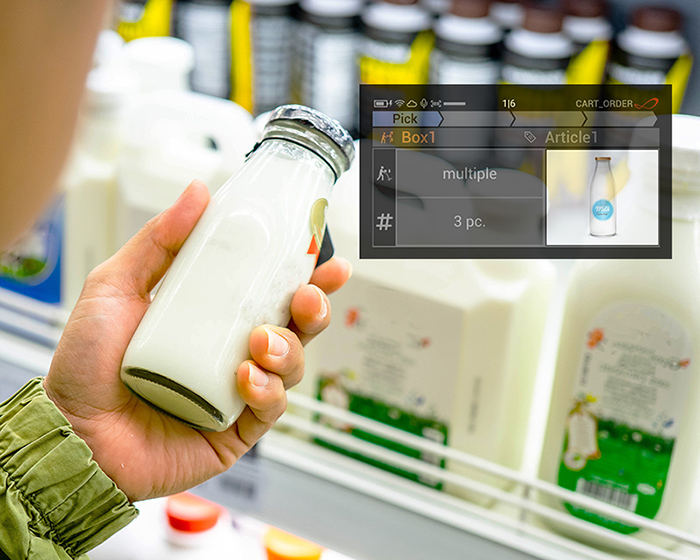 Get Started Directly
Meet the rising demand for online orders and multichannel business operations with our ready-to-deploy solution. It's easy to integrate into your retail or grocery fulfillment system and, thanks to our immediate, large-scale deployment options, will help to relieve the increasing demand for multichannel business operations instantly.
Want to Go Beyond Order Fulfillment with Vision Picking? Frontline's got You Covered.
As well as order picking, there are plenty more use cases within retail and wholesale. Whether it's in store, regionally or internationally, Frontline is a comprehensive platform for leveraging the power of AR along the entire value chain:
Training
Vision picking is so intuitive you can think of it as "wear & work". After putting on the smart glasses, the visual information guides associates so clearly that even for new-joiners, errors are almost impossible. If problems do occur, workers can easily share their field of vision with their manager and solve issues immediately. And this translates to all use cases – clear visual information replaces complicated printed manuals and the hands-free nature of smart glasses and wearables enables a true 'learn-on-the-job' experience, guaranteeing a more self-sufficient learning experience for staff and reduced resource pressure for stores.
Handling of Goods & Quality Assurance
When it comes to loading and unloading, augmented reality solutions keep workers' heads up and prevent hazardous distractions during loading and unloading operations. As all devices are body worn, misplaced handhelds or paper lists are a thing of the past. Quality checks can directly follow receipt of the goods to make sure the delivery meets the retailer's quality standards. With Frontline's solution xInspect – specifically designed for inspection of all kinds – condition checklists can be completed following grocery deliveries and the quality of incoming fruit or vegetables can be verified via pictures for seamless reporting.
Troubleshooting & Maintenance
If a lightbulb is out, a toilet is clogged or a POS machine is down, the in-store customer experience can be greatly impacted. Most retailers commonly outsource the maintenance of these issues but Frontline enables in-store workers to fix these common issues themselves. They can view how-to videos and maintenance checklists on smart glasses and mobile devices. And when in doubt, they can call a remote expert to help with complex issues. Not only does this reduce downtime, it also saves money on costly 3rd party providers.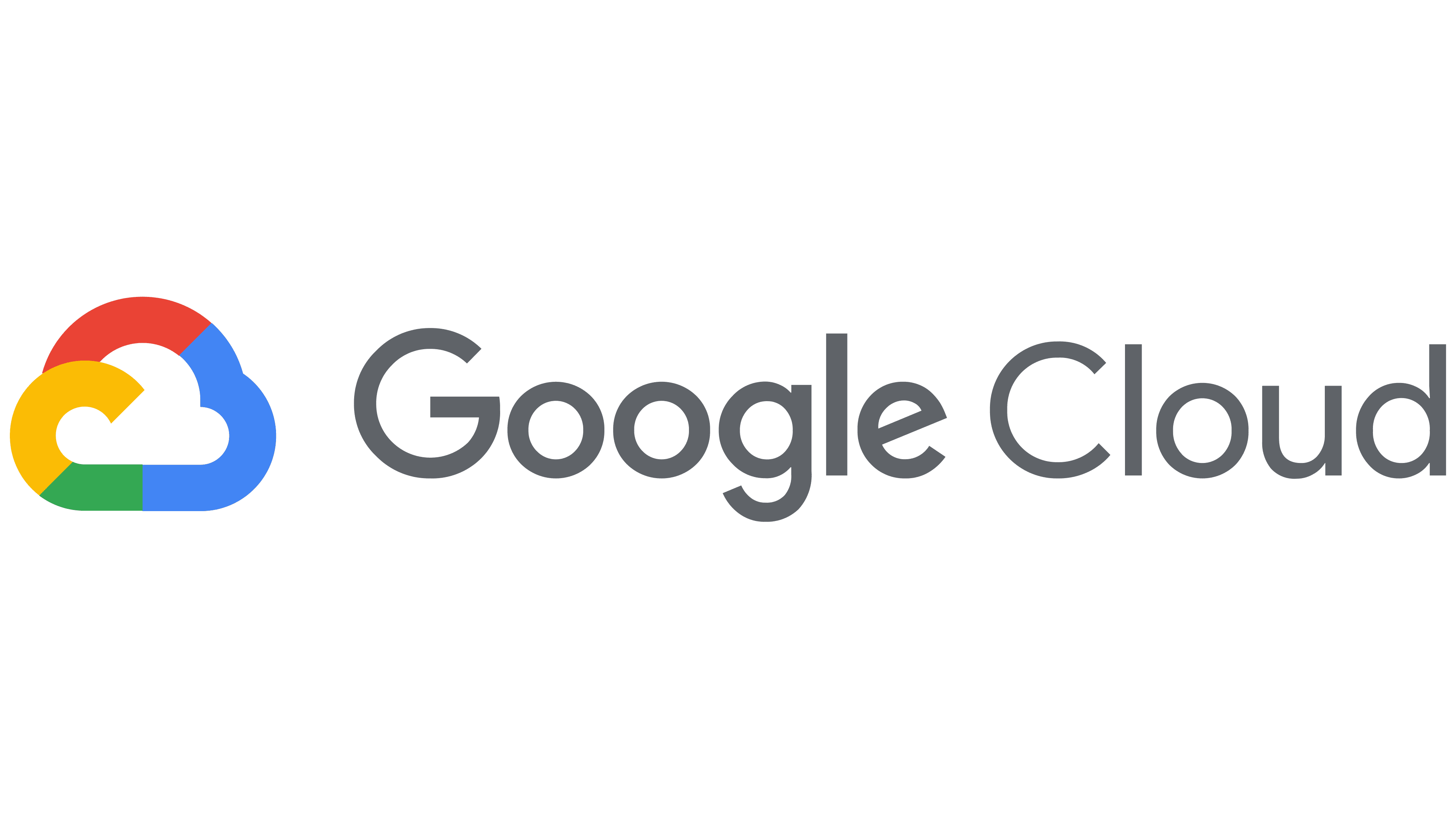 TeamViewer x Google Cloud: Creating the Modern Store
The partnership between TeamViewer and Google Cloud is providing a true "off the shelf" solution for retailers. Assisted order picking is a partner solution leveraging Google Cloud and Glass Enterprise Edition 2 equipped with TeamViewer's vision picking software. It enables a direct connection between order fulfillment, inventory management, and product-level data. The primary use case is BOPIS (buy online pickup in store) but it can extend into other use cases such as associate training or stock assessment.
Improve productivity through focus
Free hands to pick and pack while scanning
Use voice capabilities to enter product details
Receive audible feedback to identify errors
Improving Retail & Grocery Operations with Augmented Reality (AR) Solutions
Unlock your workforce's full potential by giving them the tools they need to get the job done right. You'll be rewarded with higher efficiency, greater productivity, stronger business resilience, and happier staff.