New updates to TeamViewer Tensor can change how you support customers, providing unique methods to resolve issues quickly.
Customer support is a critical aspect of business. Adequate service isn't remembered. Poor service can harm your brand and be difficult to remedy. But outstanding, groundbreaking customer service can touch the entire business, leading to greater customer satisfaction, word of mouth, and ultimately further growth.
With some new updates to TeamViewer Tensor, our cloud-based enterprise connectivity platform, the product can now help put your company in the groundbreaking category.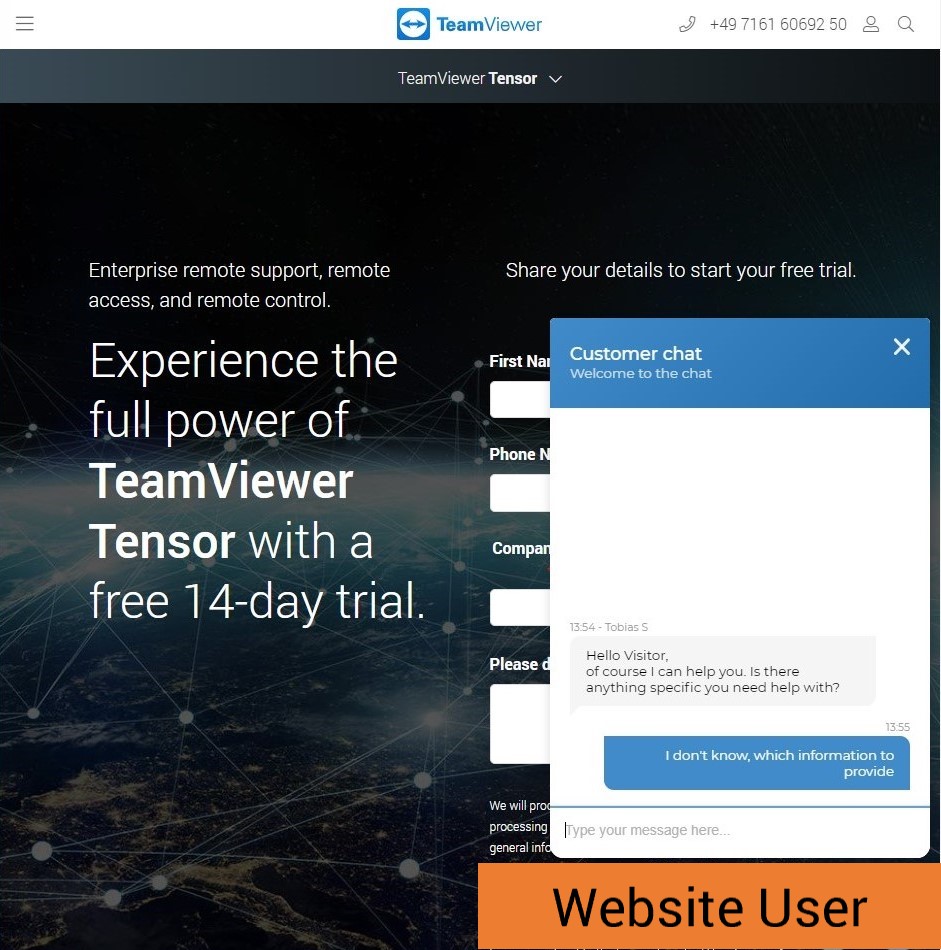 Offer Secure Help on the Web with Co-Browsing and Comprehensive Chat
From webshops to customer portals to account management, customers can do more of their business with your company online than ever before.
But no matter how great your web design is, there will still be customers who get lost, confused, or have a non-standard issue. They may try to use your online services but will be quick to jump into your phone queue if something goes wrong. When they reach someone, that support call is filled with back-and-forth that frustrates both the customer and the supporter all while lengthening call time.
Wouldn't it be more efficient to guide your customers by seeing their instance on your website and accomplish their goal with them, either over a call or through a chat window, all while maintaining privacy?
With Tensor's co-browsing, your support staff can view a customer's web browser remotely without the customer having to download new software.
Provide better customer experiences and enhance your support services by integrating Tensor's live chat solution with automated messages, smart suggestions, and customizable chatbots, available 24/7.
Support staff can use their expertise to accomplish customers' tasks for them on your website while the customer watches or chats through a dedicated window. Sensitive information is automatically hidden, and the supporter only has access to the one web browser tab they need, not the customer's computer itself.
Strengthen Your Mobile App's Experience
Many companies view their mobile app as key in their customer support strategy. As mobile technology's capabilities grow, so too does your customers' abilities to conduct business with you through your app.
Yet 1 in 5 mobile apps are deleted after the first use. One way to make sure yours isn't is to make sure it meets your customers' needs, not just the first time, but every time.
Similar to web co-browsing, Tensor now offers the ability for support staff to guide use of your mobile app remotely. For example, as automobiles become more connected, drivers can do more through their car manufacturer's app, such as start the engine or air conditioner. But if a customer can't figure out how to use those capabilities, it wastes all of that potential benefit. A supporter can remote in to a customer's app to help (but only the app; the rest of the phone is unavailable to the staff member, including any notifications that may appear).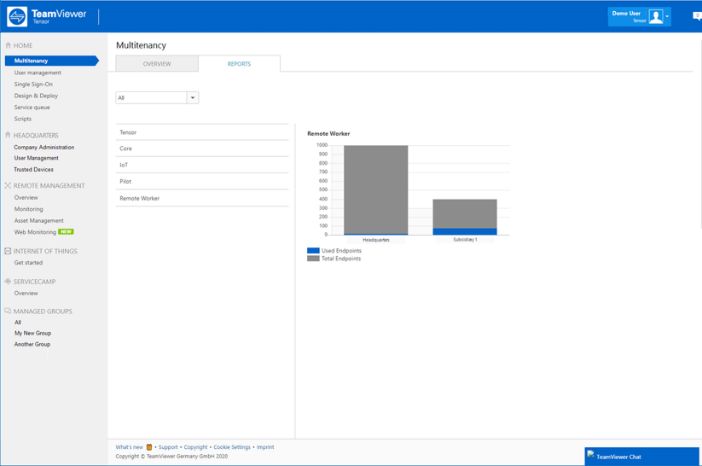 Centralized Management of a Decentralized Business with Multitenancy
We've talked about making things easier for customers, but how about making things easier for the enterprise itself?
Large enterprises feature divisions, locations, or departments that operate semi-autonomously. But what happens when IT leaders at the "mothership" need to have visibility into those estates? Do they ask for a bunch of reports from the staffers in that division? That can take time and as we all know, things change quickly in IT.
TeamViewer Tensor's multitenancy features solve this problem.
You can manage all your TeamViewer licenses and endpoints remotely from a centralized location, making enterprise-wide administration of TeamViewer products easier while keeping everything organized in a way that reflects your business model.
Division leaders only see what is appropriate for their division, rather than having to log into some primary account and having to dig through the data for the entire enterprise to find what they need. And managed service providers, who may serve dozens of clients, can set up their TeamViewer usage in a way that makes sense for their distributed business.
These new features, and other developments behind the scenes, will allow organizations to provide a unique experience for their customers that not only stands to increase satisfaction, but decrease average call times.
Development of TeamViewer Tensor continues to move forward, reflecting the needs of growing companies speeding toward enterprise status and established enterprises looking to get a handle not only on remote connectivity, but their sprawling IT estate.
Experience these and TeamViewer Tensor's other enterprise-grade features for yourself with a free 14-day trial.