As the ongoing process of digitization continues, the ability to remotely manage devices is becoming increasingly important. For Managed Services Providers (MSPs), Remote Monitoring and Management (RMM) software is an indispensable tool for protecting the IT systems of their customers. This means that finding the right RMM solution for your business is crucial.
Remote Monitoring and Management is a process to proactively monitor client endpoints, networks, and computers from a distance. The process itself lies in the hands of Managed IT Services Providers. This is why RMM software solutions are also referred to as remote IT management or network management.
To make remote monitoring management work, you need to install a so-called agent on your endpoints. The agent then provides you with all relevant information about the machine status.
If one of these agents encounters a problem during RMM monitoring of the IT infrastructure, it triggers an alert. The MSP monitoring these alerts then initiates the necessary steps to resolve the issue before customers even notice them. This means that by using an RMM solution, MSPs no longer have to rely on the break-fix model, but can fix bugs before they become grave issues that can cost a lot of time and money.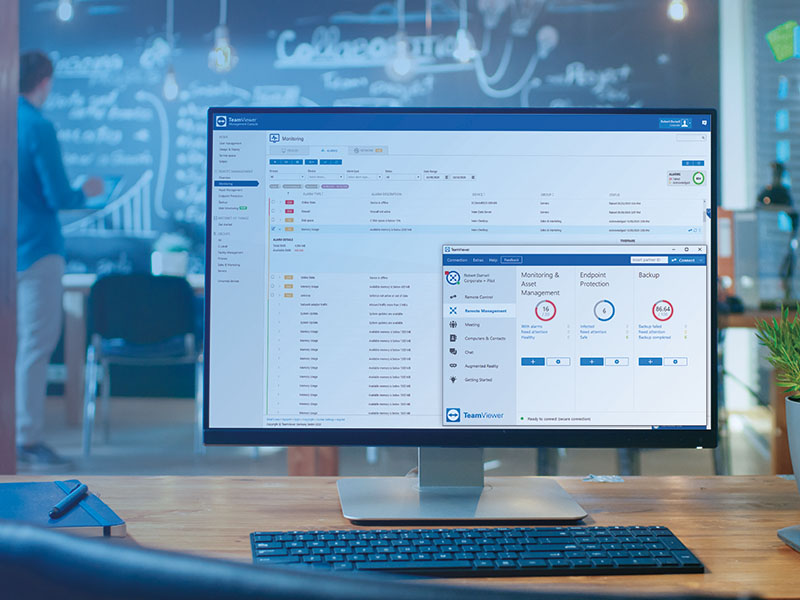 Challenges in IT and software administration
Software can become outdated due to lack of upgrades or updates. This makes them more vulnerable to security risks and data breaches.
Now and then, minor bugs that are not fixed lead to more serious problems that are harder to fix.
Some customers put off pending maintenance or upgrades to save money in the short term.
Frequent IT concerns can cause clients to lose confidence in the vendor.
To meet your financial goals, you need more clients. However, inconsistent workflows result in only episodic requests.
Benefits
With RMM software, SMBs can implement automation and monitoring within the enterprise.
When you detected issues earlier, system failures can be avoided proactively.
As an IT service provider, you save on site visits, which reduces travel costs and increases the flexibility of your experts.
A transparent pricing structure due to monthly fixed prices. This ensures that customers have no surprises and IT providers can count on fixed revenues.
Proactive monitoring strengthens the overall network stability.
Service providers can focus on preventive maintenance instead of troubleshooting.
Disadvantages
The initial learning curve can be an issue. It takes a while before it is possible to use the software for responsive support. That's why you ideally use a step-by-step approach.
The initial costs of these tools can be high. Of course, there are also open-source systems, but professional solutions are usually way more secure, and offer service-level agreements.
Tools for effective Remote Monitoring and Management
As an MSP, you are responsible for the management and maintenance of corporate networks. To perform this task properly, automated workflows are essential. The basis for this is an RMM solution with includes Remote Device Monitoring (RDM) to monitor parameters like disk space, CPU usage, or online status of remote devices.  Your customers benefit from increased reaction speed, less downtime of IT systems, and higher overall productivity.
Why do you need an RMM software?
The right RMM platform helps you maintain a healthy network. The technology allows you to securely connect to all endpoints remotely. As an MSP, you will gain a high degree of visibility into your customer's IT infrastructure. This enables you to monitor business critical aspects of their IT, centralize critical device information without relying on end-user input, detect and patch software vulnerabilities, and protect devices against external threats and human error.
How do you find the right RMM solution?
To find the right remote management tool, you should review the key features of each RMM software solution:
Privacy: With your RMM solution, you manage customer data. Therefore, superior data protection is essential.
Scalability: To meet market demands, your software must be efficient, agile, and scalable.
Automation: It should be possible to provide standardized and automated processes for customers.
Security: Proactively looking for security vulnerabilities in the network requires that the software can detect and fix these security threats. Some solutions also offer automated Patch Management.
Multi-platform: Since each customer network has its unique function and structure, your RMM should support different platforms like Windows, macOS, Linux, and of course mobile devices.
Get Started with RMM
Start your free 14 days trial for TeamViewer Remote Management and easily monitor your devices
Remote Monitoring and Management with TeamViewer
TeamViewer's Remote Monitoring and Management software helps you keep your IT infrastructure stable and secure. At the same time, it increases the efficiency of your IT and helps you proactively monitor all devices. Since it is an RMM platform integrated directly into TeamViewer, you can perform all necessary actions from one central location:
You can monitor critical aspects of your devices. The alerts issued keep you one step ahead of potential problems.
In addition to monitoring individual devices, you can also monitor network devices. Issues with routers, printers, or other critical devices are immediately detected and solved.
You can track all IT assets on a single dashboard. This also gives you a tool for transparent asset management.
Patch Management helps you patch third-party applications and operating systems. However, it also helps you to detect vulnerabilities caused by outdated software.
You can use all RMM tools from a single central location directly in TeamViewer. Monitor, access and manage all devices in your network like through a single pane of glass.