IT Help Desk for better Customer Support
Solve cases faster and increase customer satisfaction. Prioritize, track, sort, solve, and measure incoming requests in a single platform.
What is an IT Helpdesk?
Helpdesk support services are essential for companies: They help users solve IT problems and provide immediate assistance. Depending on the size of the company, the IT helpdesk can consist of a single person or a large group of contacts.
At the same time, internal or external forces can take care of IT helpdesk support. Typically, these support specialists are also referred to as call center agents, who have excellent knowledge of the respective software solutions.
The Helpdesk System
In order for the IT helpdesk to provide the desired assistance, numerous specialists deal with the concerns of the employees. They take care of problems with the computer and software as well as with the underlying network. Many technology providers also include customer support among their helpdesk services, as this can increase customer satisfaction.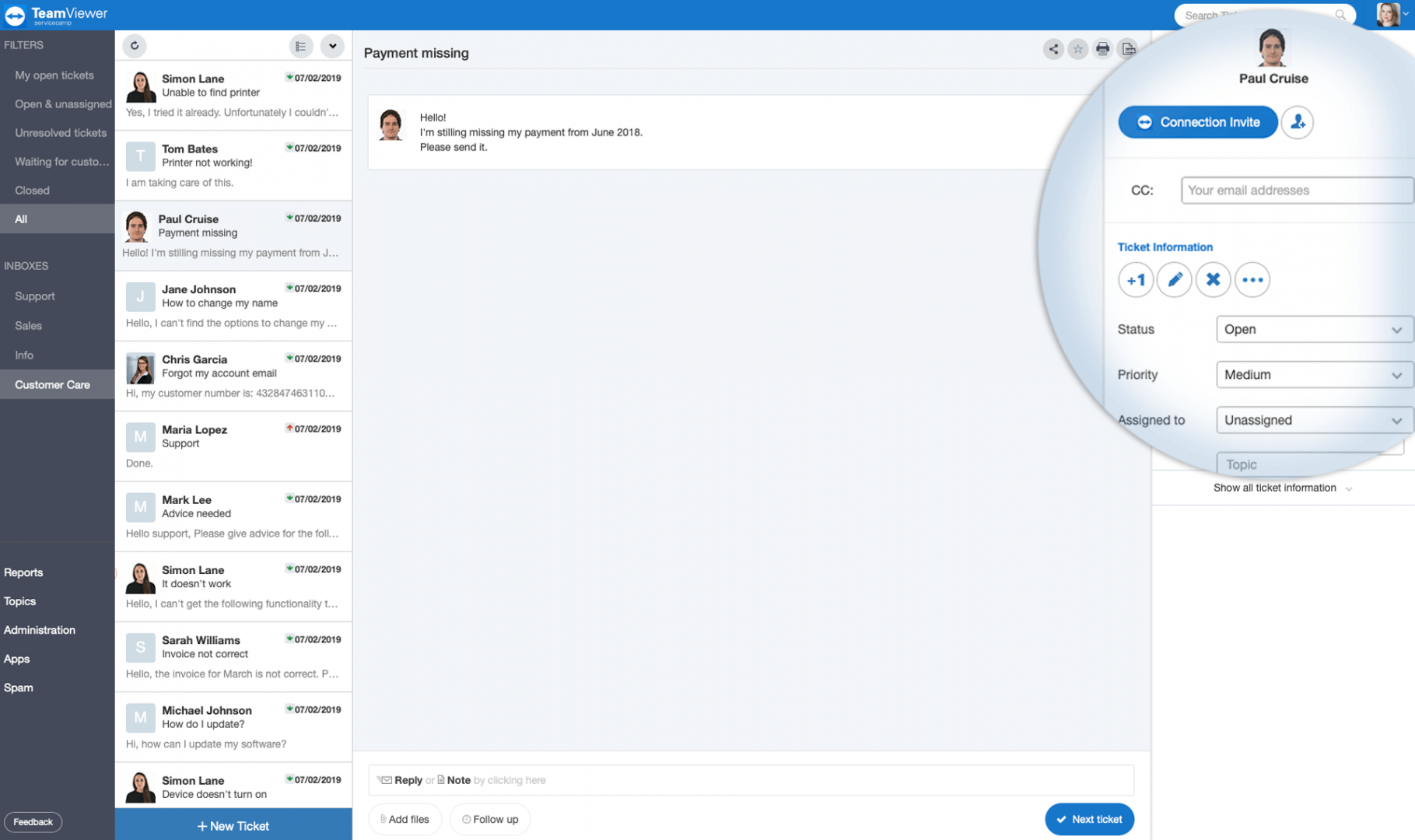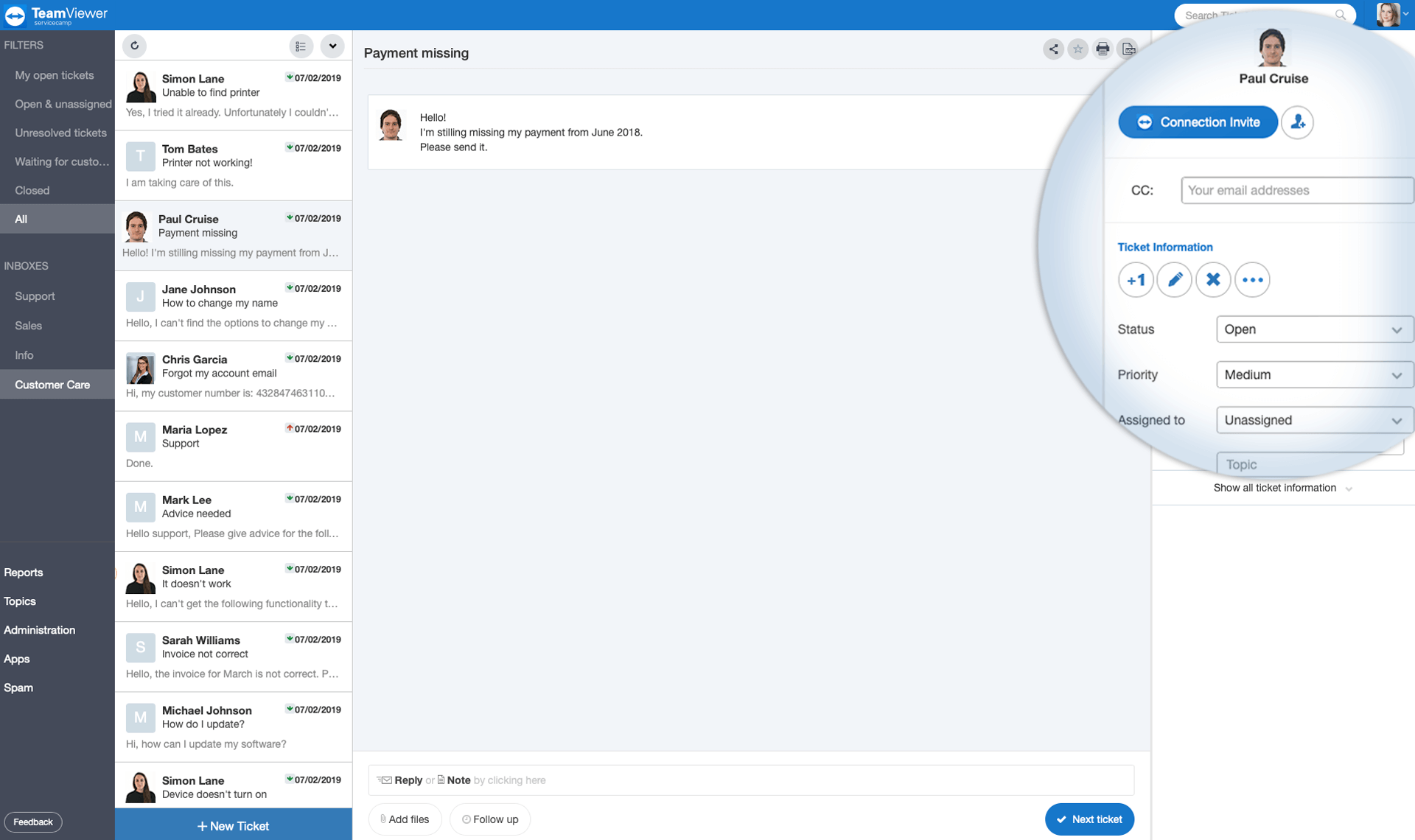 Main functions of an IT helpdesk
The basis for IT helpdesk support is, in the simplest case, a telephone number. It allows employees or customers to reach remote helpdesk support around the clock. This offers the advantage of solving customer problems in real time. In addition, mature support teams provide the necessary scaling. IT helpdesk support performs the following tasks:
The IT helpdesk handles requests in real time. These can come in from authorized users via phone, email or messaging apps.
The customer service department uses special IT helpdesk software to manage incoming tickets. Such an IT helpdesk ticketing system ensures that all customer requests are resolved in a timely manner. Therefore, both their creation and their management IT helpdesk staff.
Since customer support often consists of several experts, there is always an opportunity for escalation. This means that tickets that individual members are unable to resolve are passed on to the next unit. This allows queries to be answered and problems to be resolved much more quickly and reliably.
Equally important is the knowledge database available to IT helpdesk staff. Here well-tried solutions (for example to the most common top ten helpdesk calls) can be found and used to provide a fast and efficient support. As it is constantly updated, most problems can be solved in a very timely manner.
Benefits of IT Helpdesks
The most important benefit offered by the IT help desk is the increase in customer satisfaction. However, there are other benefits that IT helpdesk software brings:
The IT helpdesk in the company contributes decisively to the effectiveness of the organization. The reason for this is that it solves internal technical problems as soon as they occur.
The solutions can be taken from an extensive knowledge base.
Unusual problems can be escalated. This regularly involves collaboration between different experts, who benefit from their shared knowledge.
Requests to customer support are recorded centrally in an IT help desk ticketing system. This results in a high level of traceability, which contributes to optimized response times.
Since support staff can solve many problems using special software, remote helpdesk support is a good option. Such hotlines are suitable even for smaller companies that do not have their own team of experts on site.
A sophisticated IT helpdesk helps to identify product problems at an early stage. This is not least due to the metrics used and the interaction with the customer.
Different types of IT helpdesks
Customer support varies from company to company, as many organizations have specific objectives. Despite these variations, systems can be divided into the following categories:
Automated Helpdesk: The automated IT helpdesk is a low-cost self-service support that typically provides a self-service portal. This portal is the central location for support request creation and the associated IT helpdesk ticketing system.
Cloud helpdesk: Cloud solutions operate entirely online. This offers the advantage of additional location independence.
On-premises helpdesk: The on-premises helpdesk has a physical location, but this does not have to be the same as a company's headquarters.
Open-source helpdesk: These helpdesks can be held in the cloud or on-premises. However, the most important difference is that they are open and freely accessible and use open source software.
Enterprise helpdesk: Such helpdesks are physically located at a company's site. Therefore, they are often salaried support staff of the respective organization.
Start your free trial today!
Discover how servicecamp can help you provide efficient and personal customer support.
Bundle TeamViewer's remote desktop capabilities with servicecamp to gain a high-performance remote control, collaboration, and service desk solution.
IT Helpdesks automation: Provide support with the right software solution
The automated IT helpdesk is becoming increasingly important in the IT industry. Advances in recent years have made many challenges easier to handle. Solutions that automate numerous processes enable simplified and faster support:
They simplify manual and repetitive tasks. An important basis for this is a comprehensive knowledge database that allows all customer service staff to solve problems quickly.
The integrated support ticket system enables events to be tracked in real time. Incoming customer requests can thus be sorted into individual categories according to priority, so that the important requests remain visible.
Service requests are always visible and can be processed according to importance.
With the right software, the long chains of approvals in cross-functional teams are no longer necessary.
Performance gaps fade into the background as added efficiencies contribute to a superior user experience at a lower cost of ownership.
Dedicated administrative features in help desk software simplify access management and increase traceability.
Advanced service management tools make it easy to manage, assign and monitor customer requests.
TeamViewer's build-in service desk: Fast, efficient and customer-friendly
TeamViewer's build-in service desk aims to resolve support requests faster. It is based on a fully featured service desk that can be activated via TeamViewer's remote access and control platform. To make support as easy as possible, the service desk not only includes a support ticket system: Many central functionalities are designed to meet the needs of modern day business.
All communication related to support requests can be stored in a central location. This documentation includes agent notes as well as customer conversations. They can then be used to create tickets directly for the support ticket system.
The remote control connection allows support staff to work independent from location. This is not only good for the company, but also positive for the support staff. After all, if special expertise is required, employees from other locations can be included in the solution process.
The integration of office suites such as Zoho facilitates the deployment. As a result, the service desk is seen as a budget-friendly option for providing support to the company's own employees.
In addition to quick setup, support staff benefit from an intuitive user interface. This increases customer value, as employees can focus on their tasks instead of slogging through lengthy processes.
Underlying these features is extensive functionality. This includes powerful tools at a budget-friendly price that contribute to the stability of the IT infrastructure in the company:
Seamless ticket management: which allows all requests to be pre-sorted, tracked, prioritized and resolved.
Quick support integration: Thanks to the integration, tickets can be generated directly from the module.
Customer portal: Adapting to your own corporate identity enhances the recognition effect and ensures good branding.
Connectivity: Service Desk offers integration options for other software solutions such as Zoho.