The third Handelsblatt report we're summarizing for you examines future technologies for logistics—a field that could benefit greatly from digitization. The report uses data from a survey of 3,575 corporate decision-makers in 10 European countries. Find out which technologies are already moving the needle and where decision makers think things are headed. [by Matt Bulow]
Recent supply chain crises have underscored just how crucial the discipline of logistics is for the global economy. Countless businesses rely on being able to move and keep track of production inputs and finished goods. Future tech promises improvements in all these areas and more. Which technologies are already making a difference, and what will the future hold?
Tracking the Progress of Logistics 4.0
If the future of logistics were a parcel, how close would it be to its destination?
Only a third of decision makers in Denmark, Germany, France, Italy, the Netherlands, Norway, Poland, Sweden, Spain, and the United Kingdom have even gotten started with implementation. Many lack a formal strategy.
It seems companies are still "preparing for shipment" or, in the best case, have progressed to "carrier picked up."
Only 15% have made solid progress so far
43% have no strategy to digitize their logistics
An additional 18% have already begun the digitization process
The survey shows larger firms are more likely to have a strategy or have already moved on to execution. In general, the impression is that digitization has yet to take off. Yet, when asked to what percentage their company has already digitized production, it appears that some progress has in fact already been made.
The "How" of Going Digital
There are many paths to implementing digital technologies for logistics. The most common approaches when it comes to logistics are the following.
Cooperation with customers and/or suppliers (44 percent)
In-house development (41 percent)
Use of specialized IT service providers (39 percent)
A significant number also cooperate with research institutions (23 percent). Very large companies (10,000 or more employees) were more likely to report reliance on service providers. In an interesting regional twist, German companies were more likely to rely on specialist vendors while Danish firms preferred to develop solutions in house.
Any Investment Involves Risk
Nearly one third (31 percent) of surveyed corporate decision-makers see depending on specialized third-party IT providers as a risk factor. The concern is, once the tech has been implemented, their business might become dependent on the service provider.
Even more fear the cost associated with information silos that result when logistics solutions cannot communicate with legacy systems that lack the necessary interfaces.
Data security is also a concern with digital logistics solutions.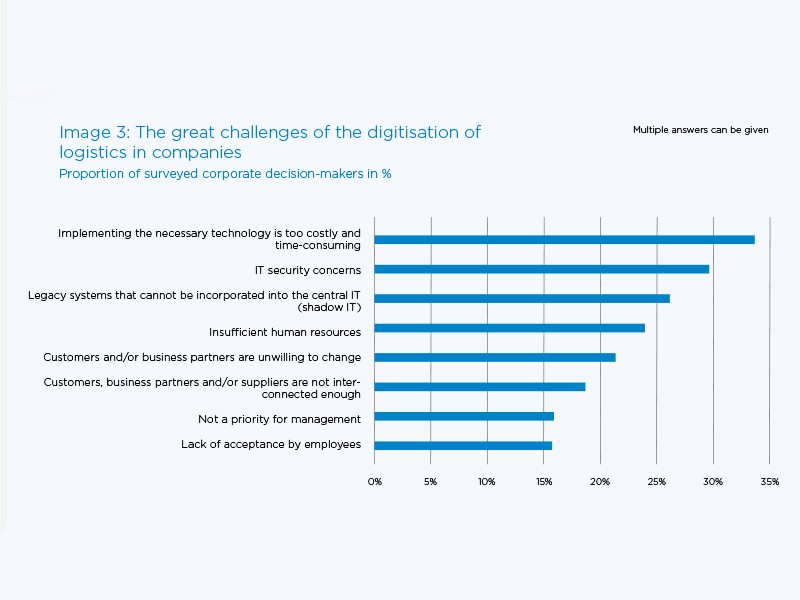 Which Tech Is Expected to Power Logistics
In general, many technologies are perceived as "rather important" for the future. Regional differences however do appear in the study results. Italy, Poland, and Spain see greater relevance for digital logistics technologies, with the United Kingdom, Sweden, and Denmark expressing greater skepticism.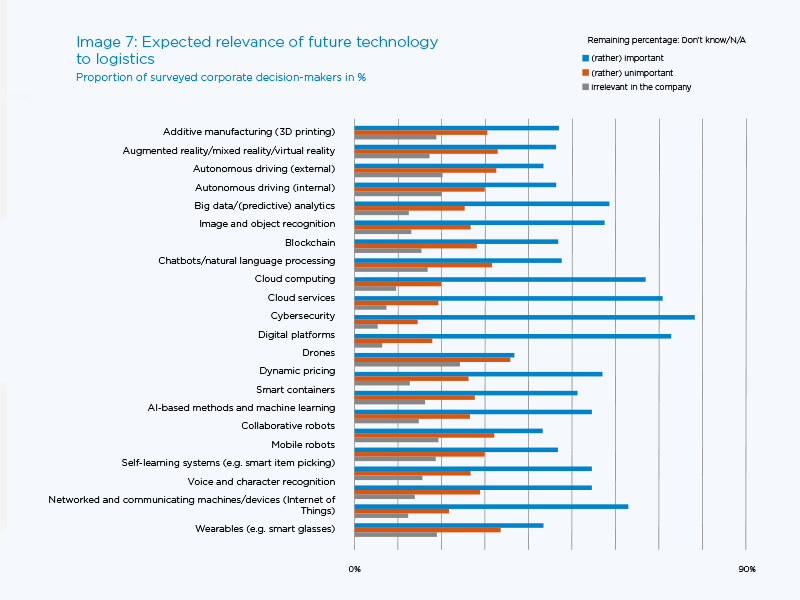 You've Got to See It to Believe It?
Some technologies such as AR, MR and VR are (still) considered somewhat less relevant than others. Why is this true, despite obvious potential applications such as picking solutions that make use of smart glasses or head-mounted displays? It could simply boil down to a lack of awareness of available solutions.
Supporting this hypothesis is the correlation between current or planned use and estimated relevance among responding companies. Perhaps once a company has begun implementing these solutions, the relevance becomes more apparent. Or, once the relevance has been recognized, implementation follows?
Why All Companies Should Be Digitizing Their Logistics
At 83 percent, an overwhelming majority of surveyed companies in Europe see digital technology in their logistics as a way to increase efficiency.
But the benefits don't stop there. The decision-makers also mentioned:
Improved quality
Better service level
Lower costs
More reliable supply chains
Enhanced ability to deliver to customers
In addition to these economically motivated benefits, corporate social responsibility and other factors also play a role:
Reduced CO2 emissions
Reduced inventory
Greater transparency
Higher employee satisfaction
Expand Your Reality
Packaging, handling, warehousing, transport, delivery, maintenance, and other processes depend on decisions made by human beings. Digital technology can help warehouse staff carry out these procedures. AR applications can, for instance, do the following:
Distribute the workload more effectively
Facilitate decision-making
Make routine tasks less tedious
Vision picking with smart glasses, for example, lets warehouse staff work with both hands. Pickers are some of the most important workers in intralogistics and this tech shows digital information that helps them locate items more quickly.
And yet, not all companies are currently convinced of the business potential. Some available tools may not be advanced enough or require too much external consultation. For others, awareness may simply be lacking.
In either case, companies that can find and implement appropriate solutions may obtain a competitive advantage. Especially if they can procure technology from vendors that make implementation fast and easy—without large capital expenditures.
Additional benefits that decision makers attribute to AR include
Improved efficiency
Error minimization
Making work easier for employees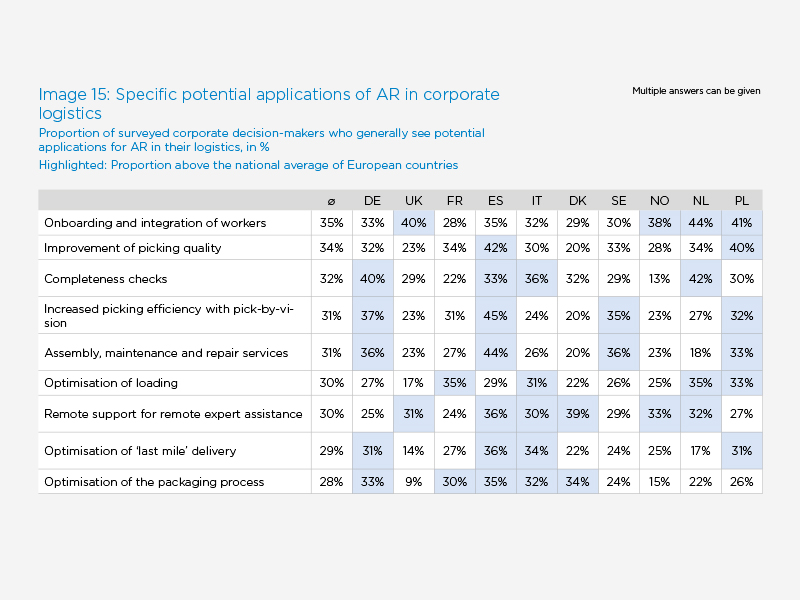 Smart Glasses: Destined for Logistics?
Only around one sixth of the surveyed companies in Europe are currently using smart glasses in their logistics. Almost one quarter are planning to roll them out, however. Still, more than half consider this technology irrelevant. In Denmark, that number is a full 80 percent.
For companies that see the potential of AR, however, the situation is reversed. Almost 80 percent of them are already using smart glasses or are planning to use them. It appears that appreciation increases with experience—companies that already use smart glasses report greater acceptance.
The Internet of Things Already Has a Lot to Offer Logistics
The Internet of Things provides a foundation for smart logistics applications for intelligent freight transport, warehousing, delivery, and more. When every object is uniquely identifiable and has access to the network, it's easier to deal with changing customer expectations. It also enables new business models.
These are the most common potential applications of IoT tech that decision makers named.
Inventory tracking 47%
Automated order processing (warehouse management systems) 44%
Location management systems (41%)
Pre-emptive order processing based on predictive analytics, remote monitoring of freight quality (temp etc.), use of autonomous vehicles, and use of robots were also mentioned. The benefits companies see from this technology revolve around increased efficiency and quality as well as making things easier for the workforce.
Conclusions
Only around one third of companies in Europe have already begun the digital transformation of their supply chain management and logistics. They see applications in principle for tech like augmented reality and IoT but are not yet making the necessary use of digital capabilities. In general, the larger the company, the more potential decision-makers see for advanced technologies.
As to why adoption lags behind, many explanations are possible. The business case may not yet appear convincing enough. Or there may be a lack of transparency from vendors that is preventing assessment of the efficiency gains. One thing the survey does make clear is that companies who are able to get started with digital transformation are far more likely to recognize the benefits of these technologies.
This gap in adoption combined with the potential for higher efficiency represents an opportunity. Businesses that begin implementing can pull ahead of competitors. With the considerable investment this can involve, it's no surprise that larger firms have advantages.
But vendors like TeamViewer now offer subscription models that open the door to countless applications with little risk. That means not only large enterprises, but also medium-sized and smaller companies can get started now. It's an exciting time—the technologies are available and mature, yet there is still an amazing opportunity to gain a competitive advantage.
Read the rest of the report for more insights and data as well as several success stories from the likes of Bosch and BMW.