PortForward
Sustainable ecosystem for ports in the EU
The goal is to develop smart ICT solutions to improve overall collaboration within the port and its workers, leading to a green and sustainable ecosystem for ports in the European Union.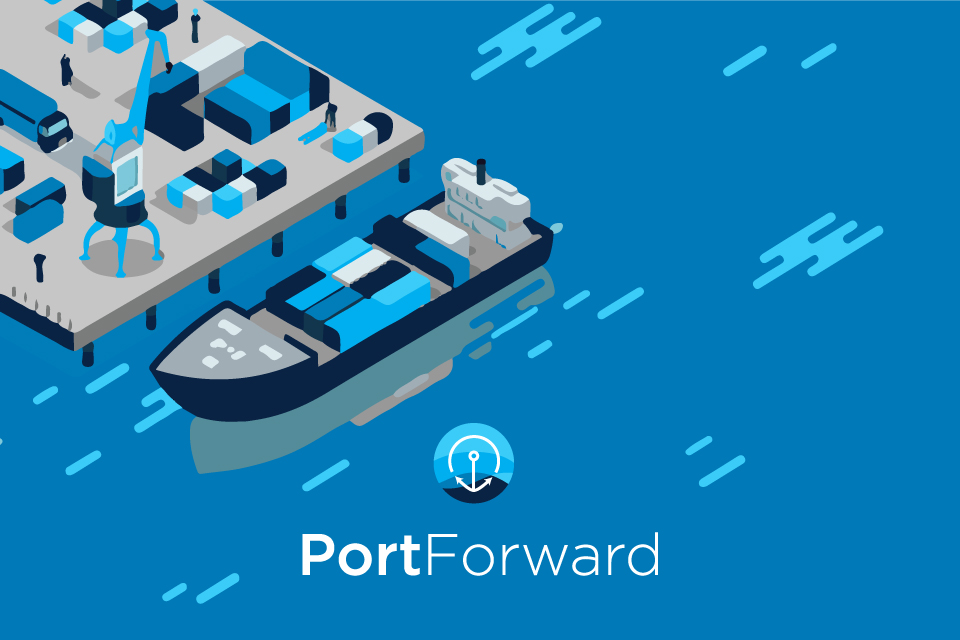 Initial Situation
Harbors and ports are playing a more and more vital role in economic success. From 2009 to 2016 the container handling has increased from below 200 million TEU to over 250 million. European ports have been gaining more importance, too. Since 2002, the port of Hamburg has risen by 65% in terms of container handling, the harbor in Antwerpen even by 108%. But the global competition isn't stagnating, especially in Asia, where ports have generated growth rates of over 300% (raonline). Facing this competition, the EU program Horizon 2020 has decided to fund the project PortForward to defend and enhance the role of European ports in the world's market.
Challenges
Evaluating the performance of different ports throughout Europe, the projects managers have detected room for improvement on different levels. The efficiency of process sequencing can be improved. Furthermore, the lack of real time monitoring of freight flows within the port has been identified, as well as an absence of remote operation management. Optimizing these points would help the port workers and pilots to work more effectively. Another point worth mentioning is the possibility of upgrading the climate compatibility of all actions in and out of the port. This involves further shipment of goods, e.g. to the hinterland.
Goals and benefits
In order to overcome the challenges, PortForward develops smart ICT solutions to improve overall collaboration within the port and its workers, e.g. for finetuning freight flows. Additionally, the used technologies enable live-monitoring options, which are particularly efficient, when problems are communicated immediately. The implemented solutions will not only be eco-friendlier but create new opportunities of connecting the whole port infrastructure via an IoT-solution-platform, as all transport and technology systems will be integrated into it.
TeamViewer's role
TeamViewer provides a remote assistance tool and an AR-based pilot system into the PortForward platform. This will lead to faster maintenance works, enable remote decision making and make the navigation of ships within the port safer. TeamViewer and PortForward will support workers and pilots to work more efficiently.
Duration: July 1 2018 – Dec 31 2021