How Cimbali Group reduces time-to-resolution by up to 20 percent with TeamViewer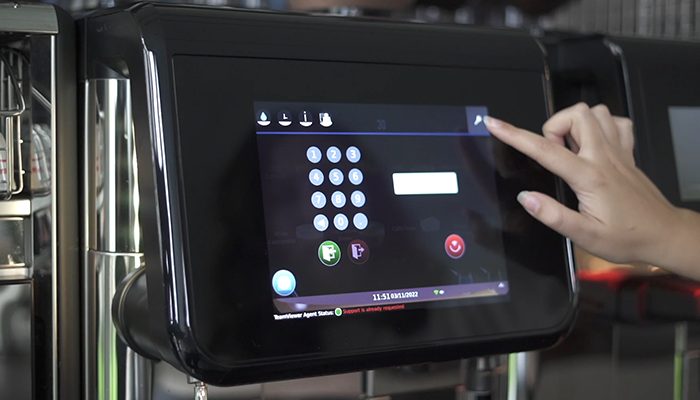 The Italy-based Cimbali Group is one of the world's largest and most renowned manufacturers of professional coffee machines. The company has a network of 700 distributors across 100 countries who account for more than 80 percent of their sales. Although the group today has a global footprint, it remains Italian at heart, with a strong presence in the country. All its machines are produced in Italy.
Cimbali Group's commercial customers include global food and beverage corporations as well as local and regional companies from all over the world. Cimbali Group is putting a lot of effort into enhancing the aftersales experience for its customers, heavily focusing on global customer service.
Cimbali Group was looking for digital solutions that could improve the customer experience and, at the same time, improve their time-to-resolution.
Challenges
In the past, when a customer had an issue with their machine, the solution was often to send a technician, either from Cimbali Group or one of their distributors. The technicians would then investigate and troubleshoot the problem on-site. Due to Cimbali Group's global customer base, travel times and thus time-to-fix could be significant, depending on the location of the machine.
Global customer base resulted in significant technician travel time and cost.
Describe the issues via phone or email was cumbersome for both the customer and the service center employee.
Long machine downtimes caused customers to lose business.
Cimbali Group needed a digital solution to help it reduce machine downtime for its customers.
Solution
After researching available options, a remote connectivity solution was identified as the most promising way for Cimbali Group experts to perform remote troubleshooting. By looking into the machine settings and parameters, technicians would be able to identify the problem.
"The choice fell on TeamViewer for several reasons. Among the many players on the market, TeamViewer has a recognized history. We have developed all the activities together with them, beginning with the software modification necessary to connect the machines, always finding excellent support in technical and operational management. In addition, it is a solution that has many strengths in the aspects of security, which today is essential for a successful go to market", said Edgardo Ferrero, Services Director at Cimbali Group.
Each one of Cimbali Group's fully automatic Series S machines now ships with the TeamViewer client installed. If a customer encounters an issue, they can open a support ticket with their Cimbali Group's service partner. The customer can create a session by pushing the TeamViewer icon on the machine's display. This manual request provides an extra layer of security, making sure unauthorized access is impossible.
Once the session is created, technicians from Cimbali Group or one of its distributors have reliable and secure remote access to the coffee machine screen, almost as if they were on-site. They can conduct a comprehensive assessment of the issue and often solve it by changing software parameters. This way, they can quickly resolve many problems, reducing machine downtime and minimizing revenue lost.
Benefits
Outlook
Besides the remote connectivity solution, Cimbali Group is taking the next step by also testing TeamViewer's Augmented Reality (AR) solution. If it is necessary for a technician to travel on-site, where they discover that they need further assistance, they can start a video call with a Cimbali Group expert through their smartphones. The expert thus gets a clear visual of the machine and can guide the operator on-site through the necessary steps using features such as 3D markers to help to resolve the issue in no time.