LGBTQIA+ Pride 2023 is picking up steam across the globe and so many of us are enjoying the diverse and inclusive festivities the month has to offer. For us, at TeamViewer Germany, that means walking in the Stuttgart Pride Parade this year for the first time, following the brilliant example of our US colleagues in Tampa.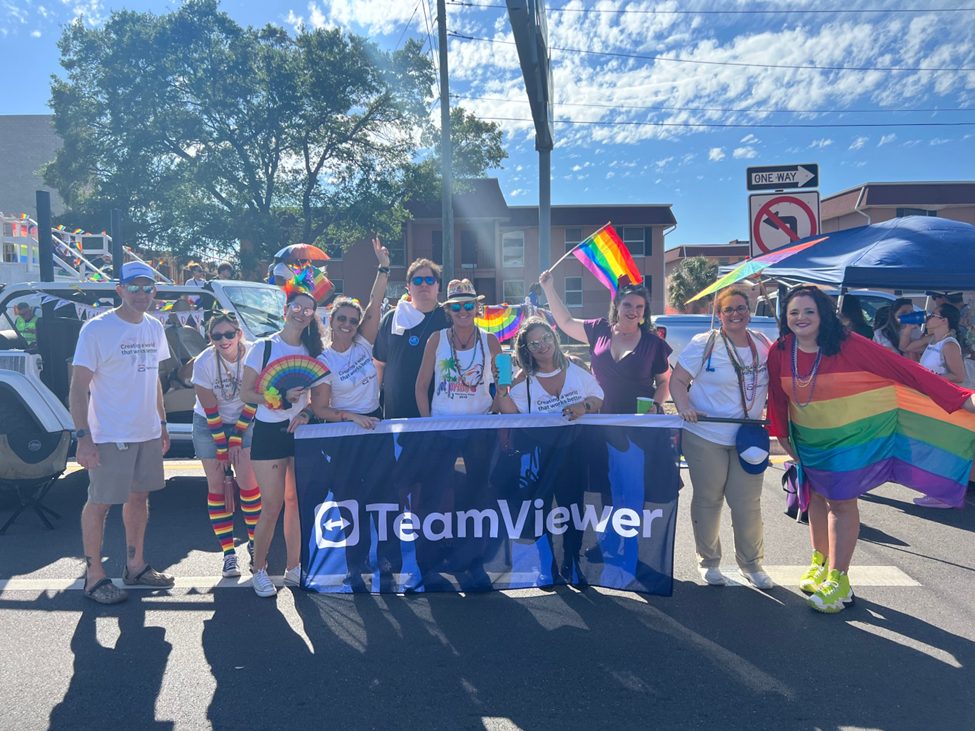 But, as we move toward this highly anticipated event, we also move toward the end of June and the end of Pride Month.
Our attention shifts toward the second half of the year and our focus moves onto the next tick box item in our calendars, right? Wrong.
We know that 30 days is not enough to bring about significant change for our colleagues and our community. It requires a year-round, company-wide commitment from stakeholders of all levels, backgrounds, and departments.
At TeamViewer, we aim to be boldly inclusive, passionately connected, no matter what month it is. Read on to see what that looks like in action.
In this piece we outline the initiatives championed by TeamViewer the whole year through, as well as shine a light on our Pride superstars, the members of the LGBTQIA+ working group.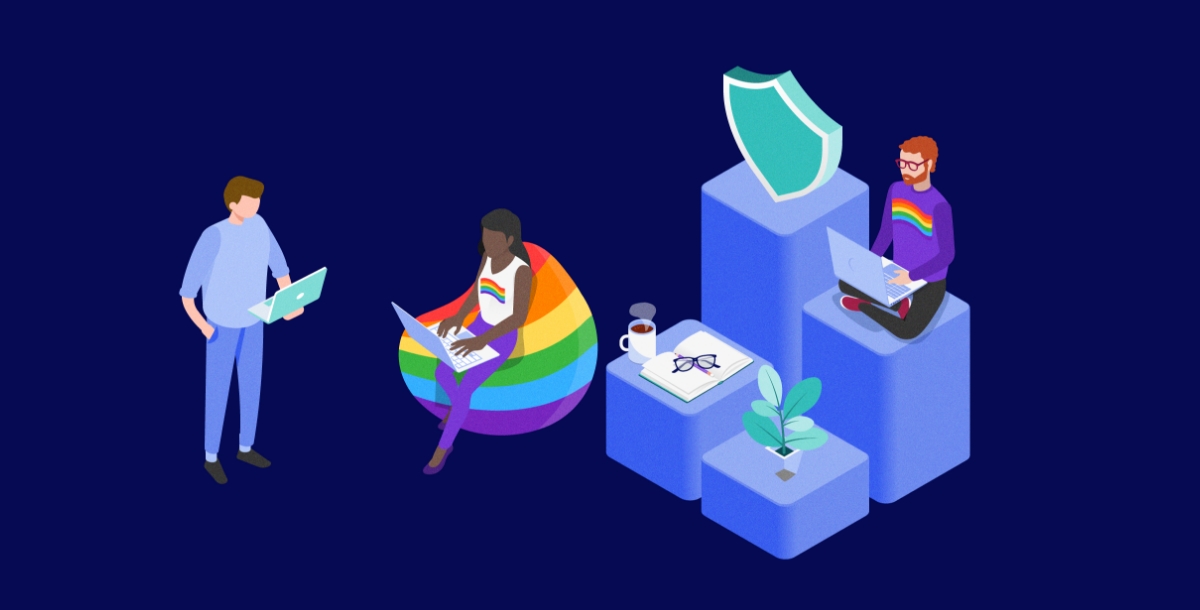 At TeamViewer we c-a-r-e
Our sustainability program, c-a-r-e, lays out our ambitious targets and the measures we're taking to ensure that we are always striving for the best for our customers, our people, and the world around us.
That means a commitment to:
Climate Neutrality
Access to Technology
Reduced Emissions
and, of course,
Our focus on fostering an equal environment at TeamViewer has led to the creation of several working groups that represent the interests of our people. These include our LGBTQIA+, Female Empowerment, and Parents@TeamViewer groups.
Training, resources, and in-office Pride Day celebrations are just a flavor of what is on offer from the LGBTQIA+ Working Group. Its real assets, however, are its ambassadors, TeamViewer employees who selflessly give up their time to create a world that works better.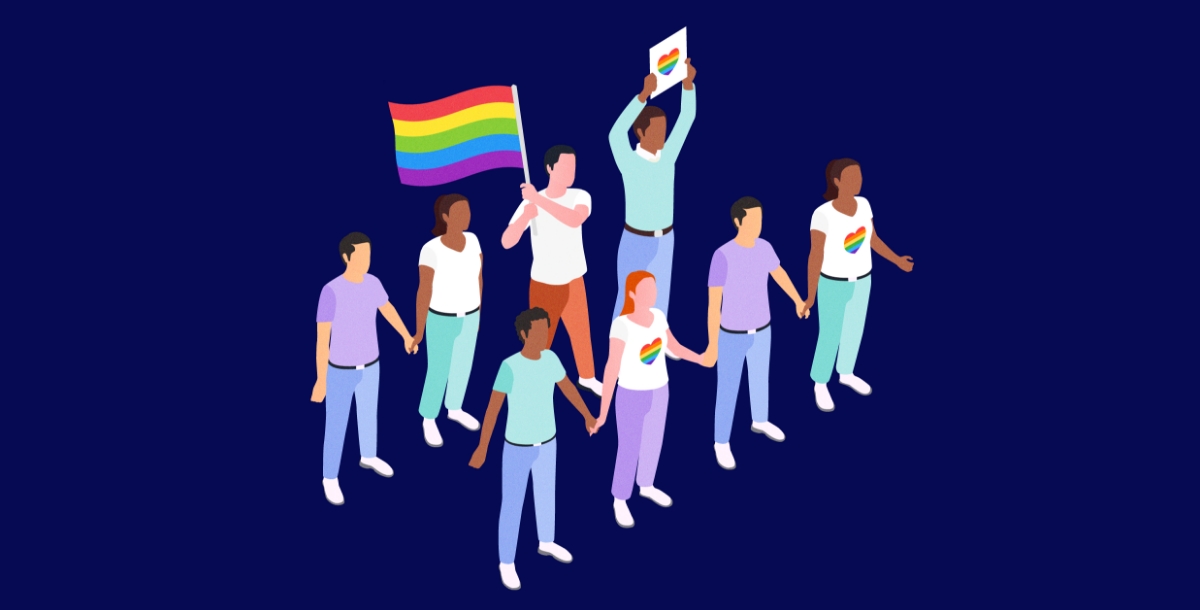 Stefan Prestele, Senior VP of Strategic Alliances, is a vital part of the working group. Under his guidance, he encourages his fellow ambassadors and colleagues to strive for better.
Stefan says "TeamViewer has always been inclusive and diverse. And now, we are taking the next step. We want people outside of TeamViewer to know that if you come to TeamViewer it is your place to thrive. You can come in here, be the best version of yourself, do a great job, and not worry about who you are and love!"
At TeamViewer we are committed
Equality cannot be achieved in a vacuum. As we endeavor to improve, it is crucial we align ourselves with organizations that are doing the same.
To reinforce our efforts to create an inclusive workplace for everyone, we have signed the Charta der Vielfalt. As a charter signatory, we are showing our commitment to support and recognize the importance and benefit of promoting diversity and appreciation in the workplace.
This latest action is a direct result of the hard work and clear vision of our LGBTQIA+ Working Group .
Executive Office & Procurement Coordinator and LGBTQIA+ Ambassador, Maricela Gonzalez says:
"Our group provides a platform for open dialogue, where people can share their experiences, and concerns. By actively addressing issues such as non-discrimination, equal benefits, and gender-neutral facilities, we strive to create an environment where everyone can bring their whole selves to work."
At TeamViewer we never stop learning
The key to creating a truly inclusive workplace is acknowledging that it is a continuous process. While, to date, we have undertaken essential activities such as the development of guidelines for staff undergoing gender transition and the inclusion of an equal opportunities statement in all job posts to ensure unbiased hiring – this is not enough.
As the world around us develops, so must our policies and practices. And, with the guidance of diversity experts like Uhlala, we can continue to learn and grow, providing TeamViewer staff with training in areas such as unconscious bias and soon, allyship too.
"Within our allyship training, we seek to empower everyone who supports the LGBTQIA+ community. Allies have always been a huge part of the queer community, and we want to make sure no one is left out – ever."
Benjamin Kleinle, Senior Technical Support Engineer at TeamViewer.
Want to learn more?
Go to our Website to see how we're creating a more diverse and inclusive working world.
Or why not join us on the journey? Check out our careers page for the latest roles and opportunities.