Remote Assistance with Augmented Reality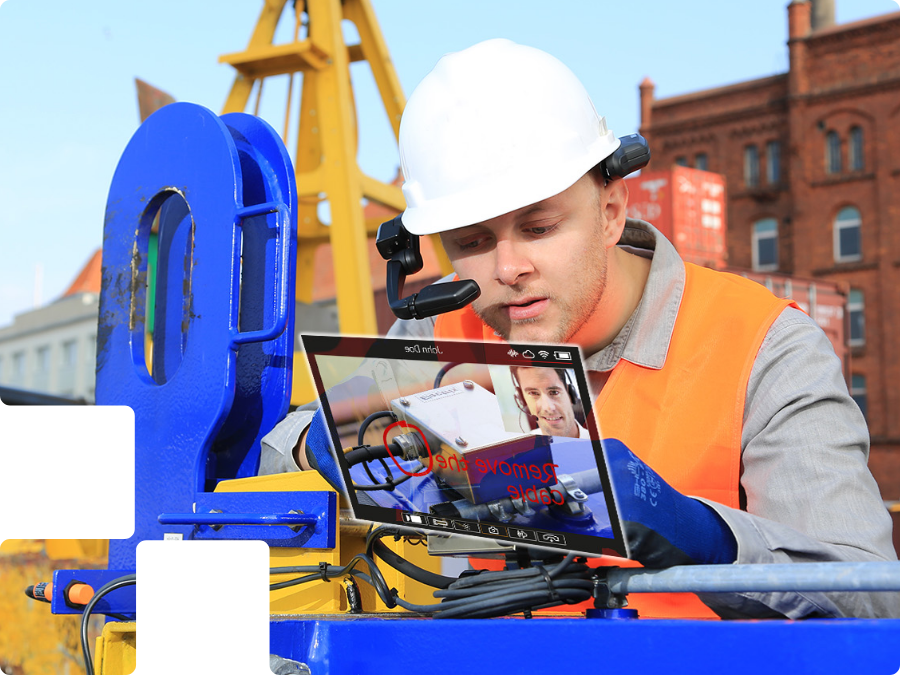 What is TeamViewer Frontline xAssist?
xAssist stands for innovative remote support, which is available on all common smart glasses models. The solution helps you to reduce the response time in case of service and save travel costs.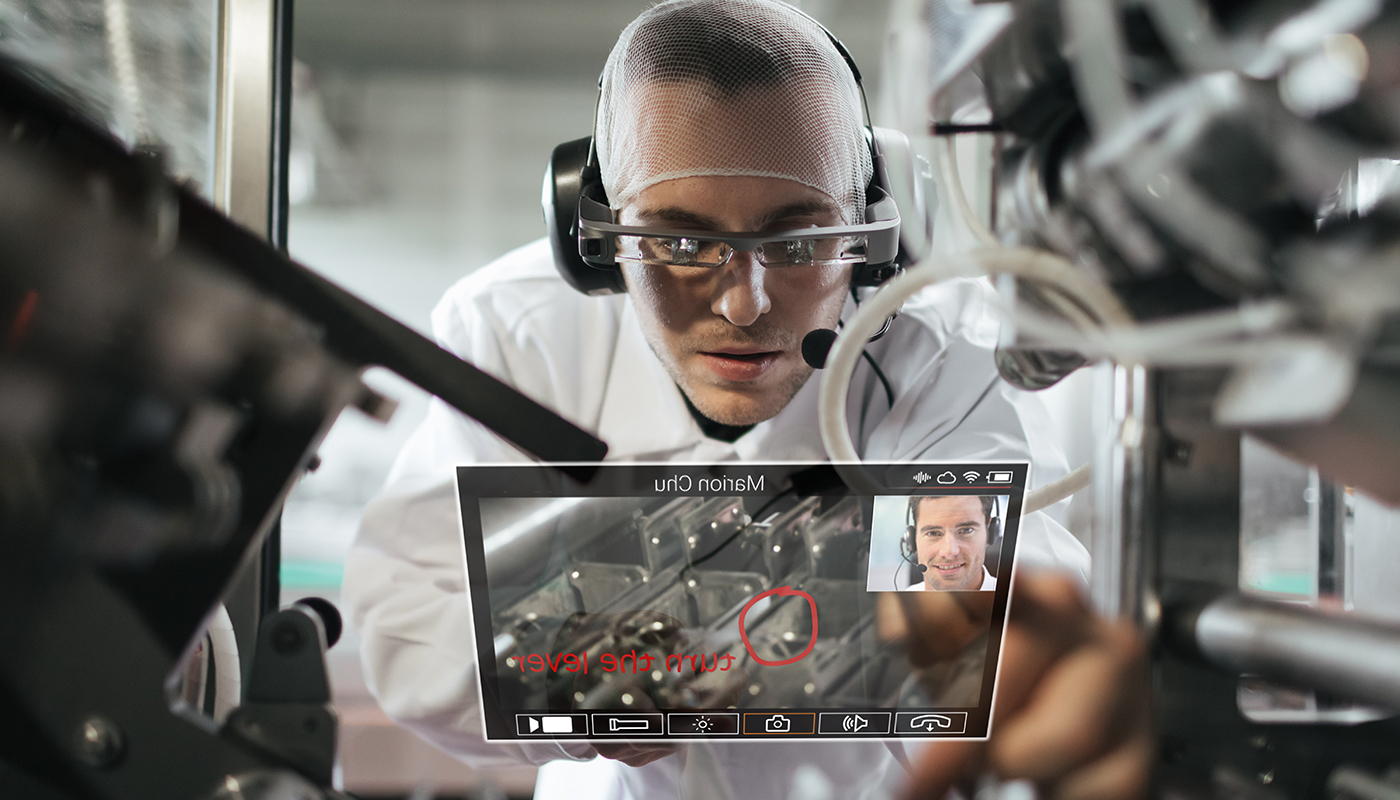 Virtual Remote Support from Anywhere
If a malfunction occurs or a plant comes to a halt, production downtimes and high costs result very quickly. Service operations in the event of a disruption are therefore particularly time-critical. This is precisely where the TeamViewer Frontline solution xAssist with its interactive functions comes in:
Remote Support
Live Troubleshooting
Service Management
AR Features
Faster Problem Solving with Augmented Reality
With our remote support solution xAssist, you can easily connect a technical expert with employees on-site in the event of a problem. Thanks to smart glasses, the remote expert sees exactly what the technician on-site sees. This is made possible by real-time video and audio transmission.
Functions such as AR markers help the expert to visually clarify his instructions. The employee's hands are free and can immediately follow the expert's instructions. The exclusive option of involving several users in a call also allows for support from external experts outside the company network.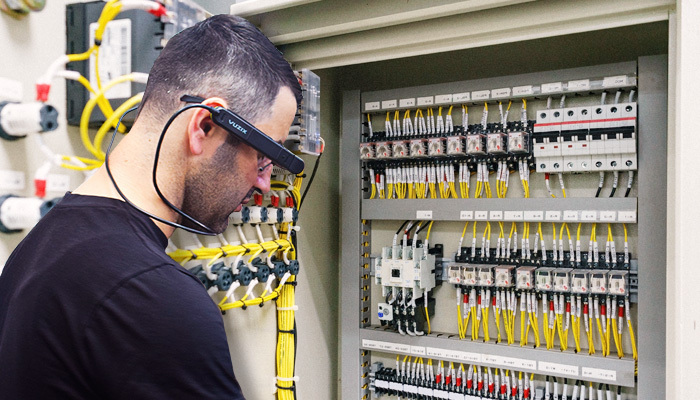 Minimize Downtime and Increase Productivity
With minimized downtime and reduced travel costs, you achieve a quick return on investment. Remote Support helps you to transfer knowledge across locations without loss of information. Close knowledge gaps in your company and reduce the decision-making latency of your employees.
xAssist supports you not only within your company. Offer your customers a new and reliable service experience with remote support. Keep your promise to eliminate defects at the first repair and better fulfill your service level agreements. Develop new service concepts on this basis and open up new revenue streams.
For Your Customers
Enhance customer satisfaction and provide world-class service for your products
If a production plant is down, your customers immediately face high costs. With our software products, you can offer your customer's service technicians a quick response time and remote support to get the production up and running again. Provide new, innovative services and achieve the goals of your service level agreements at lower costs.
Connect experts from your Service Center via our apps and smart devices with technicians at the customer's site. As registered users, technicians and experts can communicate directly with each other. However, if the problem is still not resolved, you can invite further support, for example from parts suppliers, thanks to the Multiconference feature.
For Your Internal Tech Support
Reduce downtime, boost your business performance and increase productivity
If you use many different complex machines in your company or look after several locations, you can easily connect the technical supporters for your machines with local machine operators in the event of a technical failure. With augmented reality technology and efficient knowledge transfer, you can improve your first time fix and remote resolution rate.
By using smart glasses, smartphones, or tablets, you can achieve faster response times and save not only time, but also travel costs for your technicians.
For End Users
Provide end users an exceptional service experience
If a washing machine or a TV is broken, the manufacturer's after-sales service is the first point of contact for private consumers. To complement their factory customer service and provide customers with good service, manufacturers of technical equipment rely on a network of dealers and service partners.
xAssist enables manufacturers to provide better service to their end users. In case of service, the manufacturer's factory customer service can send an guest invitation to the customer by e-mail as a first step. The customer can simply click on a link and follow the instructions of the expert. Together with the end user, the customer service can analyze the problem and try to fix it without much effort.
If a part needs to be replaced or if a major repair is necessary, the central factory customer service can send out a dedicated service technician or commission a service partner.
For Your Service Partners
Solve problems in cooperation with local service partners and develop new service models
Some products or industries require complex service chains that involve many independent stakeholders. In these cases, our apps help transfer know-how from one organization to another, without bypassing the hierarchy.
Escalate support cases from first-level, to second-level or third-level support to gather the necessary knowledge and expertise to solve the problem. With Multiconference, Guest Invitations and Augmented Reality technology, you can identify the problem together from remote and find a resolution.
xAssist in Enterprise Deployment
Learn from our customers who deployed xAssist successfully to solve problems.
From order picking to assembly support to remote expert help – almost all TeamViewer Frontline platform solutions are in use.
Case study:
World Class After-Sales Service at BMW North America
With the help of remote assistance BMW NA is facilitating communication between mechanics and experts as well as reducing waiting times for their customers simultaneously.