Thank you for downloading TeamViewer
Step 1 - Download TeamViewer
Your TeamViewer full version will automatically download in a moment.
If the download didn't start, use direct download.
Step 2 - Register your product
Discover TeamViewer 14
TeamViewer™ 14- NOW AVAILABLE unveils unprecedented performance updates and a host of category defining features including Augmented Reality based real-life field support, one-click Remote Script execution and more…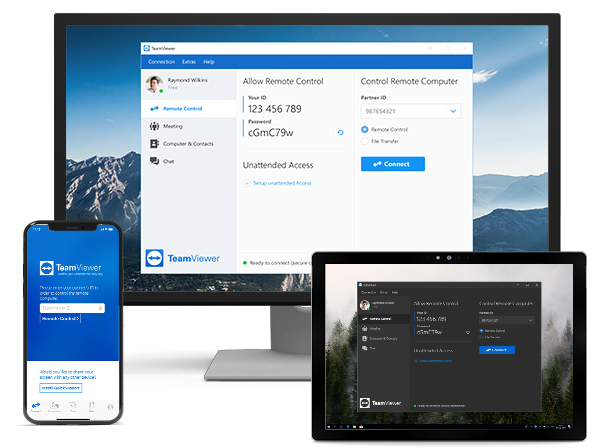 Be one of the early adopters of TeamViewer 14 and provide a new level of service to your customers and employees.
Did you know that TeamViewer has integrations for over 10 other software solutions?
New to TeamViewer?
Check out these quick start steps to get the most out of the world's only all-in-one remote connectivity platform.
Provide or Receive Remote Support Instantly
To provide support: Install TeamViewer full version on your computer, then enter the client's TeamViewer ID and password to connect to their device.
To receive support: Download and install the TeamViewer QuickSupport app on your computer, then share your TeamViewer ID and temporary password with the support person.
Get started in less than 3 minutes
Remotely Work on Computers & Servers from Anywhere
Install TeamViewer software on the computer you need to access and set up unattended access from the Connection menu.
Set a computer name and access password for the remote computer.
Install TeamViewer on the accessing computer and add the remote computer to your Computers & Contacts list.
Select the remote computer from your list, click 'Remote control using password,' and enter your password to connect.
Install & configure in less than 5 minutes