Your TeamViewer Free Download will start momentarily…
The Free Version of TeamViewer will be saved to your default download folder. Mac users may see a 'Save File' prompt.
If the download didn't start, click > direct download.
Interested in using TeamViewer for business?
Sign up for a commercial trial, we'll connect with you within two business days to get your trial started.
Meanwhile, explore our Customer Resource Center for helpful user guides, videos, and tutorials to get the most out TeamViewer.
Are you giving support?
Setting up TeamViewer only takes a few clicks. Watch this short video to see how to connect to another computer.
Are you receiving support?
To receive remote support, go to the Remote Control tab and share your TeamViewer ID and password with your remote supporter.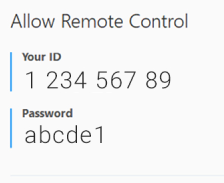 TeamViewer is free for personal use.
If you want to use TeamViewer for business purposes, we're happy to help you find the right subscription plan for your needs.
Experience the cutting edge of connectivity with TeamViewer.