Retrofit
---
Use older systems and machines in Industry 4.0.
Retrofit •
TeamViewer IoT
Did you believe that only companies with highly modern systems can use the advantages of Industry 4.0? Install TeamViewer IoT on your older devices and easily bring them into the digital world.
Extend your machine's service life, increase efficiency by using the machine data for services such as predictive maintenance or the use of digital twins, and above all, reduce high capital costs.
Extend your machine's service life, reduce investment costs
Connect and upgrade older machines digitally
Increase efficiency through data-driven services
What is the benefit to you?
Are you a manufacturing company that has interest in retrofitting its older machines in order to record and process data? The edge controller "sysWORKXX CTR-700" from SYS TEC electronic makes it possible.
The controller was originally designed for local data access. Today, TeamViewer IoT from SYS TEC electronic is pre-installed on their edge controllers to give you, the end customer, the option of monitoring, maintaining, and controlling the functions of your systems via remote access.
Save time and costs through optimized maintenance intervals
Secure remote access for monitoring, control, and troubleshooting
Use real-time machine data to identify faults in advance
Take a look at the success story of our customer SYS TEC electronic AG and see how you would benefit from integrating TeamViewer IoT in your products.
Do you know SYS TEC electronic AG?
With the integration of TeamViewer IoT, SYS TEC electronic AG offers a solution for recording and accessing legacy machines that originally did not have this functionality. This enables companies to apply the advantages of Industry 4.0, such as remote access and data-driven analysis, to older machines and use them for years to come – without having to make large investments in your fixed assets.
What are the challenges?
Preventing malfunctions: Remote maintenance, control and monitoring
Retrofitting: Upgrading the data technology of older machines, integrating data acquisition and analysis
Making data from the sysWORXX CTR-700 Edge Controller available at any time and from any location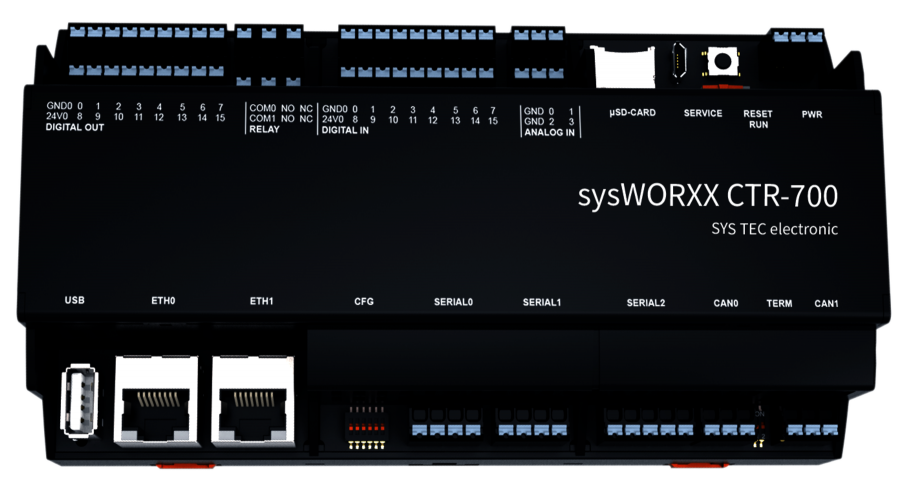 And this is the solution
The advantages are clear. By integrating TeamViewer IoT into your Edge Controllers, SYS TEC electronic enables you to control and access your machine data – at any time, from anywhere.
What does that mean for older machines?
Even with your older machines, this allows you to implement predictive maintenance scenarios quickly and easily. Reduce maintenance costs, increase the service life of your machines, and get the best possible performance out of your plant.
TeamViewer IoT
Secure remote access, control, and monitoring for all your devices and machines,
even from within many IoT Platform, solutions and on IoT hardware.