TeamViewer IoT
Four Use Cases Designed to Unleash the Digital Potential for Your Business
Operate, manage, and support embedded devices with enterprise-grade security.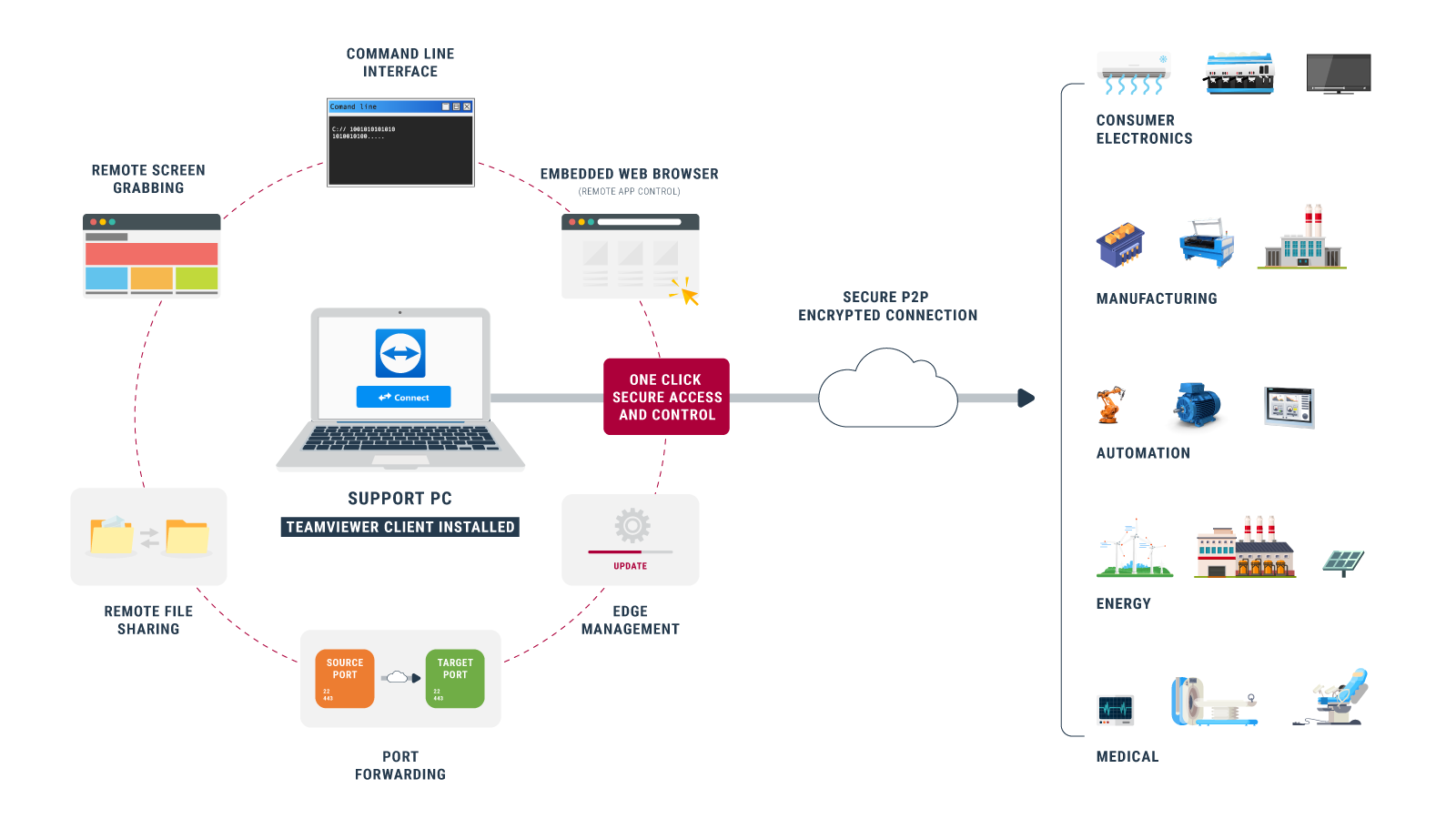 Remote Access & Control
One-Click Secure Access to Industrial Zone Client Assets
Secure remote access and control is a fundamental requirement for managing embedded devices throughout their lifecycles. In most cases, devices are deployed across different networks and physical locations with varying access rights and security measures.
With TeamViewer IoT, operators or OEMs can access edge device network ports over secure connections. This provides full visibility of device performance, settings, user interfaces, and status.
Access embedded devices from anywhere
Troubleshoot and fix issues in real time
Order any necessary parts before travelling to the unit
Reduce costs for maintenance and site visits
Access local webpages or web interfaces
Easily configure multiple port forwarding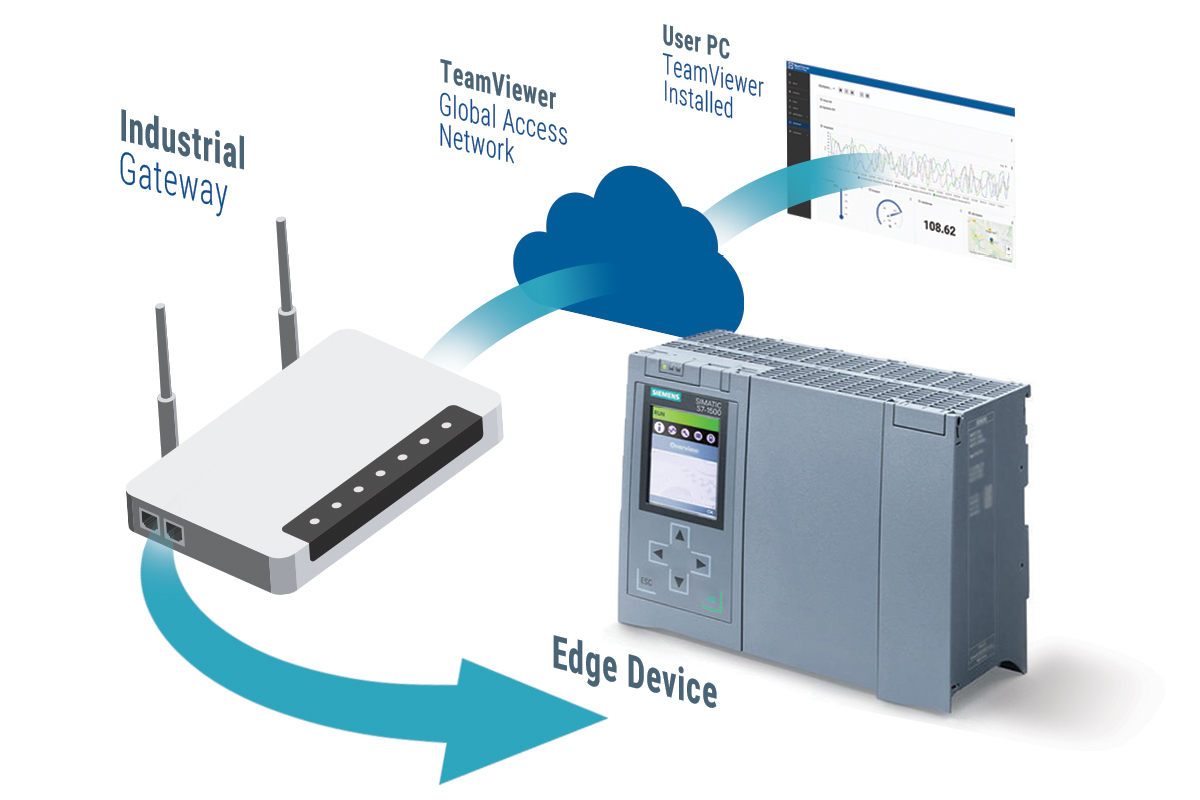 Remote Operations
Remotely Configure and Operate Connected Devices
The global pandemic has accelerated the need to connect, control, and securely access machines without sending personnel. TeamViewer IoT allows operations teams to perform many asset-related activities remotely.
Perform changes and investigate endpoint status in real time
Minimize on-site visits during normal operations
High-quality screen grabbing lets technicians operate equipment as if they were standing in front of the machine.
TeamViewer software offers unique advantages with its ability to integrate into customer screen/GUI applications or utilize our reliable connectivity network to plug into downstream assets via port-forwarding. This allows customers to create uniquely satisfying 100% remote operations experiences.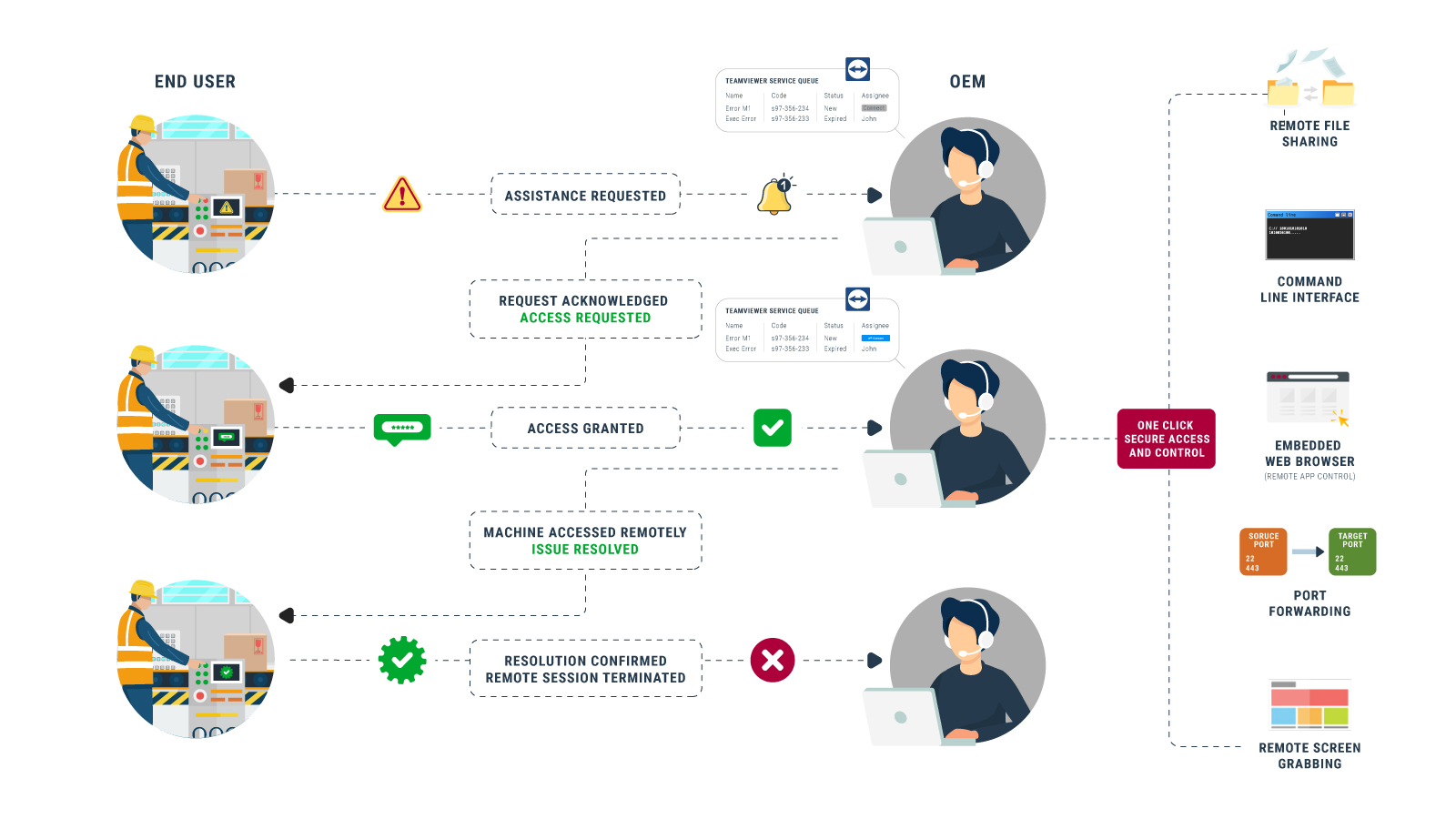 Secure Attended Access
Manage End-User Site-Requested Access as Part of OEM Support
To resolve problems with equipment they manufacture, in many cases, OEMs must ask their customers to send malfunctioning units back. Or, worse yet, they may need to send a service technician to the site.
TeamViewer offers a secure, scalable method for troubleshooting and resolving device issues remotely. With the attended access feature, companies are in complete control of the remote access they grant to OEMs and service providers.
The customer or end-user must first request and authorize access
Access is granted only within the specified constraints
Support representatives can easily manage tickets from the TeamViewer Management Console or a TeamViewer client
Normally, customers cannot provide OEMs or service providers direct access to their devices due to security policies. Thanks to airtight data security and application data protection, security concerns are no longer a dealbreaker for remote support access. After granting permission, the user stands by and watches as the technician connects to the device.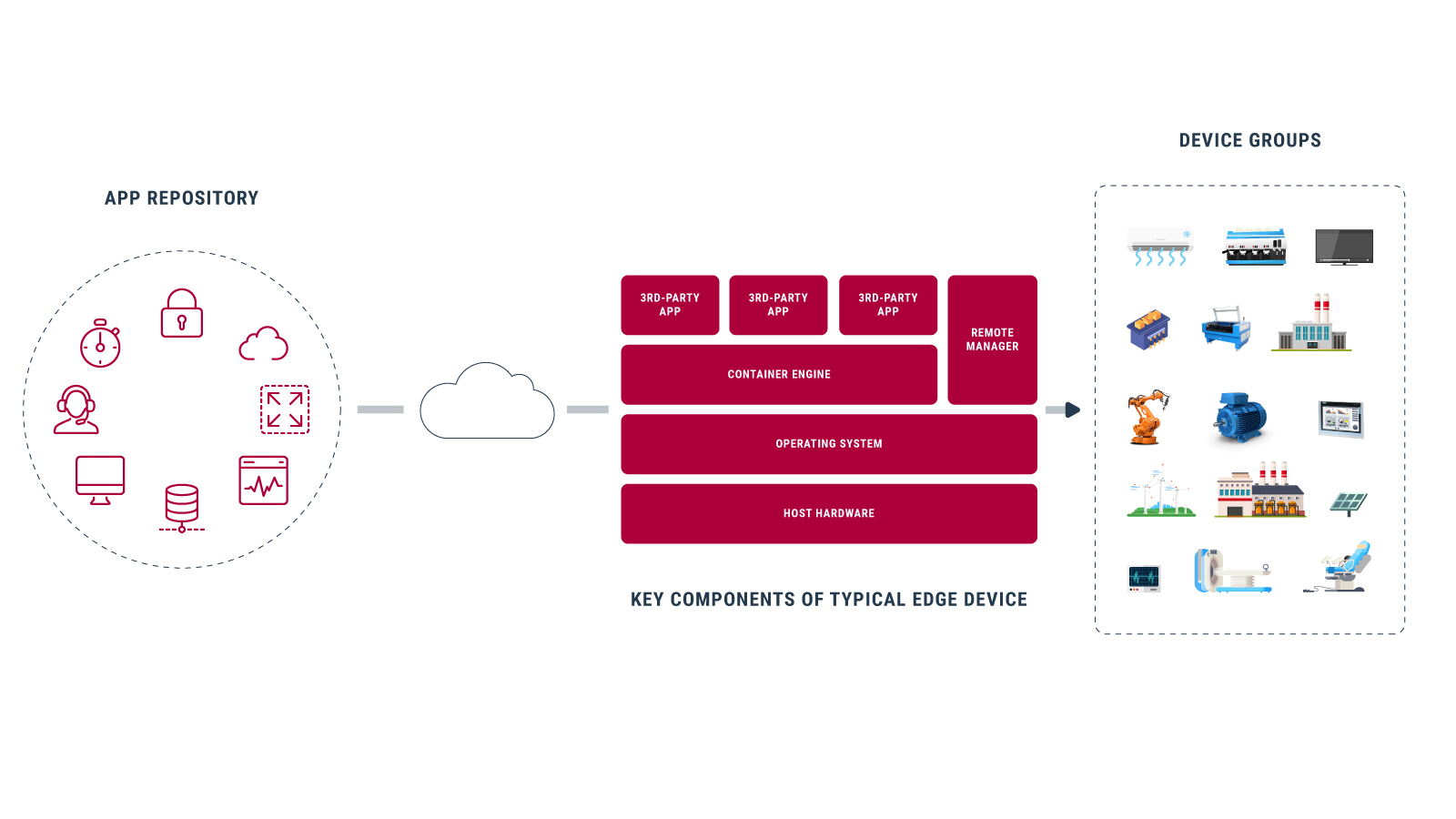 Device Management
Remotely Manage Connected Device Fields
TeamViewer provides an easy-to-use console for administering and managing devices. With an inventory of all connected devices, you can provision, authenticate, configure, and maintain them in bulk or by device group.
A central platform to organize, maintain, and orchestrate software and services
Get your regular device status to ensure reliable performance in the field
Enable one-time access using world-class access and control technologies
Manage and share grouping, roles, access, provisioning, and assignments
Reliable container-based orchestration conducts software application updates according to device groups, providing greater flexibility, easier deployment, and improved reliability.