In the past, Information Technology (IT) and Operational Technology (OT) developed separately. Their standards and protocols, processes, network architecture, and business priorities were entirely different, causing IT and OT teams to work in silos with little interdepartmental coordination. With the transition towards a convergence of IT and OT, this is all changing. But why is this transition happening, and what do manufacturing companies stand to gain? [By Salil Lawande, Senior Product Marketing Manager at TeamViewer]
With IT/OT convergence, Information Technology (IT) systems and Operational Technology (OT) systems are coming together towards an ecosystem. IT systems mostly consist of computers, devices, and servers, operated by humans, and are interconnected to process data to meet business goals. OT systems comprise hardware and firmware that monitor and control factory shop-floor processes.
The Challenge of Scale
One of the main drivers behind the convergence of IT and OT is the need to tackle the challenge of scale in a globalized business environment. For decades, companies in the manufacturing sector have been working with closed OT systems, relying upon legacy proprietary protocols and software, often restricted to local production floors. This setup creates hindrance in deploying and scaling central asset management. That means each new OT asset must be added manually and later maintained by experts who understand the specific local setup and are physically present at that site. This is not an issue if you have one factory in one country, but a major issue when you start managing several factories across borders with a decreasing number of experts available in your workforce. It also becomes problematic for OEMs that often times need to provide global support to end-customers.
Taking these challenges into consideration, today's manufacturing companies must answer questions such as: 
How can we adapt processes, technologies, and operations to scale, manage, and increase business resilience on a global scale?
How can we minimize downtime and avoid any unprecedented disruption?
How do we close the rising skill gap and empower the next generation of the workforce?
How can we better manage our time, costs, and carbon footprint?
The convergence of the OT and IT worlds is becoming the answer. The OT landscape comprises a heterogeneous ecosystem of many devices, controllers, and sensors. Hence, the key challenge is to build, maintain, and scale a secure and robust network architecture that enables smooth communication across different protocols and operating systems. The IT systems become the thread work, which connects the systems with people and processes across locations, teams, and departments – and most importantly, enable cross-border communication through apps, APIs, and integrations.
By building and managing the right IT/OT network architecture, manufacturers stand to gain the ability to:
Remotely manage and do first-level troubleshooting on an ever-growing number of spread-out assets
Enable better process integration across production and business functions
Better secure these critical field assets by pushing software upgrades and updates from a central management window
Establish more accountability, compliance, and governance across IT and OT operations
The Challenge of Complexity
Another reason for the ongoing transition towards IT/OT convergence in the industrial sector is the need to efficiently manage an increasingly complex set of OT and IT assets. IT and OT personnel must team up to ensure that factory floor production is always running smoothly despite this complexity.
Today's IT and OT teams need to collaboratively answer these questions:
How can we efficiently manage and maintain our IT and OT infrastructure across a diverse, heterogeneous device landscape?
How can we standardize operations, protocols, and processes across the two worlds?
How can we have visibility on stakeholders and maintain the right access rights and permissions for employees, operators, vendors, contractors, and suppliers from various locations, who need to access relevant parts of our infrastructure, e.g., to help set up or fix machines and avoid costly downtime?
How can we enable proactive decision-making and minimize downtime?
The answer to these challenges lies in a unified interface for IT/OT convergence that gives IT and OT admins an overview of and the ability to remotely access all their widespread assets including essential information on the asset status (e.g., online/offline, diagnostics, error/failure states etc.).
With a converged IT/OT interface, manufacturers are empowered to:
Manage IT and OT assets from a single platform, with standardized processes, logic, and policies
Avoid costly downtimes with proactive maintenance in the form of silent, central system update rollouts that upgrades all relevant endpoints in one swift go
Remotely manage and do first-level troubleshooting on an ever-growing number of spread-out assets to dramatically reduce time-to-resolution
Optimize processes and improve material and resource management e.g., bulky spare-parts can be ordered, and in-person service intervention can be scheduled according to the delivery of that part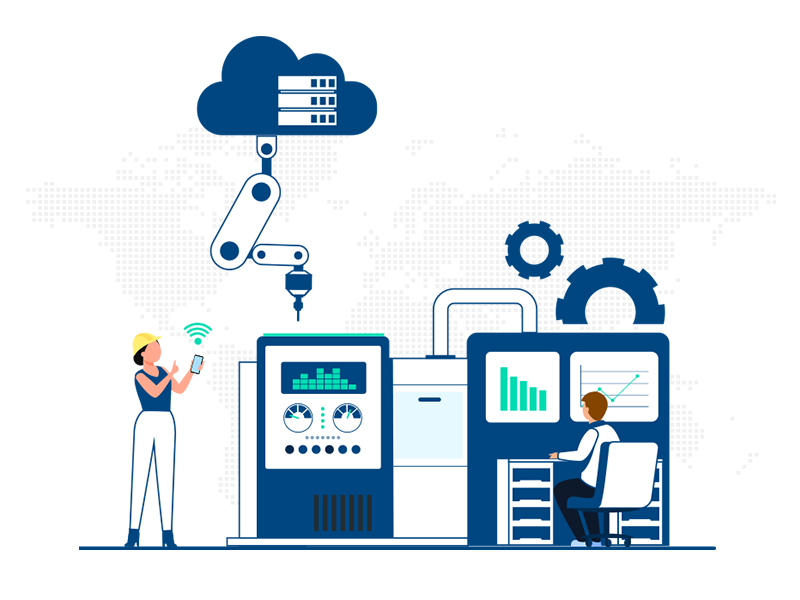 The Challenge of Security
Within the last five years, the manufacturing industry has become one of the top targets for security rogues. Predominant characteristics like their dependency on minimized downtime and high penalties for delivery failure make them a big target for security perpetrators. Consequently, OT networks are becoming bigger targets for cyber-attacks as more vulnerabilities surface across different devices and network setup.  According to IBM, there has been a 3000% surge in IoT malware alone, between Q3 2019 and Q4 2020.
Merging IT and OT creates more exposure of the critical OT assets across the network. This entails unbridled access to these assets from users and technicians over the enterprise network. Therefore, the network deployment needs to be more robust and secure to ensure that any benign or malignant access to these assets does not jeopardize the overall network performance and security.
Today's IT/OT and security teams must ensure that factory devices always have the latest software or firmware upgrades and updates, so they remain secure. Security and data protection measures, along with strict auditing and documentation policies, need to be implemented at all stages and across all solutions.
Furthermore, if a possibility for central, silent update rollouts is present, administrators will have an easier time rolling out security patches, making endpoints harder to attack.
With a robust security setup that integrates both IT and OT assets, manufacturers stand to gain:
Better protection of assets and minimized downtimes
Secured attended access to critical assets to maintain proactively and continue productivity
Full visibility of all key stakeholders in the network along with granular control on their access rights and permissions – preventing any security threat
More consistent and less costly rollouts of software updates to all relevant devices, proactively making the devices harder to attack
A better overview of weaknesses in the infrastructure and the possibility to patch these faster
Paving the Way for Future Business Agility and Resilience
Today's manufacturing companies need the ability to access and support an ever-growing number of assets. But rapidly expanding IT and OT asset inventories across a global footprint and unprecedented restrictions have made it more difficult, slow, and costly to physically access deployed field assets.
Consequently, the convergence of the traditionally separate IT and OT worlds ensures that manufacturing companies become more agile and resilient by opening up to more cost-effective, reliable, and secure ways to remotely access, operate, manage, and support deployed field assets while minimizing on-site visits.