Dürr Dental streamlines resolution times in worldwide technical support with TeamViewer Assist AR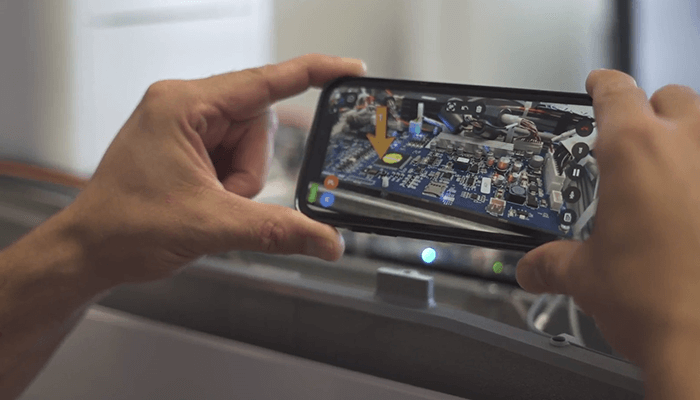 Dürr Dental has been developing and producing innovative solutions for the dental market for eight decades. The company offers numerous system solutions in the areas of equipment, diagnostic systems, tooth preservation and hygiene. Its customers include all dental experts – from small dental practices to clinics or universities with several hundred treatment units, as well as dental laboratories. Many standards in modern practices can be traced back to developments by the company.
In addition to the demand for high-quality products, Dürr Dental is "Customer First" priding itself as a reliable partner for its customers. In everyday practice, patient care is top priority, and all the systems required for this must function smoothly and reliably.
Challenges
The dental supply systems normally run reliably, but in the event of a failure, the entire practice would come to a standstill. The increasing technical complexity of Dürr Dental's product world, for example through the integration of networked services, has also increased the demand for extended technical support. The worldwide network of specialized dealers in 148 countries is the first point of contact for customers who need help with their dental products and systems.
But more complex technical inquiries are received at the headquarters in Bietigheim-Bissingen, Germany – and are handled by employees with a high level of technical expertise. Dürr Dental was faced with the challenge of using the existing service resources at the corporate headquarters as efficiently as possible:
In the event of a technical problem, customers need targeted support quickly.
On-site deployment usually requires lead time (travel, etc.) and is therefore not always the right solution for time-critical support requests.
Sophisticated equipment such as X-rays is hard to diagnoze remotely due to being very complex.
Solution
Dürr Dental has opted for the augmented reality (AR)-based solution TeamViewer Assist AR. This enables the technical specialists at Dürr Dental's headquarters to quickly and easily set up a session for virtual live support on any end device at the customer's site via SMS or e-mail: They see what the user sees on site and can provide visual instructions and assistance in real time via icons and markers on the screen for problems and tests.
Results
Remote support using TeamViewer's augmented reality (AR) solution is a valuable addition to the quality of support offered by specialists. The solution provides visual support in a simple, fast and secure way to identify and quickly resolve issues from anywhere in the world.
Dürr Dental's technical hotline no longer relies solely on descriptions from the customer via phone or email. Instead, they can send a text message or email to the customer or a service technician in their dealer network and then connect to their end device, a smartphone or tablet PC, with their permission.
The benefits for Dürr Dental:
Existing service resources can be organized and deployed more efficiently, for greater flexibility, shorter and more qualified response times.
Real-time images make support much more effective than via voice-only support over the phone.
Improved customer experience achieved: customers receive faster, more accurate, and more personalized service.
In this context, the use of TeamViewer Assist AR fits seamlessly into the larger context of the company's digital strategy: "Augmented reality makes a significant contribution to the success of the new digital era," explains Christian Schorndorfer, Chief Sales & Marketing Officer at Dürr Dental. "That's why the introduction of such technologies is one of the top priorities for us. Today, AR is an element of our overall digital strategy."