Remote Monitoring from
TeamViewer
Improve​ ​the​ ​efficiency,​ ​effectiveness,​ ​and​ ​security​ ​of​ ​your​ ​IoT​
​environment​ ​with​ ​our closed-loop,​ ​best-in-breed​ ​solution.
Simple, intuitive, and secure
How can I use the remote control functionalities of TeamViewer IoT?
Create​ ​your​ ​own​ ​rules,​ ​set​ ​up​ ​your​ ​own​ ​alerts,​ ​and​ ​proactively​ ​manage​ ​your​ ​systems​.​
Use​ ​TeamViewer's​ ​IoT​ ​UI​ ​to​ ​monitor​ ​your​ ​devices,​ ​machines,​ ​and​ ​sensors,​ ​so​ ​you​ ​know what's​ ​happening​ ​in​ ​your​ ​business​ ​​—​​ ​whenever,​ ​wherever.​ ​We​ ​offer​ ​remote​ ​capability, visualisation​ ​of​ ​data​ ​and​ ​sensor​ ​information,​ ​and​ ​user​ ​defined​ ​thresholds.​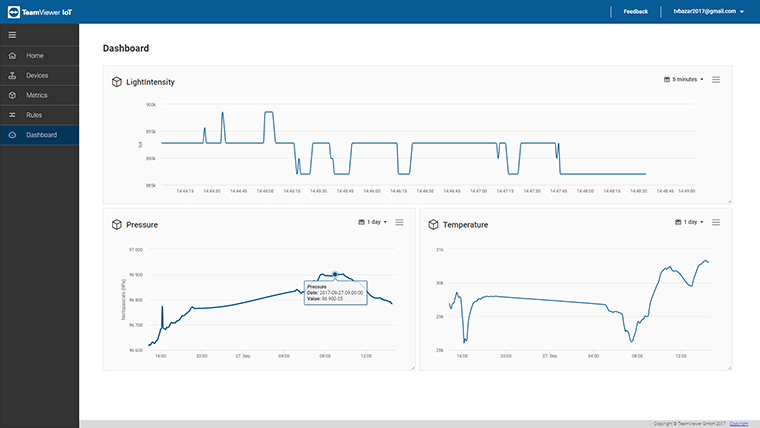 Monitor your devices and sensors
from wherever you are.
See how monitoring and control work together.
With​ ​our​ ​combined​ ​functionalities,​ ​you​​ ​get​ ​the​ ​best​ ​from​ ​your​ ​IoT​ ​environment.​
Manage your​ ​devices​ ​proactively,​ ​access​ ​data​ ​securely,​ ​and​ ​make​ ​business​ ​changes​ ​remotely​.
Get started with TeamViewer IoT today
Command and control​ ​your​ ​devices,​ ​machines,​ ​and​ ​sensors​ ​with​ ​just​ ​a​ ​few​ ​clicks.