How Unospay remotely manages 3,000 in-store kiosk devices with TeamViewer Tensor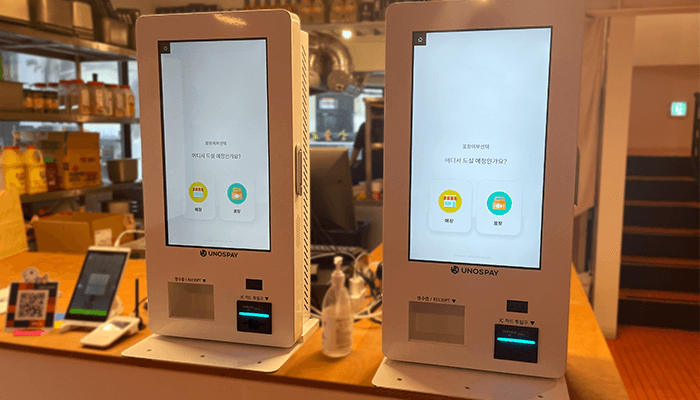 Starting with the launch of their kiosk solution in 2015, Unospay today is a leader in the contactless ordering and payment market. Through the kiosks, the company offers a digital-first solution at the point of sale, enabling restaurants to provide contactless payment options as well as easy store management and operation. Starting with large franchises, Unospay is expanding the scope to cafes, restaurants, and unmanned distribution stores.
In partnership with more than 100 brands nationwide, the company operates devices in more than 3,000 stores all over Korea. The company is recognized for its high quality and stable service network, which is used by nearly 4 million customers per month.
Challenges
Unospay's main customers are companies in the hospitality and service industry such as restaurants and cafes, 24-hour study cafes, unmanned discount stores and vending machines. When an issue with the system occurs on-site, it directly impacts revenue, thus immediate problem solving is essential.
Decrease time-to-fix.
Avoid cumbersome support and troubleshooting via phone.
Minimize the need for on-site visits.
Streamline customer support processes.
Solution
With the introduction of TeamViewer's remote connectivity solution, Unospay's support team can quickly respond to failures and offer remote support for unmanned devices. Out of about 3,000 service calls on average per month, today only 4 percent require the visit of a technician on-site, mostly when there's a mechanical issue that needs fixing.
In contrast, most software-related tickets can easily be solved remotely thanks to TeamViewer. With the solution, Unospay's support team can monitor the system in real-time, identify the issue and take the necessary actions to quickly get the system up and running again.
Since the beginning, Unospay devices are shipped with TeamViewer installed on all kiosks and POS machines by default. This makes it possible to perform easy and quick server-side upgrade or patch management for all connected devices. In addition, the support team can record detailed support items and response details, which makes it possible to predict advance inspection for each customer based on support history analysis. Unospay has registered more than 3,000 customers' devices directly within TeamViewer Tensor, making customer management convenient and secure at the same time by using Single-Sign On authentication. Together with the stable connection, the solution comprehensively fulfills the requirements for UNOSPAY's unmanned device customer support business. Through this, UNOSPAY's vision of 'making our lives convenient' is being realized by contributing to customer sales growth and improving productivity.
Results
Travel time is 1.5 hours on average, saving 51,800 business trip hours annually, contributing to regional development by improving employee satisfaction and reducing carbon emissions.
Considering the average cost of one business trip, the annual travel cost savings amount to over 1m Euro (1.3bn KRW).
0% remote connection failure rate after receiving service, reducing service labor costs and contributing to customer productivity improvement by maintaining high-quality customer service.