Be on the safe side
Backup with TeamViewer
TeamViewer Backup – Managed endpoint data protection and recovery you and your customers can rely on.
Remote Backup and Restore
Managed Cloud Backup through a single pane of glass
TeamViewer Backup provides you with simple, hassle-free, and reliable endpoint data protection. Deployed and activated remotely within seconds, your or your customers' data will be stored in the cloud under the highest security standards. Have peace of mind in knowing your data is stored safely and – in case of disaster – can be restored remotely from anywhere and at any time.
No bandwidth caps on your up and downloads
Flexible data retention periods
Individual backup policies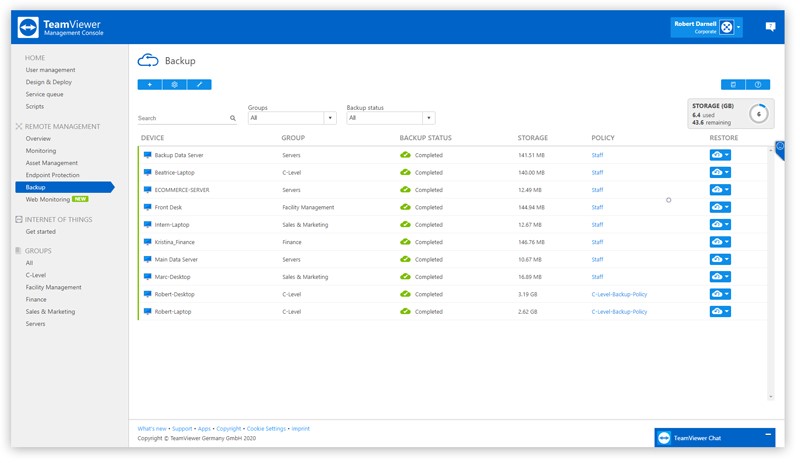 FEATURES
TeamViewer Backup offers you…
CUSTOM POLICIES
Define individual backup policies to address the different needs of your clients and end-users.
Secure Backup
No compromises – We provide the highest security standards.
We take the security of your stored data very seriously and maintaining the highest security standards is a top priority for us. All communication between the client and the backup servers takes place via secured and encrypted channels.
Client-side, military-level 256-AES encryption prior to data transfer
SSL encrypted end-to-end data transfer
Data storage on 256-AES encrypted Amazon AWS S3 servers
Data center locations:

EMEA: Frankfurt, Paris, London, Dublin, Stockholm
AMERICAS: Virginia (US), Montreal (CAN)
APAC: Sydney, Tokyo, Mumbai, Seoul, Singapore

ISO/IEC 27001:2005 Certification for information security management systems and more
Redundant data storage
You can find more information regarding our security standards here.
Interesting Documents
Download additional material on TeamViewer Backup.
Download the TeamViewer Backup info sheet to get an overview of the most important TeamViewer Backup information on one page.
Download the TeamViewer Backup technical fact sheet to get an overview of all technical facts.
Activate TeamViewer Backup today!
Start your free 14 day TeamViewer Monitoring & Asset Management trial.