Keep Your Devices Safe
Endpoint Protection with TeamViewer
Reliable protection against viruses, Trojans, rootkits, ransomware, and more with TeamViewer Endpoint Protection.
Anti-Virus kept safe and simple
Managed Virus Protection from one single location
Keep your computers clean and safe. TeamViewer Endpoint Protection protects your computers against threats such as viruses, Trojans, rootkits, spyware, and ransomware. 24/7 – no matter if on- or offline. Determine the time, scope and thoroughness of each scan-policy and apply them to different computers or groups.
Windows and macOS support
Active ransomware protection
VB100 certified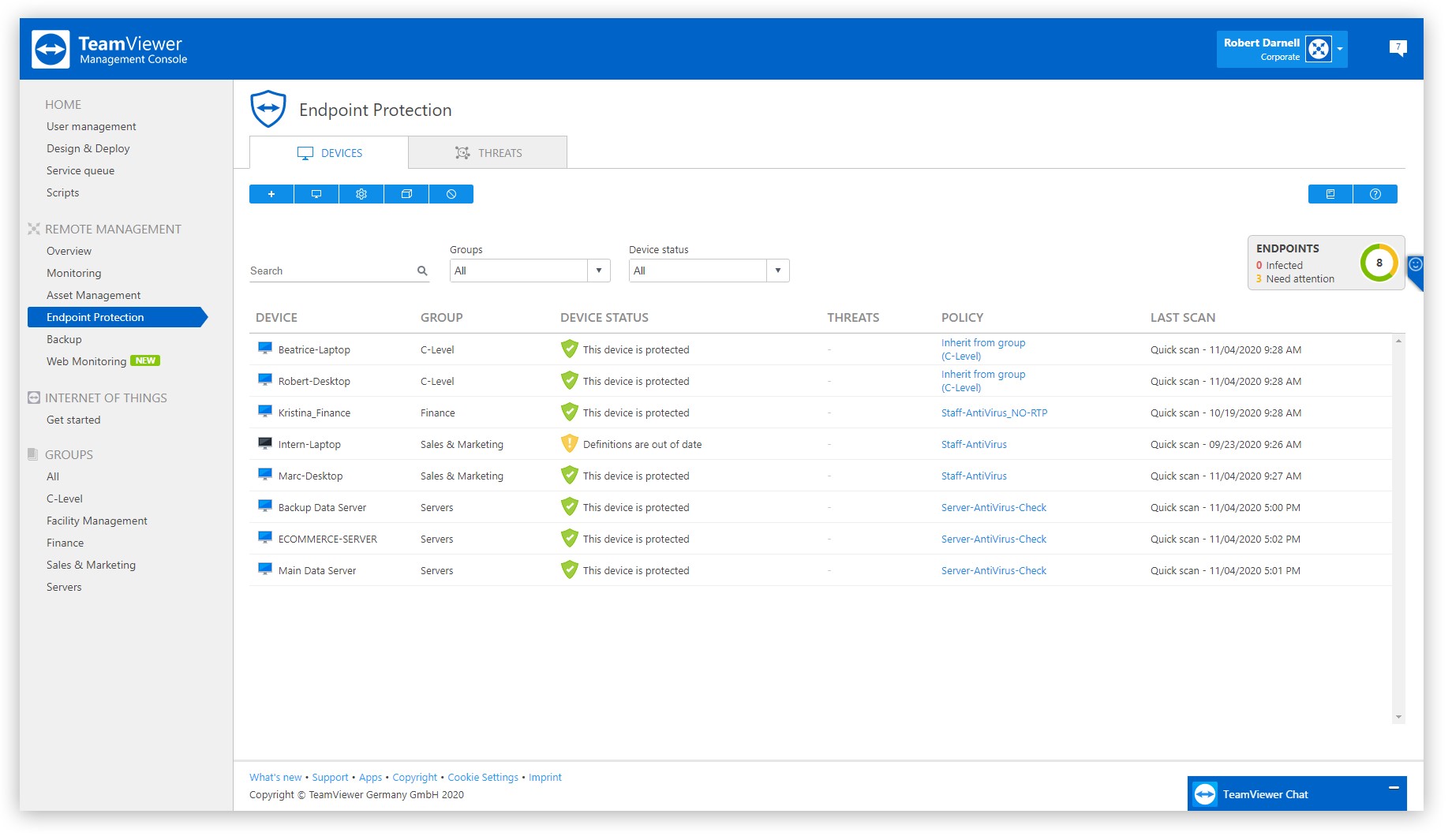 FEATURES
TeamViewer Endpoint Protection offers you…
Custom Protection Policies
Define individual protection policies to address different needs of your clients and end-users.
Clients, departments, and individual end-users may have different needs and demands when it comes to their IT. It therefore is necessary to address those differences by defining individual protection policies.
Certified Protection: VB100
TeamViewer Endpoint Protection has been awarded the VB100 certification for reliability by the magazine "Virus Bulletin" several years in a row now.
This award certifies a detection rate of at least 99,5% of malicious software listed as 'In the Wild' by the "WildList Organization". In addition to this, any anti-malware software which is awarded this certification must generate no more than 0,01% false positives when scanning an extensive test set of clean samples.
Interesting Documents
Download additional material on TeamViewer Endpoint Protection.
Download the TeamViewer Endpoint Protection info sheet to get an overview of the most important TeamViewer Endpoint Protection information on one page.
Download the TeamViewer Endpoint Protection technical fact sheet to get an overview of all technical facts.
START WITH CERTIFIED MALWARE PROTECTION
Activate TeamViewer Endpoint Protection today!
Start your free 14 day TeamViewer Endpoint Protection trial.
Do you have questions or need further details?
Simply fill out this form and we will get back to you within a few days.