Website Performance Monitoring
Monitor the performance and end-user experience of your website with TeamViewer Web Monitoring
Powerful Website Monitoring Made Easy
Monitor, analyze, and improve website performance and end-user experience
Slow and unresponsive websites can be very costly and are a bad experience for your customers. Broken processes, ever-loading pages, and downtime will turn visitors away from your business, and negatively impact search engine results. Make sure your websites run at peak performance and turn visitors into customers by providing them with the best possible user experience. TeamViewer Web Monitoring can help you!
Know when your page is down in any part of the world
See how long it takes to fully load your websites
Be sure your web shop and other processes are running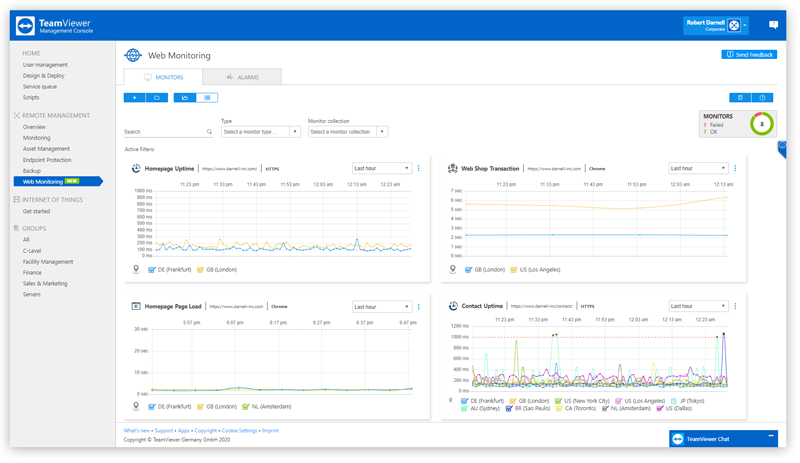 What can TeamViewer Web Monitoring monitor?
Uptime Monitoring
Is your website up? Everywhere? Monitor the uptime of your websites from more than 30 worldwide locations, to ensure that customers in various parts of the world can reach you. Get alerts when the response time of your website exceeds your set threshold.
Page Load Monitoring
How long does it take to load the entire content of your website? Receive notifications when your page takes too long to fully load. Gain insights into the load times of your page, and immediately see which elements on your website cause a higher load, so that you can optimize your end user experience.
Transaction Monitoring
Is your web shop running smoothly? Is your customer login working properly? Script crucial transactions on your website and automatically run them on a regular basis, and be alerted if a transaction fails. Don't let broken processes go undetected ever again!
BENEFITS
Improve the Performance and End-User Experience of Your Website
Interesting Documents
Download additional material on TeamViewer Web Monitoring.
Download the TeamViewer Web Monitoring info sheet to get an overview of the most important TeamViewer Web Monitoring information on one page.
Download the TeamViewer Web Monitoring Technical Fact Sheet and get an overview of all important technical details.
Server Locations and IP Addresses
Get an overview of our monitoring server locations and view all IPv4 and IPv6 addresses.
Learn more about Web Monitoring in our latest white paper, "Web Monitoring Made Easy"
Activate Web Monitoring today!
Start your free 14 day TeamViewer Monitoring & Asset Management trial.