Provide superior support with
TeamViewer's built-in service desk
Add servicecamp to your TeamViewer account to create an all-in-one solution for service desk management and remote connectivity.
Set up servicecamp in minutes
Costs less than purchasing a separate platform
Streamlines your support processes and workflows
Overview
Elevate your customer support
with servicecamp
Resolve more support requests faster by enabling servicecamp's full-featured service desk within TeamViewer's remote access and control platform.
Keep all communication in one place so support requests, agent notes, and customer conversations are centrally documented.
Initiate remote control connections instantly from within a ticket to access the device in question or collaborate with your team on specific requests to find solutions quicker.
Focus on providing excellent services instead of time-consuming processes with servicecamp's easy setup.
Key features of Servicecamp
Seamless Ticket Management
Prioritize, track, sort,solve, and measure incoming requests in a single platform.
QuickSupport Integration
Let customers create tickets directly from the TeamViewer QuickSupport module.
Customization Options
Create custom ticket submission forms and branded customer portal.
IT Support
Keep IT systems and infrastructure running
No matter if you provide IT support within your own organization or to external clients, servicecamp helps you manage a variety of IT requests by prioritizing and distributing the workload in your team.
Keep all relevant customer and issue information centralized in one place for easy access. Plus, you can resolve IT issues immediately by remotely connecting to devices straight from the ticket.
Streamline simple and repetitive tasks like hardware requests or password resets by creating ticket forms. Then, publish them in your customer portal. Collect all the necessary information with the initial request and avoid cumbersome back-and-forth communication to gather all relevant information. Resolve these tasks quickly and efficiently.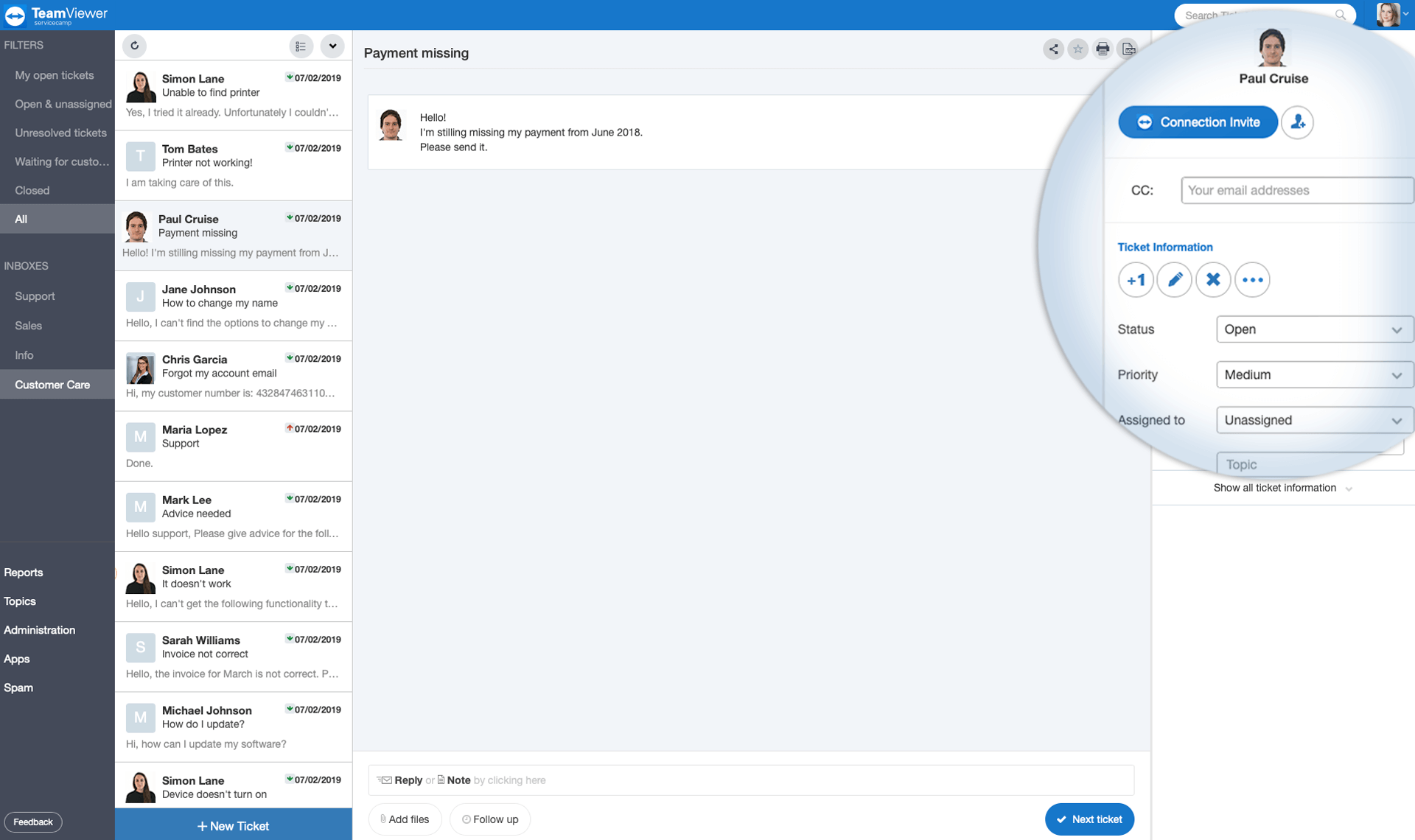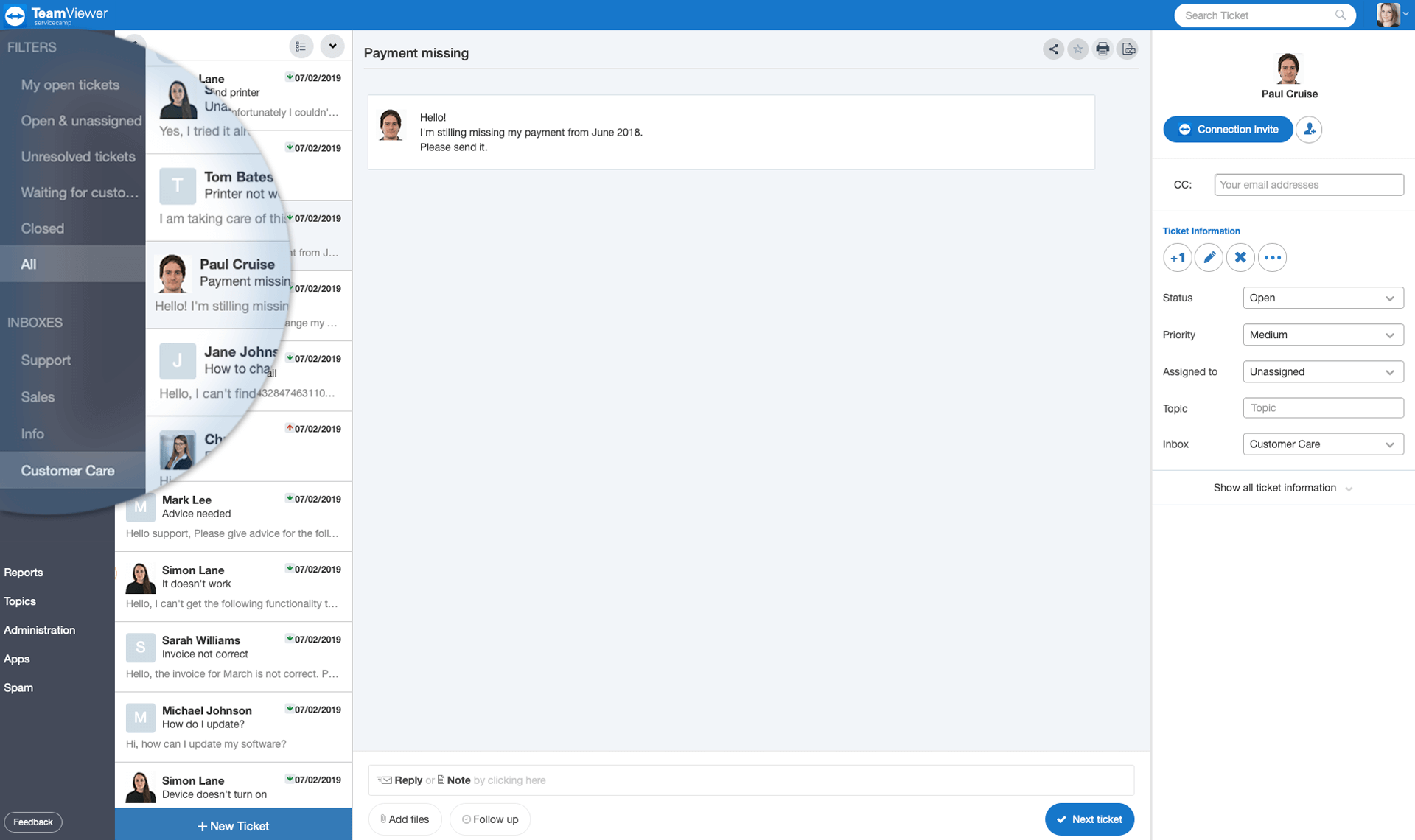 Corporate Collaboration
Provide a better alternative to your department's shared inbox
Whether you work in legal, HR, office management, marketing, or another department that provides services to the rest of your organization, your team probably relies on a shared email inbox. Using servicecamp supports your collaborative efforts by effectively organizing your shared space.
Obtain clear ownership of incoming tasks and clear visibility on their status. You can even make the status of a ticket visible to colleagues and customers in the customer portal.
Use servicecamp to become more productive as a team by recognizing which tasks or projects in your shared inbox are in progress, completed, or ready to start. All feedback on the task is documented and visible in a central place so that nothing gets lost.
Start your free trial today!
Discover how servicecamp can help you provide efficient and personal customer support.
Bundle TeamViewer's remote desktop capabilities with servicecamp to gain a high-performance remote control, collaboration, and service desk solution.
Features
Tools that help you provide high-level support
Benefits
Solve cases faster and increase customer satisfaction
All-in-one Solution
Superior support that costs less
You shouldn't have to settle for less-than-ideal solutions because of your budget. Adding servicecamp's full-featured customer support platform to TeamViewer is a budget-friendly option that allows you to help more customers in less time. You can avoid the added costs associated with purchasing, integrating, and setting up a separate service desk tool, while gaining efficiencies with an integrated solution.
Easy to use
Fast setup and intuitive interface
We've designed servicecamp to be extremely user-friendly, so you can focus on providing customer value instead of learning the system. There's no need to wade through complicated steps or long processes to get set up. You can be up and running in minutes, so you can start working immediately.
The perfect TeamViewer companion
Elevate your support services
servicecamp's deep integration with TeamViewer makes it a perfect solution for small and medium-sized companies. You gain powerful, high-performance tools with a budget-friendly price tag, so you can provide enterprise-class support with a smaller team.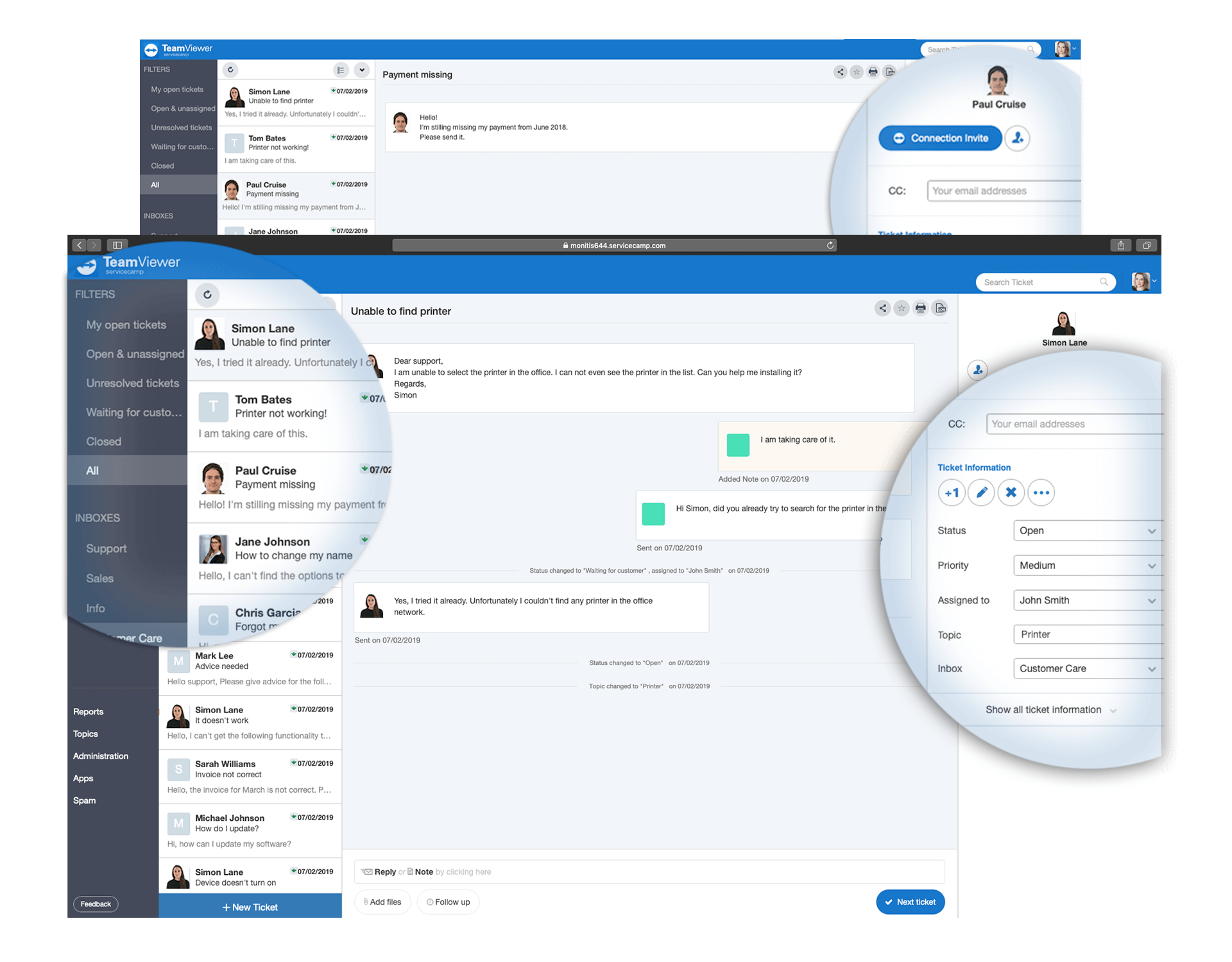 Ready to buy servicecamp?
View your plan options now and be surprised how inexpensive you can streamline your customer support. If you're already a TeamViewer customer click here to purchase the servicecamp AddOn.
FAQ
Frequently Asked Questions