TeamViewer Frontline
Empower Your Frontline Workforce with Industrial Augmented Reality Solutions
Digitalize and streamline processes for frontline employees in desk-free workspaces with AR-guided solutions – seamlessly integrated with wearables and mobile devices – increasing productivity, efficiency, and quality along the entire value chain.
What is Frontline?
OUR FULLY INTEGRATED SOLUTION PLATFORM
Increasing the productivity of frontline production workers creates massive potential for cost savings. Decreasing the error rates in logistics, production and assembly processes boosts the quality, reduces complaints and saves you costs, too.
THE REVOLUTION: A TRULY CONNECTED WORKFORCE
TeamViewer Frontline sets out to revolutionize the daily work of the deskless workforce in the same way Microsoft Office has done for office workers. As the world's first and fully integrated productivity solutions suite for the frontline worker, Frontline creates a truly connected workforce that is more productive and satisfied.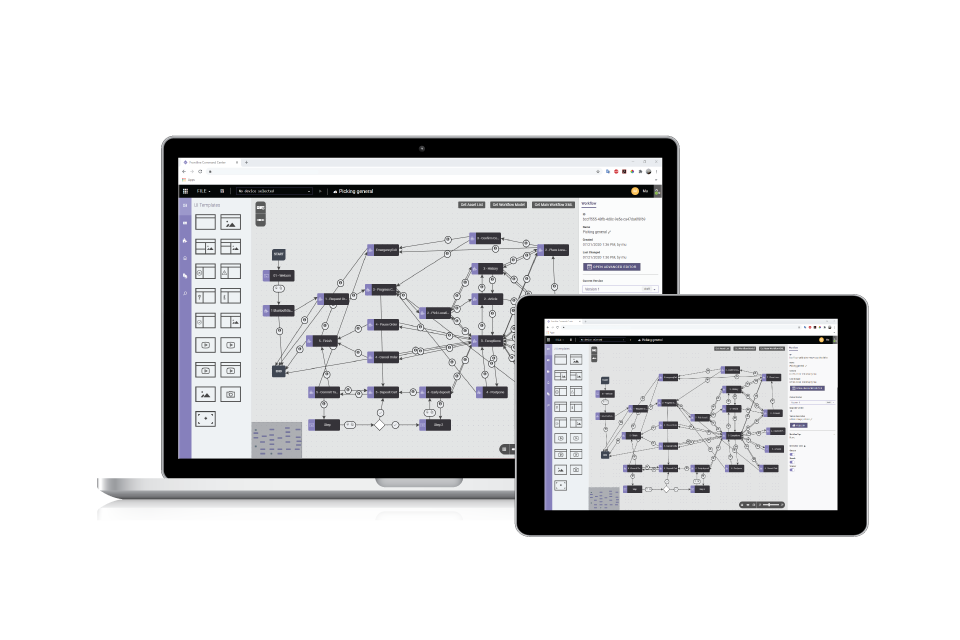 Configure your solution instead of developing it!
Frontline Creator is a graphical AR authoring and publishing tool for the creation of wearable computing and augmented reality applications. Shop floor managers can use Frontline Creator to easily configure and customize applications, existing workflows, user as well as system interfaces on the fly.
How? Frontline Creator works codeless: Use drag & drop and point & click to create AR workflow apps and preview the resulting user interfaces. Applications developed with Frontline Creator are device-independent and support a wide range of wearables out of the box.
With a set of pre-configured components, users can access more advanced workflow features including speech-to-text, IoT sensor integration, Skype for Business calls, document viewer for PDF files and many more.
Security
Protect and control your intellectual property rights of your workflow apps.
Scalability
Companies can easily transfer requisites from one site to the next.
Independence
No external resources like additional software or hardware needed.
Flexibility
Forward task changes immediately to your frontline workforce.
Agility
Create and edit your AR workflow applications instantly whenever you want.
Usability
Easy to use with no programming know-how required.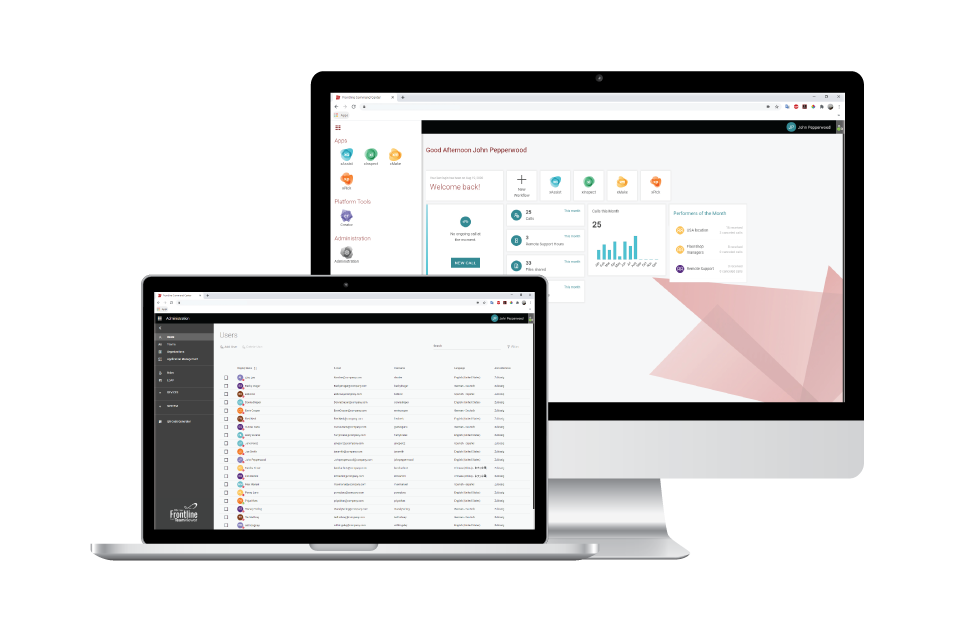 Administrate all Users and Frontline Solutions
The Frontline Command Center is a web-based tool to manage the blue collar work force and administrate the frontline solutions. The Frontline Command Center optimizes the workforce management by enabling the team heads or group managers, the foremen etc. to analyze individual or group KPIs, monitor task completion and directly communicate with team members through the Command Center and the smart glasses. This increases the flexibility and transparency and it improves the communication on the shop floor. It compromises various features such as:
Device and User Management incl. AD
Control, and assign devices or tasks to your workers easily. See all online devices and users in one place.
Over-the-air updates
Get updates in real-time, see the in-progress work of your staff, and know who is working on what tasks.
Tasks and Picking overview
See all picking tasks in one place, those that are completed and those yet to be done, along with pick times.
Remote support calls
Call or receive calls to or from any of your online workers from the command center to best support them.
Configuration
Easily configurable, you can oversee all your workers, their tasks, and documents in one simple interface.
Visualization and report analytics
Download reports, and see documentation of worker performance for picking, work-flows and check-lists.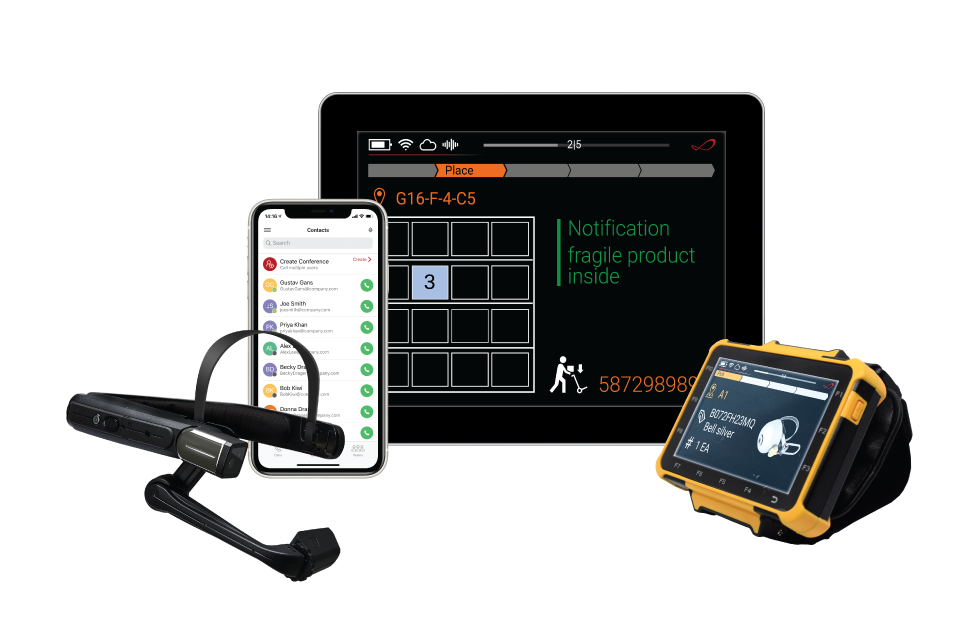 Ready Made Solutions for Individual Use Cases – the Frontline Workplace
Frontline Workplace is a standard software running on wearable devices, incl. smart glasses, tablets, and smart watches (allows for mixed infrastructure where required). It supports frontline workers in their manual work by displaying the relevant information just in time when they need it right in their field of view. Enabling handsfree work, error-free quality and increased process speed. It comprises various modules highly optimized for wearables.
Adaptive user interface
Adjust the interface to fit your needs and tasks. Include pictures, videos, or text to provide information
Audio/video documentation features
Take advantage of voice-to-text, audio or video recordings for documentation and training purposes.
Multi-language voice recognition
Workers from 4 different languages can make commands out-of-the-box, and many others can be added.
Available for iOS, Android and Windows
Use Frontline Workplace on either iOS, Android or Windows for your enterprise, security, or equipment needs.
Barcode / QR scanning
Utilize multiple types of bar or QR codes to confirm picks, pick location, or put location with the internal scanner.
Productivity Solution Platform
TEAMVIEWER FRONTLINE
TeamViewer Frontline is a fully integrated Productivity Solution Platform. It improves work efficiency and simplifies processes for 80% of today's workforce – those who work outside of the office and away from desks.
OUR SERVICES
We deliver full service end-to-end solutions
This starts with consulting and analyzing the situation, goes over to configuring the software for your solution. Together we select the optimal smart glasses and deploy it together with our Frontline solution in your factory plant or warehouse. In the productive phase we support and service your installation according to the required service level agreement.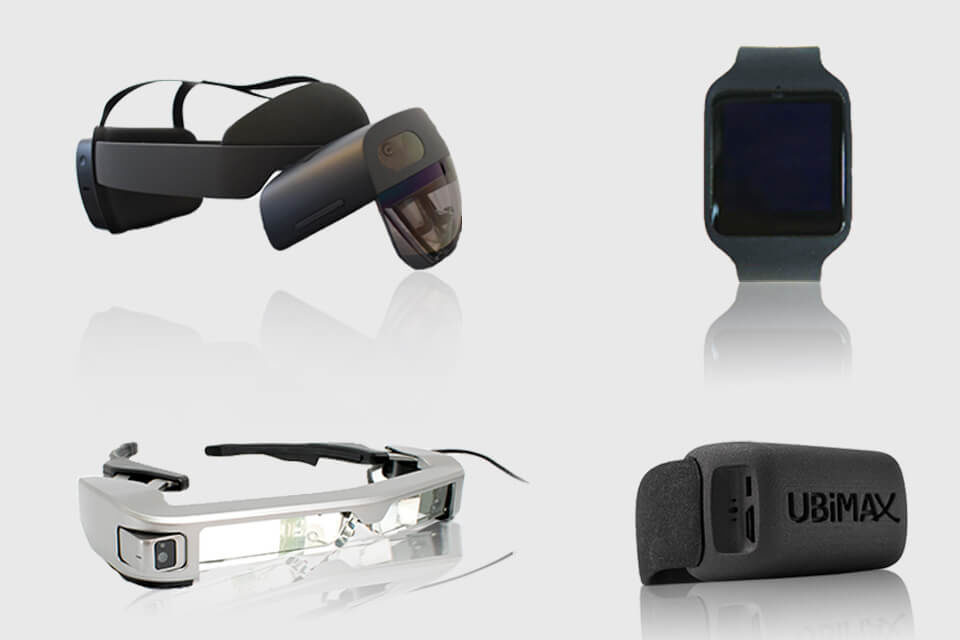 Why Wearables
Meet today's requirements for productive industrial use!
By integrating the industry's widest range of wearables, our customers will always find the most suitable device for their jobs. Our customers can deploy mixed infrastructure combining different devices or change the implementation and all this through an integrated graphical user interface (GUI).