Feature Spotlight — Conditional Access
Secure your Support Experiences and Prevent Unauthorized Access to People and Devices through Conditional Access
Conditional Access
With Conditional Access, enterprise IT and security managers can maintain company-wide oversight of TeamViewer access and usage from a single location.
Re-use options help administrators to select rules and create feature options for all access controls
Expiry dates to conditional access rules limit access by 3rd party vendors and temporary workforce
Centralized rules management within the Management Console
Assign permissions for remote sessions, file transfer, and meeting connections
Configure rules at the account, group, or device level
Cloud-based solution provides greater flexibility than an on-premise approach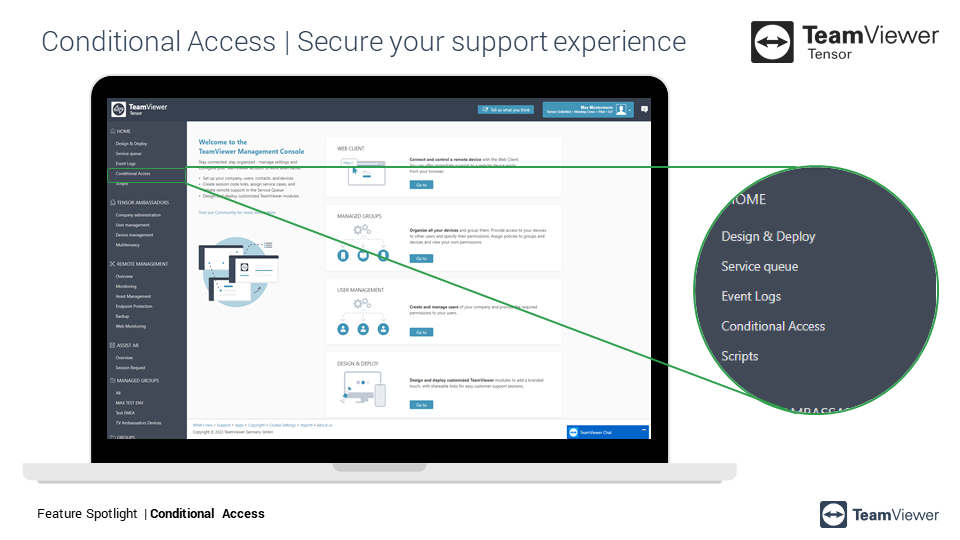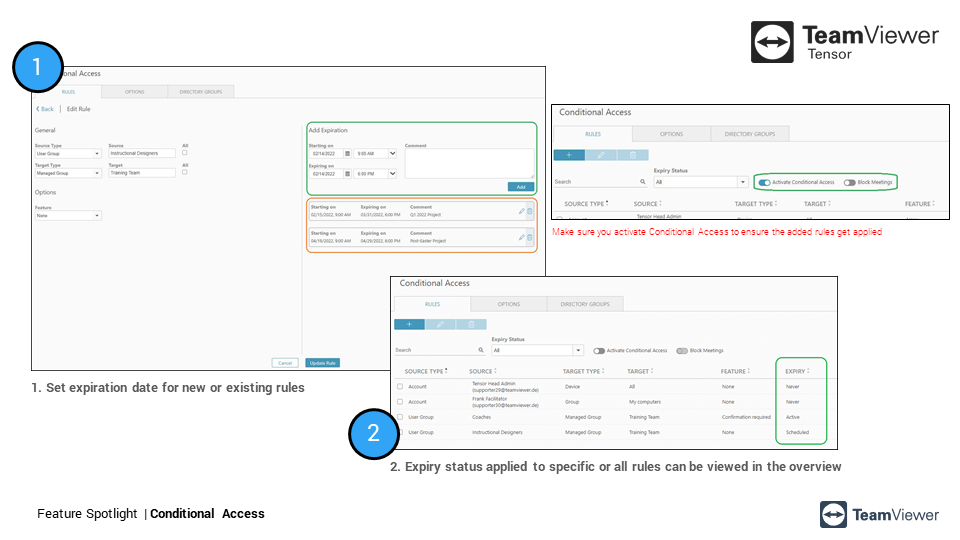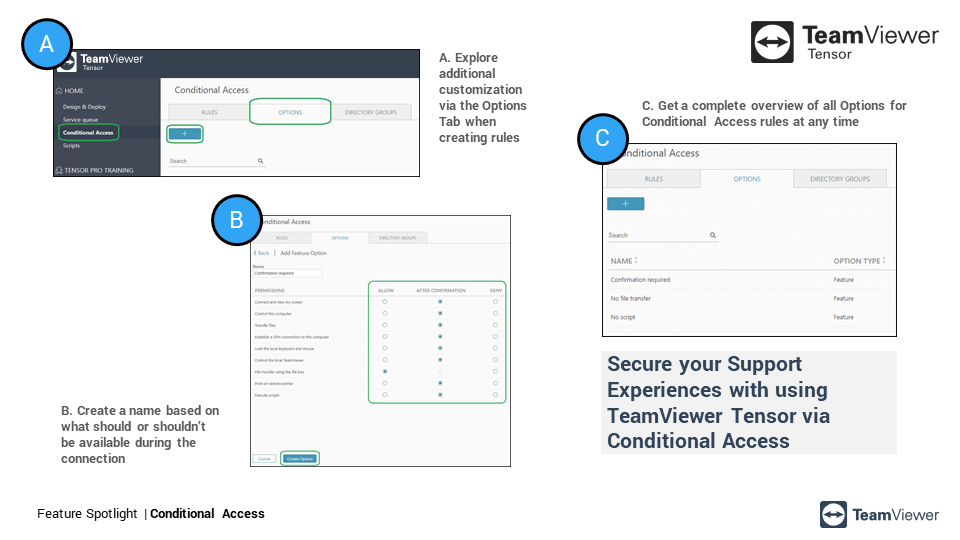 Frequently Asked Questions (FAQs)
Do I need additional licenses to activate and further secure my support experience?
Conditional Access is currently available in TeamViewer Tensor Pro and Tensor Unlimited.
In what specific use scenarios is expiration-based Conditional Access most relevant?
Expiration-based Conditional Access can be applied to users and their devices within an organization for any scenario. However, it is most relevant and useful where access needs to be restricted or is needed for limited time scenarios, such as:
Project-based work
Part-time, temporary workforce
Interns
Can expiration-based Conditional Access be applied to existing rules or rules in force?
Yes. Expiration-based Conditional Access can be applied for new rules as well as existing ones.
What kind of connections can be controlled with Conditional Access?
Conditional Access enables company administrators to control both incoming and outgoing connections.
What is the difference between an option, a rule and an expiration-based rule?
Options define the access level and are activated via the 'Features' category. Rule is the framework which includes all these options and also who can connect where. An expiration-based rule provides a timeframe when the rule will be active.
Why is Conditional Access important when it comes to securing support experiences within an organization?
Conditional Access ensures you have greater control from a remote support standpoint so that the right people have access to the right systems at the right time.