Feature Spotlight — User Groups and Roles
Automate User Life Cycle Management to Save Time and Effort with User Groups and Roles
Enable large scale IT groups, departments, and organizations spread over vast geographies and time zones to easily manage and support a distributed workforce — anytime, anywhere.
User Groups and Roles
TeamViewer Tensor with User Groups and Roles enables IT organizations to ensure the right roles and permissions are assigned to the right end users and administrator groups, securely and efficiently.
With built-in automated features and bulk editing capabilities, User Groups and Roles helps eliminate repetitive, manual end user management tasks to save time and effort, especially for resource-constrained IT departments handling large-scale deployments on a daily basis.
Automate user life cycle management for creating, updating, and deleting users
Organize users into groups for easier administration
Move users between groups for role or department changes
Apply bulk changes to different users and user groups at once
Create your own custom user roles, improving flexibility and standardizing permission sets based on your unique needs and requirements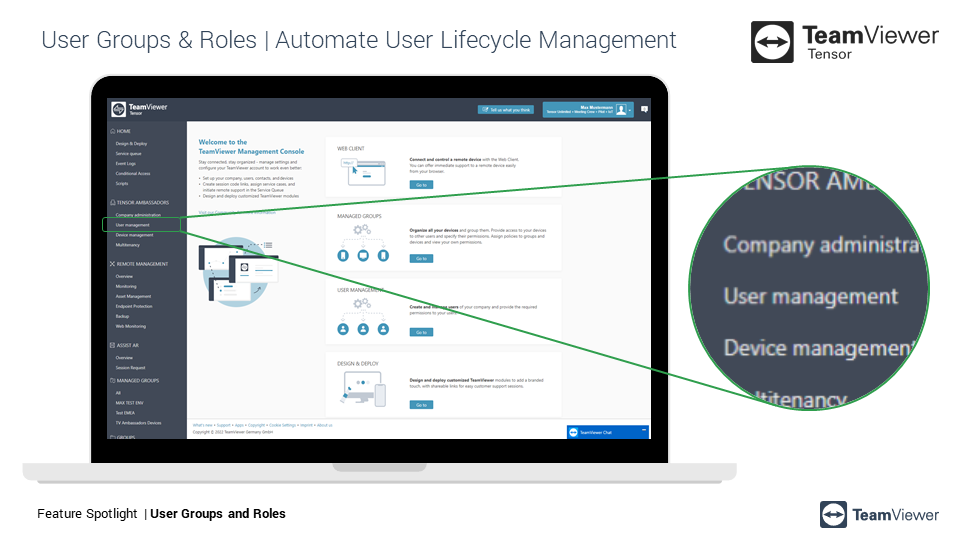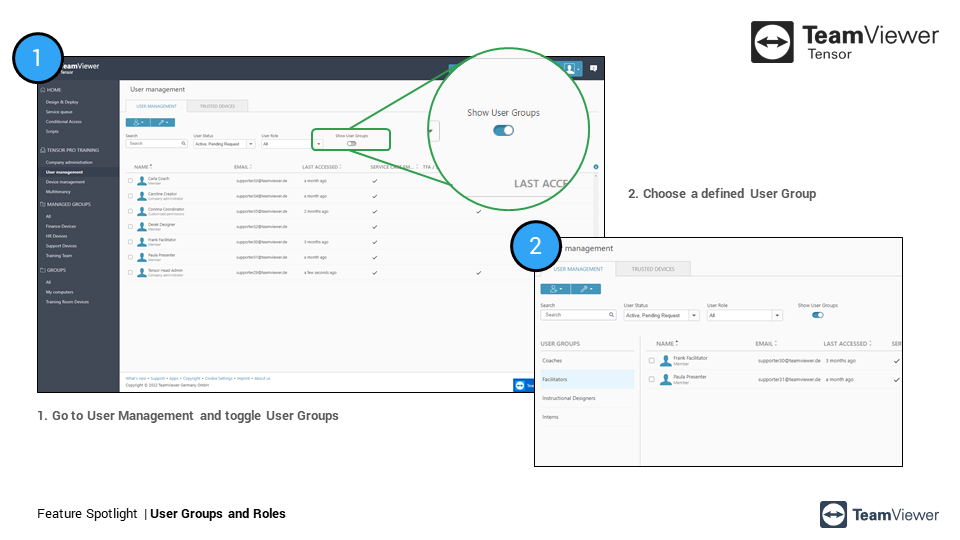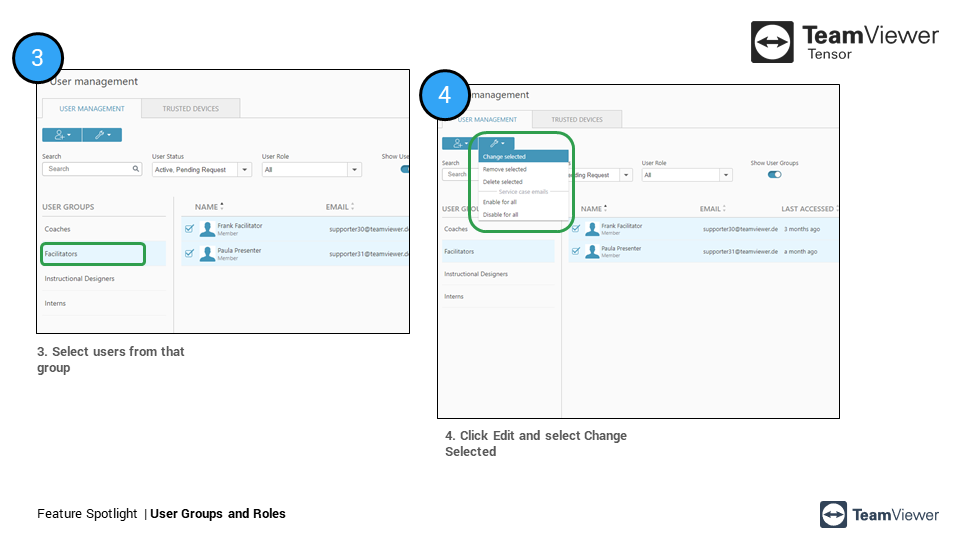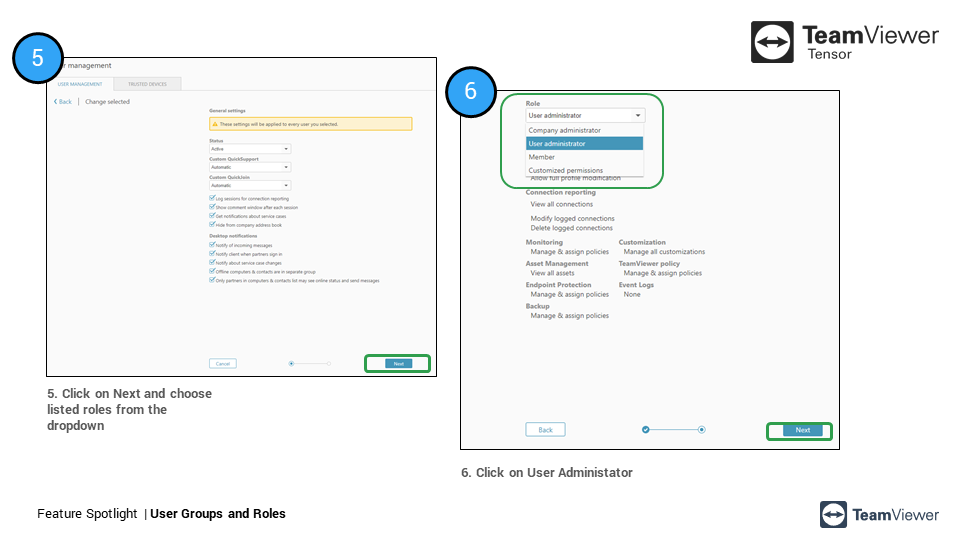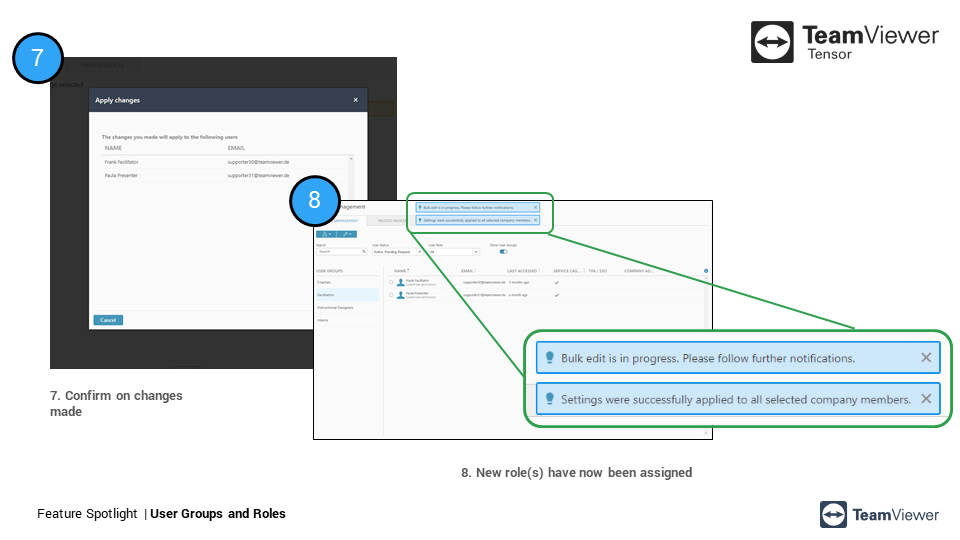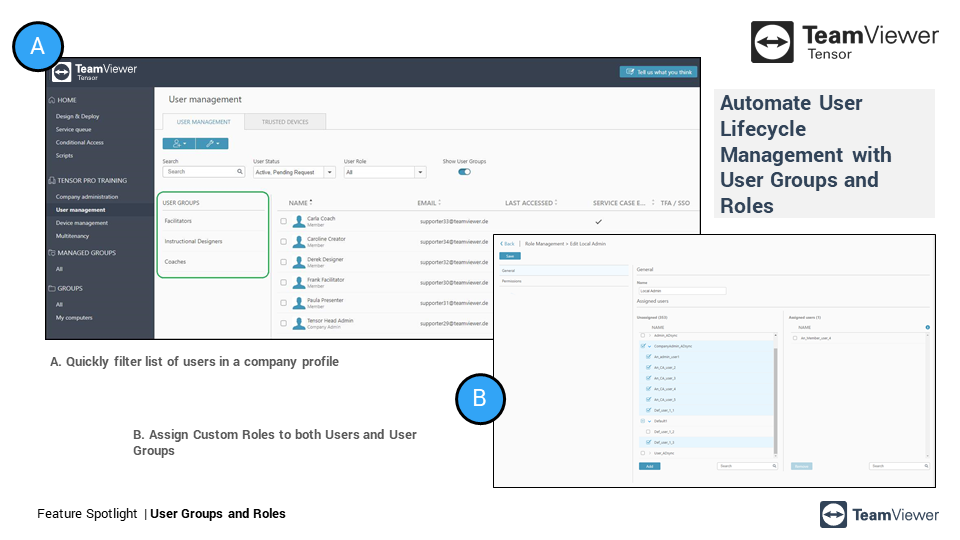 Frequently Asked Questions (FAQs)
What is the main use case for User Groups and Roles?
Administering users becomes a time-consuming task for large IT organizations that have to manage users not just from main headquarters and various departments within that organization, but also users working remotely on the move and so on. Moving users from certain departments or deactivating users when they leave the company also increases complexity and effort, which is where User Groups and Roles comes into play.
How does User Groups and Roles enable automation of user lifecycle within an organization?
If your user identities are fully automated through System for Cross-domain Identity Management (SCIM) company administrators only need to administer, manage, and filter the list of users in a company profile.
How does User Groups and Roles help company administrators save time and effort?
Company administrators can easily organize large sets of users into groups for easy administration. Move users between departments as and when they change roles within an organization. Change and apply settings in bulk to many users in one go, in case certain departments need more restrictions than others or vice versa.
Can user groups be manually managed within the Management Console?
Manual administration of users is not available in the Management Console. The idea is to reduce time and effort managing users through existing SCIM-type systems.
What are the different types of pre-defined user roles available in the Management Console?
There are currently 3 pre-defined user roles available in TeamViewer Tensor – Company Administrator, User Administrator, and Member.
What are the licensing requirements to make full use of user lifecycle management using User Groups and Roles for my organization?
Currently, TeamViewer Tensor licenses (Basic, Pro, Unlimited) enable you to integrate identity providers and automate user lifecycle management within your organization.