Provide superior support with
TeamViewer's built-in service desk
Add servicecamp to your TeamViewer account to create an all-in-one solution for service desk management and remote connectivity.
Set up servicecamp in minutes
Costs less than purchasing a separate platform
Streamlines your support processes and workflows
Share your details and we'll connect with you shortly.
Overview and Benefits
Elevate your customer support
with servicecamp
Resolve more support requests faster by enabling servicecamp's full-featured service desk within TeamViewer's remote access and control platform.
Keep all communication in one place so support requests, agent notes, and customer conversations are centrally documented.
Initiate remote control connections instantly from within a ticket to access the device in question or collaborate with your team on specific requests to find solutions quicker.
Focus on providing excellent services instead of time-consuming processes with servicecamp's easy setup.
Solve cases faster and increase customer satisfaction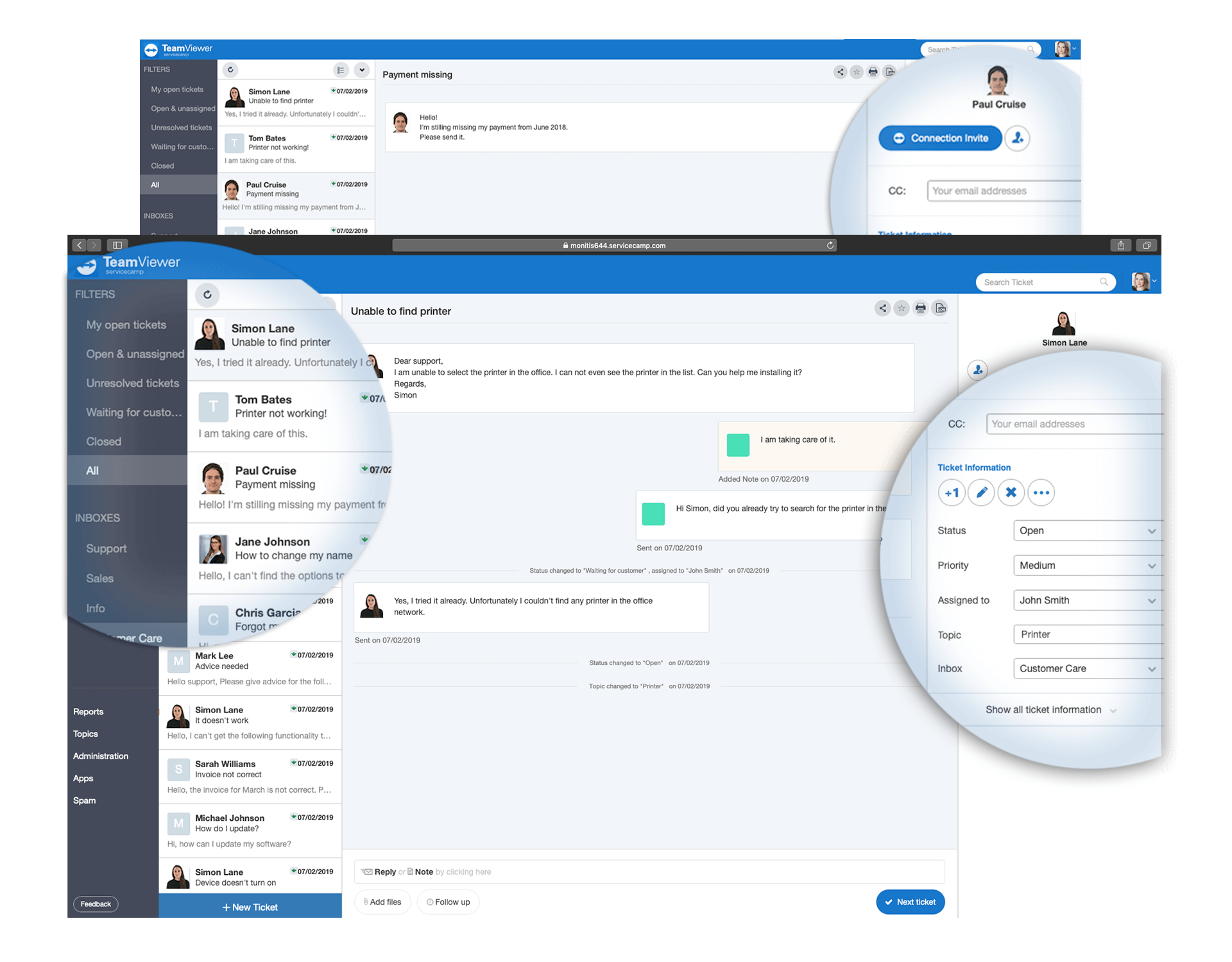 All-in-one Solution
Superior support that costs less
You shouldn't have to settle for less-than-ideal solutions because of your budget. Adding servicecamp's full-featured customer support platform to TeamViewer is a budget-friendly option that allows you to help more customers in less time. You can avoid the added costs associated with purchasing, integrating, and setting up a separate service desk tool, while gaining efficiencies with an integrated solution.
Easy to use
Fast setup and intuitive interface
We've designed servicecamp to be extremely user-friendly, so you can focus on providing customer value instead of learning the system. There's no need to wade through complicated steps or long processes to get set up. You can be up and running in minutes, so you can start working immediately.
The perfect TeamViewer companion
Elevate your support services
servicecamp's deep integration with TeamViewer makes it a perfect solution for small and medium-sized companies. You gain powerful, high-performance tools with a budget-friendly price tag, so you can provide enterprise-class support with a smaller team.
IT Support
Keep IT systems and infrastructure running
Streamline simple and repetitive tasks like hardware requests or password resets by creating ticket forms. Then, publish them in your customer portal. Collect all the necessary information with the initial request and avoid cumbersome back-and-forth communication to gather all relevant information. Resolve these tasks quickly and efficiently.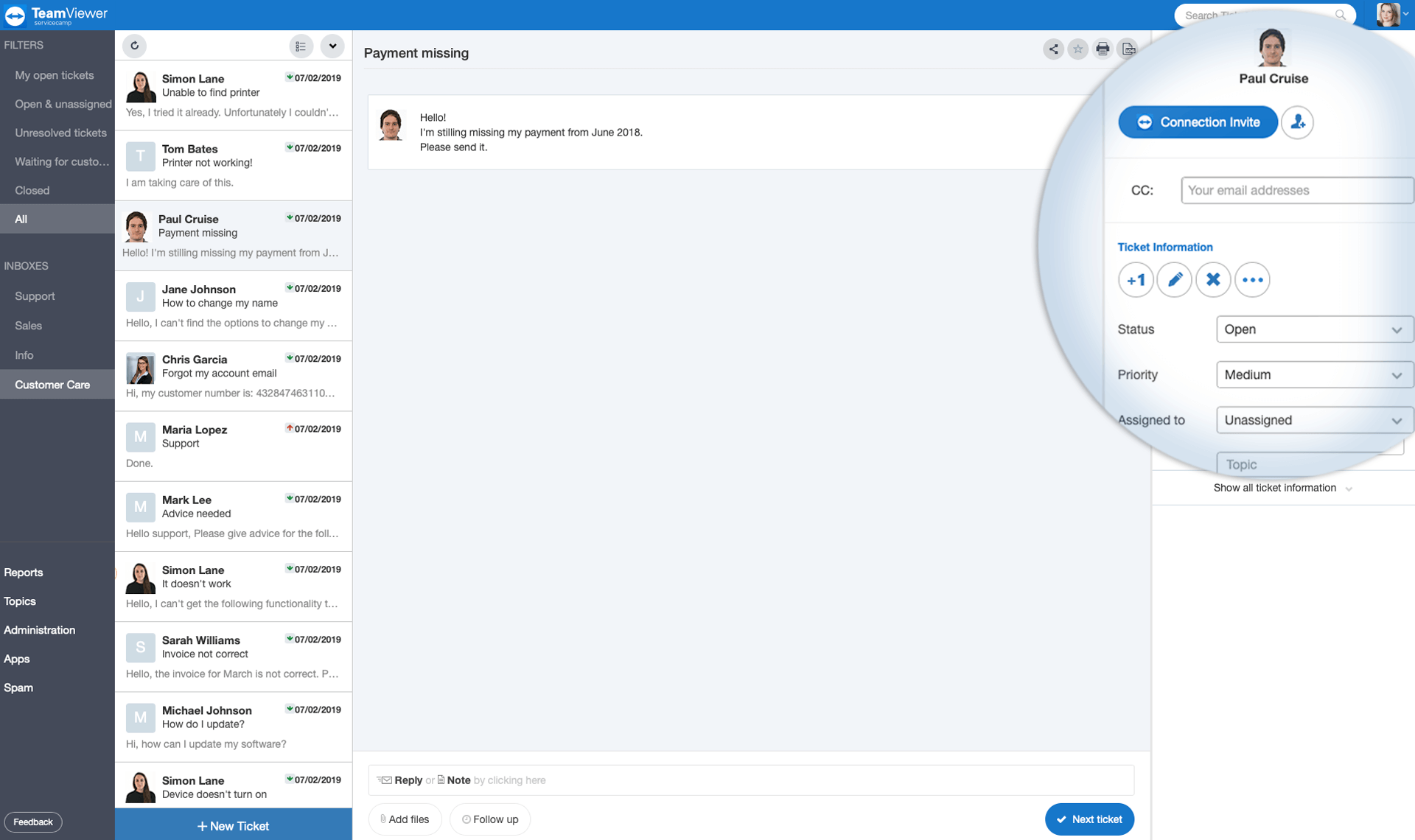 Corporate Collaboration
Provide a better alternative to your department's shared inbox
Use servicecamp to become more productive as a team by recognizing which tasks or projects in your shared inbox are in progress, completed, or ready to start. All feedback on the task is documented and visible in a central place so that nothing gets lost.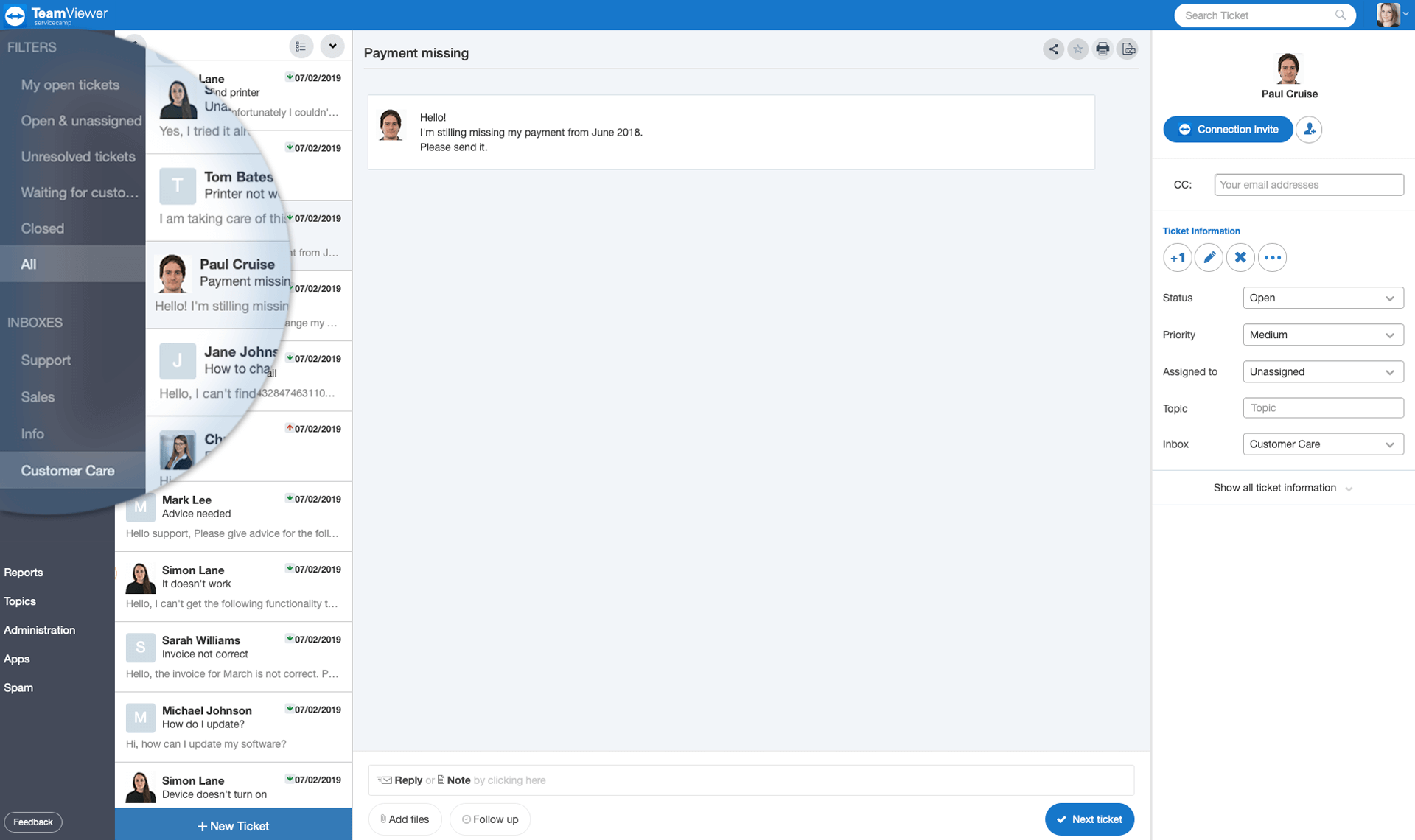 Key features of Servicecamp
Seamless Ticket Management
Prioritize, track, sort,solve, and measure incoming requests in a single platform.
QuickSupport Integration
Let customers create tickets directly from the TeamViewer QuickSupport module.
Customization Options
Create custom ticket submission forms and branded customer portal.
Start your free trial today!
Discover how servicecamp can help you provide efficient and personal customer support.
Bundle TeamViewer's remote desktop capabilities with servicecamp to gain a high-performance remote control, collaboration, and service desk solution.
Features
Tools that help you provide high-level support
Customize your customer portal to match your corporate identity. Create customized ticket submission forms to collect necessary information upfront and eliminate confusing back-and-forth communication.
servicecamp automatically prioritizes your tickets by urgency level. The most important issues will always appear at the top of your list, so you know which tickets you need to address first.
Use the in-built reporting functionality, or instantly integrate servicecamp data into tools like Excel, Power BI, and Tableau to gain even greater insights.
Use Existing Support E-mail Address
With servicecamp, you don't need to change your current support email addresses, so there is no need to communicate a new address to your customers.
Use private notes for internal, cross-team collaboration, or set a reminder for yourself in a customer's ticket history. Now you won't miss a thing and will be able to resolve tickets faster.
Reply to tickets while you continue to read and add relevant quotes from previous conversations to your reply. The typed answer will still be there when you switch back to the ticket after quoting a relevant ticket passage.
servicecamp complies with European data security regulations and two-factor authentication to keep your data safe. Plus, with servicecamp, you never have to worry about spam again. We effectively filter spam from your inboxes to ensure that your team has a smooth workflow.
Centralized Customer Information
Gather relevant customer information in your inbox. When receiving or opening a ticket, all relevant information related to the sender is visible from inside the ticket. When selecting a specific contact, you can see the entire ticket conversation at a glance.
Are you awaiting a response or unable to resolve a ticket right away? Get automatic reminders so you can determine if action is necessary or possible. Use the follow-up functionality to define when the ticket should reappear in your ticket list.
Set the number of days a ticket should be automatically closed after it has been opened. If a customer doesn't respond the ticket will be closed and removed from your list. This reduces inbox clutter and allows you to focus on the important tickets in your queue.
Sort and Quantify Recurring Issues
Sort incoming support tickets into topics. With this feature, you can quantify and measure frequently asked questions and recurring support issues. This will help you keep an eye on topics that are more urgent than others to ensure priority requests come first.
Make your service more accessible to your customers by giving them the ability to create a servicecamp ticket within the QuickSupport module, even if the supporter is offline.You can add custom information to proactively collect details so that the supporters are optimally prepared for the session.
Create a Ticket Without Logging In
Give your customers the option to create tickets from the Customer Portal without logging in or signing up for servicecamp. Create an easier way for your customers to get the support they need without the hassle of account login, creation, or email trails.
Enable your users to add more people to the conversation on servicecamp support tickets. Include multiple email addresses as a CC in the ticket request. This enables a clear flow of communication within the team and a more productive ticket solving solution.
Use branding to make your services more professional. Now you can send emails through your own domain when responding to tickets in servicecamp. By using your own mail server to send outgoing emails, you will be able to enhance brand recognition and awareness.
Ready to buy servicecamp?
View your plan options now and be surprised how inexpensive you can streamline your customer support. If you're already a TeamViewer customer click here to purchase the servicecamp AddOn.
FAQ
Frequently Asked Questions
Our team is happy to help!
+1 800 638 0253 (Toll free) en