Connect, Access, and Remotely Control IoT Devices
Connect all the "things" you never thought possible. From digital signage, kiosks, solar panels, agricultural equipment, and industrial machines to appliances and tiny sensors. If your device connects to the internet, you can access, manage, and control it remotely with TeamViewer IoT.
By 2020, the number of connected IoT devices worldwide is estimated to reach 31 billion, according to Statista. Regardless of device, machine, or "thing", security has always been a critical component of successful IoT platforms and environments.
At TeamViewer, we understand the security risks and vulnerabilities that IoT brings, and we're here to provide a secure connectivity network for your IoT vision to come to life.
Companies partner with us when they want a secure, reliable way to remotely control, monitor, and manage IoT-ready devices, anytime, anywhere.
Your IoT Device, Our IoT Network. Connected, Securely.
IoT opens up exciting opportunities and experiences for businesses and consumers. With TeamViewer IoT, you can create new business models and revenue streams with the three core enablers of secure connectivity for IoT:
Connect. Connect​ ​to​ ​your​ ​device​, machine, or "thing"​ ​from​ ​anywhere,​ ​without​ ​complicated​ ​VPNs​ ​or firewall configuration. ​
Monitor. Know what's happening in your IoT environment in real time, see data visualizations of collected information, sensor readings, and user-defined thresholds.
Control. Control IoT devices, machines, or robots in real time. Steer, adjust, fine-tune, change settings, and intervene as needed, as though you were managing devices in person.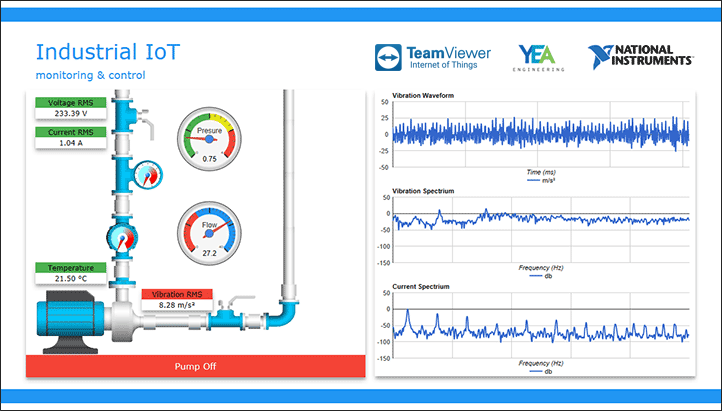 Become a TeamViewer IoT Partner
VARs, OEMs, and system integrators partner with us because it's so simple to integrate TeamViewer IoT into their products and solutions. They turn to TeamViewer to connect, access, and manage IoT devices. 
Our IoT partners enjoy special benefits, including: 
Direct link into engineering
Faster business development and go-to-market
Early access to our monitoring and control solutions
Secure connectivity to our Global Access Network
We work closely with our partners to constantly improve IoT environments as a whole, and we look forward to partnering with you to bring your IoT vision to life.
 We're Here to Support Your IoT Vision
TeamViewer is the world's favorite remote desktop tool, with over 30,000 new downloads every hour. TeamViewer allows system administrators to access remote servers. Securely. From anywhere. Without needing VPN.
Business users can use TeamViewer to remotely access their work computers while traveling or working from offsite locations.
The promise and challenges of IoT are big. Really big. And the cost of scaling IoT has broken traditional models of connectivity, causing a paradigm shift to cloud-based service like ours.
Our vision is a world where people, devices, apps, machines, and spaces can be interconnected instantly and by any amount, without customers having to own or maintain any part of the software, infrastructure, or service.
What does our Global Access Network offer your IoT Platform? Speed, performance, and ubiquity at low latency. Our visionary IoT partners trust our fast, secure network—and we love our customers for inspiring us to continuously innovate and solve new challenges along the way.
Learn More About TeamViewer IoT
Our solution empowers you to remotely control and monitor IoT environments and devices, whenever and wherever