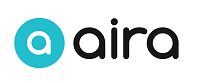 Aira helps people with low vision or partial to complete blindness navigate their surroundings and get help with tasks, either at home, school, work, looking for work, or on the go. Users, also known as Explorers, use the Aira app on their phones to get assistance from remote agents, in order to locate services, understand written information, and achieve a more independent life.
Aira also believes that guiding users to accomplish tasks in the physical world isn't enough; people also need help browsing websites, online forms, PDFs, and apps, beyond the standard automated assistance provided by screen readers.
Challenges
Providing hands-on assistance to enable faster web navigation
Helping blind and visually impaired people make the most of online resources
Filling the gaps of existing accessibility tools
Solution
Aira chose TeamViewer as their remote access provider, so their customers could get assistance with online tasks. With TeamViewer, remote agents are able to not only instruct users on how to accomplish a task, but, when necessary and beneficial, they can remote in to customers' computers and perform tasks on their behalf. This is especially helpful with items that require visual acuity, such as interpreting ReCaptcha, filling out detailed PDF forms, and applying for jobs.
In our increasingly digital world, it's crucial for everyone to make the most of the web, and TeamViewer with Aira are helping people do just that.